Susan Lorincz: Florida woman accused of shooting neighbor through door appears in court
OCALA, Fla. - Susan Lorincz, the Florida woman accused of shooting and killing her neighbor, Ajike "AJ" Owens, following a dispute over her children, appeared in court Thursday morning for a bond hearing.
She was read the charges against her -- manslaughter with a firearm, culpable negligence, battery, and assault – in the shooting death of Owens. She was wearing a protecting covering as she stood alongside her public defender.
Attorneys representing the state requested Lorincz be held on a no bond state and said it would file a motion for pretrial sentencing, but hadn't yet. The judge said she would wait until that motion was filed and scheduled another court hearing for July.
The judge also appointed Lorincz a public defender.
During the hearing, the state said Lorincz has no reported prior criminal history. 
In response to the judge's questions, Lorincz told the judge that she was currently unemployed, and left her job two weeks ago. She said she's lived in Marion County for about 15 years and before that lived in Spring Hill, north of Tampa.
The shooting: What we know
According to the Marion County Sheriff's Office, deputies responded to a neighborhood in Ocala, Florida on June 2 for a report of trespassing, followed by additional 911 calls about a shooting.
Deputies said Ajike "AJ" Owens, a mother of four, knocked on the front door of Lorincz's home to confront her about allegedly yelling at her kids who were playing in a nearby field and for throwing a rollerblade at one of them, striking him in the foot.
Lorincz did not open the door, called 911, and then fired a gun from her kitchen at the direction of the door, according to the probable cause statement and MCSO. 
Owens was struck in the chest and transported to the hospital, where she died.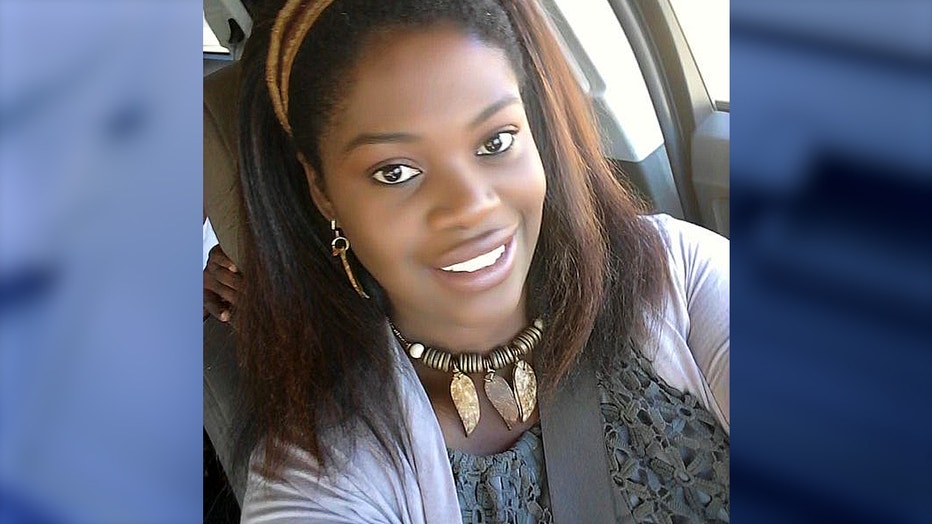 Ajike "AJ" Shantrell Owens [Credit: Family handout]
She said Owens was beating on the door, briefly stopped, and started beating on the door again. When a deputy asked if Owens tried to open the door, for example to try the door handle," Lorincz said Owens "was just beating the door."
Lorincz told deputies the shooting was in self-defense, that she fired the gun because she "panicked," and that she did not intend to hit anyone, according to the affidavit.
Sheriff: A years-long 'neighborhood feud'
Marion County Sheriff Billy Woods said it appears Lorincz had become angry with the children and where they played for a long time, calling 911 at least a half-dozen times, according th the affidavit and incident reports.
Lorincz told deputies, according to the affidavit, that she'd had issues with the children for about two years alleging they were trespassing on her property, and a "lack of respect for her peace and privacy." She told deputies that the kids previously said they'd kill her, the report said.
Neighbors told sheriff's deputies that Lorincz would often harass and yell at the children for playing near her apartment, and that she would take photos and videos of them, according to the report. 
She bought a gun after alleged previous incident with Owens
During an interview with deputies, Lorincz said she owned two guns and purchased one of them a year ago for protection, following a previous incident with Owens, the report said. 
She said she used to be afraid of guns and had maybe shot hers – a Remington 380 – four to five times at the range, according to the report.
During a search warrant at her home, deputies found two handguns on top of each other in a trash can in the bedroom, the report said. One was a Ruger LPC II 22 LR and had one round in the chamber and live ammunition in the magazine. The other was a Remington M380 caliber that had the magazine inserted and a live round in the chamber.
She may have researched self-defense and stand your ground
In a second interview with deputies, Lorincz described someone's actions (redacted in paperwork) as "not reasonable" or "prudent." When asked why she used those terms, Lorincz told the deputy that she had researched self-defense information online.
She also reportedly admitted to possibly researching stand your ground and self-defense laws in the past, the report said.
911 call: 'I grabbed my gun and shot at the door'
On Thursday, a handful of the 911 calls related to the shooting were released by the Marion County Sheriff's Office. They shed some light on the chaotic moments before and immediately following the shooting.
On the day of the shooting, Lorinza called 911 to report that Owens' children were trespassing.
After the alleged shooting, she called 911 again.
Caller: Oh my god, this lady just tried to break down my door. I shot through the door. (inaudible). The woman was screaming and yelling, and she was trying to break down my door.
Dispatch: It was a female
Caller: Yes
Caller: I didn't know what to do. I grabbed my gun and shot at the door 'cause I thought she was going to kill me...oh my god.
Caller: I shot at the door because she wouldn't stop. I told her 'get away,' and she wouldn't
Dispatch: Where is the gun now?
Caller: It's in my bedroom. This is the woman who attacked me.
Dispatch: OK. Do you still see the subject?
Called: I don't know where she is. I'm still in my house. I didn't open my door to her.
Dispatch: I need you to lock all your doors and windows, OK?
Caller: I have
Caller: Her sons said they were going to come and kill me.
Dispatch: And did you know her?
Caller: Yes, she's come after me several times because of her children. Her children keep trespassing over here. They're bothering me and bothering and won't (expletive) stop