Florida tourism weathers storms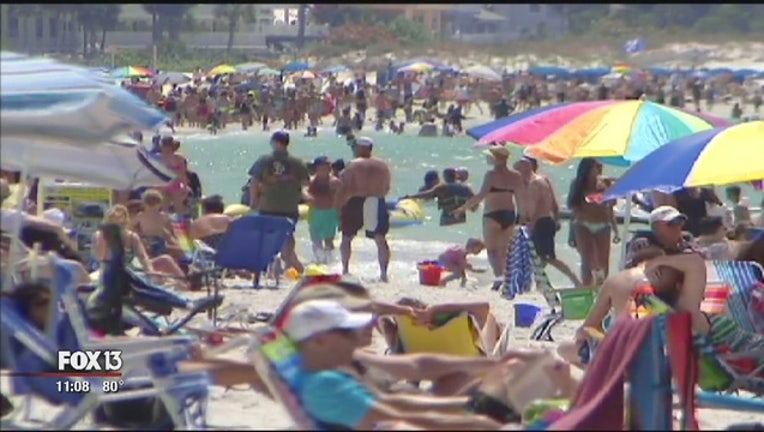 article
TALLAHASSEE (NSF) - A hurricane that hit North Florida, the continued spread of the mosquito-borne Zika virus and a horrific massacre in Orlando haven't slowed the appeal of the Sunshine State for tourists, according to state officials.
Gov. Rick Scott's office Monday announced that a record 26.9 million people traveled to Florida between July 1 and Sept. 30, a 5.1 percent increase from the same period in 2015.
Also, the numbers came as Canadians, Florida's top source of foreign tourism, have cut back on travel due to their nation's weakened dollar.
Scott traveled to the Jacksonville Zoo & Gardens to announce the latest numbers and to call for continued funding of Visit Florida, the state's tourism-marketing arm.
The state faced a series of challenges during the first nine months of the year, including the June shooting deaths of 49 people at the Pulse nightclub in Orlando, Hurricane Hermine hitting North Florida in early September and a steadily increasing number of Zika cases in South Florida. Also, Hurricane Matthew churned along the state's East Coast in early October, causing significant damage in some areas.
"Visit Florida does an incredible job of marketing our state and keeping all of our tourism partners, which include both large and small businesses, updated on how to keep our visitors informed when our state faces challenges like the Zika virus, hurricanes and the terrorist attack at Pulse nightclub," Scott said in a prepared statement.
As part of the recovery strategy, Visit Florida has used marketing campaigns tied around the social media hashtag "#LoveFL" to focus on areas impacted by disasters.
The tourism industry accounts for more than 1 in 10 jobs in Florida, and Scott has set a goal of 115 million visitors for this year, which would be up from the 106 million reported for 2015.
Preliminary numbers for the first nine months of the year indicate 85 million tourists have made their way to Florida, a 5.5 percent increase from a year earlier.
Visit Florida President & CEO Will Seccombe said the numbers indicate a need for his agency to work harder "to maintain that growth going forward."
To bolster the efforts, Visit Florida received $78 million from the Legislature for the current fiscal year, which began July 1.
Most third-quarter visitors, 23.6 million, were Americans crossing state lines. While domestic travel is up 5.8 percent, overseas travel grew 0.9 percent during the same time.
As part of its overseas marketing, Visit Florida spent $1.25 million to renew a one-year sponsorship of London-based Fulham Football Club, which is owned by Shahid "Shad" Khan, a Naples resident who also owns the Jacksonville Jaguars of the National Football League and has been a political backer of Scott.
Britain's nearly 1.7 million visitors last year was second to the 3.8 million Canadians. However, Canadian travel is down 3.8 percent this year from 2015 --- 5.7 percent in the third quarter.