Florida mom intentionally crashes into another mom's car while dropping child off at school, deputies say
REDDICK, Fla. - Editor's note: The video above features some of the latest crime stories in Central Florida. Info in those stories is from law enforcement or court records. All are considered innocent until proven guilty. 
A Florida mom was arrested after she intentionally hit another parent's car in a road rage fit while dropping off her child at an elementary school, according to the Marion County Sheriff's Office. 
Jennifer Perez was arrested and charged with felony aggravated battery using a deadly weapon, according to an affidavit. 
The incident happened Monday morning at Reddick-Collier Elementary School in Reddick, a town about 14 miles north of Ocala. A Marion County Sheriff's Office deputy arrived at the scene to assist Florida Highway Patrol, who said a car collision occurred – but it was intentional, according to the affidavit. 
The victim was driving west on Highway 316 on her way to drop off her son at school. Perez was driving south on Northwest Gainesville Road and tried to cut the victim off, the affidavit said. The victim maintained she was first at the stop sign and continued across the street and into the carpool line. 
That's when Perez allegedly pulled up next to her in the grass shoulder and began to yell at her, according to the affidavit. The victim yelled back, and Perez allegedly intentionally ran into her car with her son sitting in the front seat. 
"Yea, I just did that," Perez said, according to the affidavit.
Perez then continued into the carpool drop-off line while the victim got out of her car to assess the damage. 
A deputy got in touch with a witness, who said she saw Perez try to cut the victim off at the intersection and subsequently crash into her, the report said.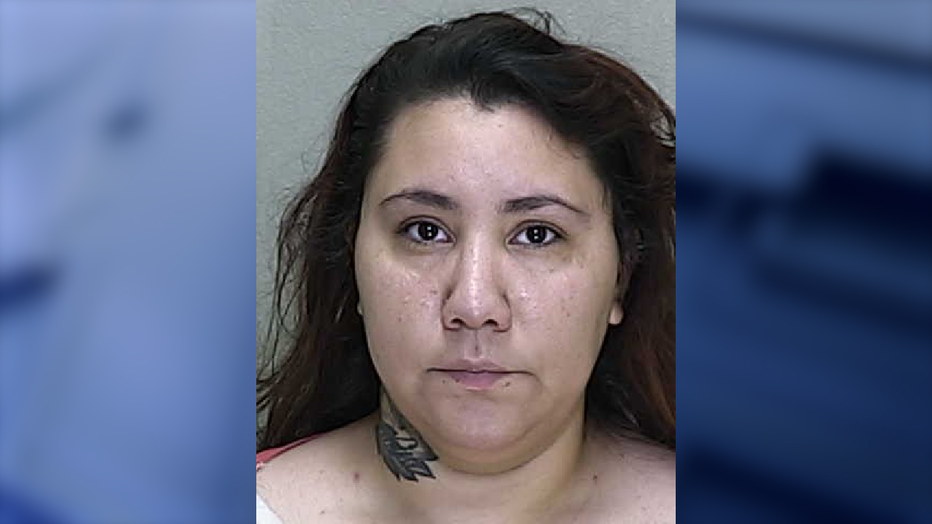 Photo: Marion County Sheriffs Office
After Perez was arrested, she told the deputy that it was her turn at the intersection, not the victim's. She also admitted to driving onto the grass shoulder and yelling at the victim, but she said the victim drove her off the road and hit her. The deputy, however, said damage on both vehicles was consistent with the victim and witness' statements. 
RELATED NEWS: 
Perez, who doesn't have any prior convictions for battery, was also issued a citation for unknowingly driving with a suspended or revoked license and was transported to the Marion County Jail. She posted $10,00 bond and was released.