Florida man attacked by alligator describes what happened: 'All I saw was this massive black thing'
DAYTONA BEACH, Fla. - A Florida man was attacked by an alligator after he opened the front door of his home to investigate a noise. 
"All I saw was this massive black thing. My first thought was that it was a dog. We don't have any stray dogs out here, but that was my first thought," Scott Hollingsworth told FOX 35.
Turns out, it was a nine-foot alligator, and moments later, the gator lunged at him and bit his thigh – leaving a hefty gash and some scratches – before letting go and proceeding to hide nearby. The attack happened Saturday night at a home on Champions Drive in Daytona Beach, Florida as TV crews were reportedly recording for "On Patrol: Live," a TV show that follows law enforcement agencies around the country.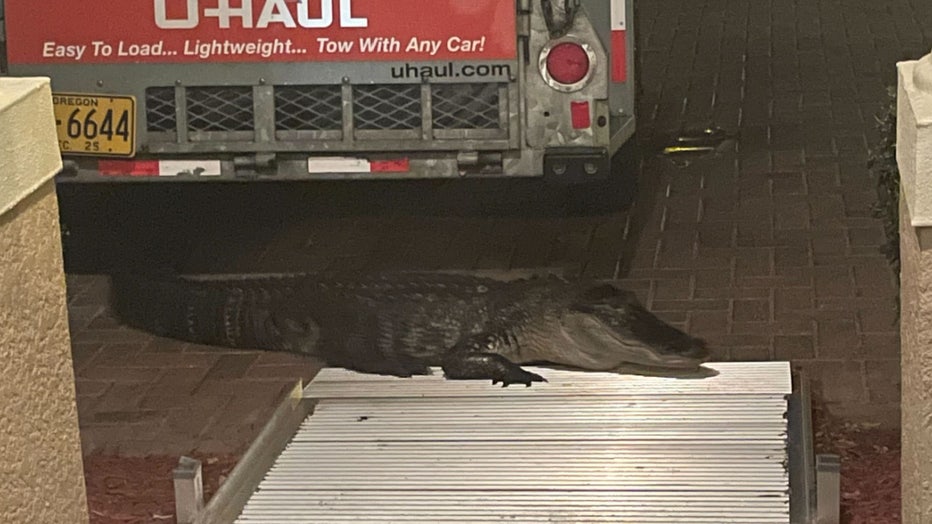 Video from deputies' bodycam cameras showed the moment deputes found the alligator near the door. The FWC was contacted as well as an alligator trapper, who killed the reptile, which is standard protocol when an alligator bites someone.
"Make sure that he remains calm with the bleeding. Like I said, use a clean, dry cloth and apply pressure directly over the bite," the 911 dispatcher told Hollingsworth's wife.
Dan Abrams, the former host of "LivePD" and now hosts "On Patrol: Live," addressed the incident in a tweet. Some users have taken to the TV shows Facebook page expressing concerns about the alligator being killed while live on air.
The FWC said alligator attacks are considered to be rare, and that alligators become aggressive when either provoked, to protect their nest, or during mating season, which falls in the spring. 
Kevin Officer, president of Affordable Wildlife, said alligators tend to be afraid of humans and described a situation as what happened in Daytona Beach as one in a million. 
"I don't think he did anything wrong. You should buy a lottery ticket though definitely," he said.
This latest incident comes nearly two weeks after an alligator bit a woman's foot in St. Lucie County, Florida, and dragged her into a retention pond, where she died. Officials said the alligator initially went after the woman's dog, which caused her to fall.
Alligators are located in every part of Florida in marshes, swamps, ponds, lakes, and rivers, according to the FWC. While attacks are rare, the FWC says, Gators can become aggressive when provoked, when protecting their nests, or during mating season.
Alligators are "opportunistic feeders," according to the FWC's website, and primarily eat "fish, snakes, turtles, small mammals, and birds." Smaller alligators can eat insects, amphibians, and small fish.
According to the FWC's most recent numbers – last updated November 2021 – there have been 16 deadly alligator bites on people since 2000, and a total of 26 since 1948. Data for 2022 is not listed.However, FOX 35 has reported on alligator attacks that happened in 2022.
According to the report, which is embedded below, there were 9 alligator bites reported in 2021, 12 in 2020, 10 in 2018 and 2019, and 12 in 2017. The last deadly incident reported was in 2019.
FWC: Alligator safety tips for Florida residents
Never feed an alligator
Keep pets away from water's edge
Swim during the day and in designated areas
If you see an alligator, keep you distance
Florida Nuisance Alligator Hotline
The Statewide Nuisance Alligator Program (SNAP) has been established to address complaints concerning specific alligators believed to pose a threat to people, pets, or property. People with concerns about an alligator should call FWC's toll-free Nuisance Alligator Hotline at 866-FWC-GATOR (866-392-4286). 
To become an alligator trapper, you have to submit an application. Visit myfwc.com for more information.