Florida deputy who fired Taser at suspect near Wawa gas station facing charges
ORLANDO, Fla. - A deputy with the Osceola County Sheriff's Office is now facing criminal charges for an incident that happened over a year ago. 
The sheriff's office and the State Attorney's Office both say Deputy David Crawford fired a Taser by a gas pump, leading to a fire that injured both himself and a man he was attempting to arrest. 
Deputies were after Jean Barreto Baerga, accused of driving recklessly in February of 2022. Sheriff Marco Lopez said Baerga was running red lights, riding on the sidewalk and grass, and even headed toward oncoming traffic. Body camera footage shows deputies following him to a Wawa gas station and tackling him to the ground. They pull out a Taser and acknowledge the risk.
"Kill the pump! Kill the pump! There's gas!" a deputy can be heard shouting over the body camera.
The state attorney representing Orange and Osceola counties said Deputy David Crawford fired the Taser anyway.
MORE HEADLINES:
"Deputy Crawford recklessly deployed a taser at the victim who had become soaked in gasoline, and as a result, caused the explosion that injured the victim," State Attorney Monique Worrell said.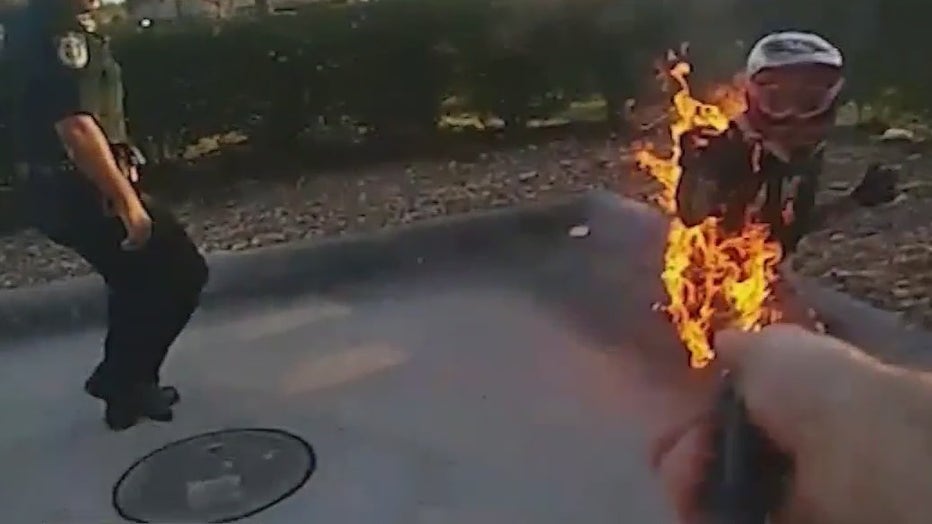 Surveillance video from the Wawa shows Baerga pulling up to the pump to fuel up as the deputies quickly arrive to make an arrest. Then, flames erupt before one person is seen scrambling away to extinguish the flames.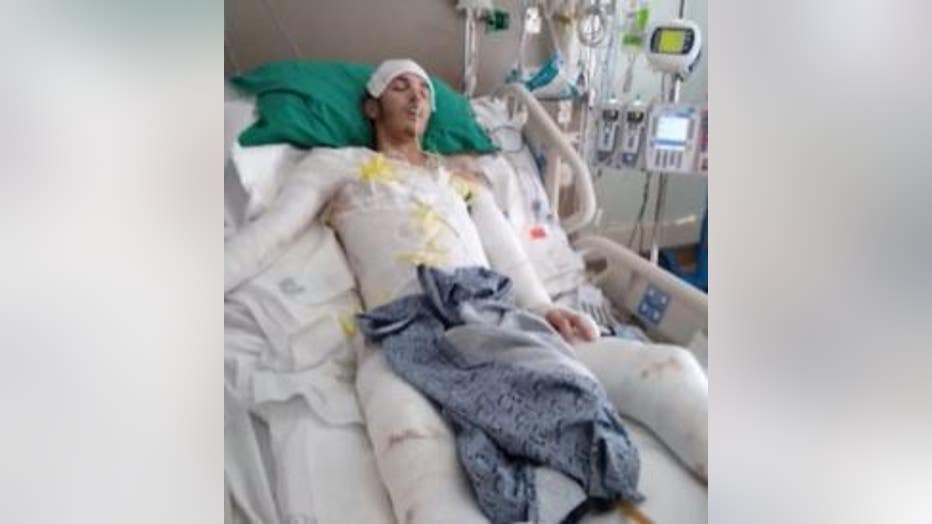 Credit: Family of John Beretta
Baerga wound up with burn injuries over about 75% of his body, according to his lawyer, Mark NeJame. The only parts of his body that weren't burned were his face, because he was wearing a mask; his hands, because he had gloves; and his feet, because he had shoes. The rest is covered in second and third-degree burns that have racked up $7 million in medical expenses. 
That's just the bill so far. Burn injuries make people very sensitive to the sun and susceptible to infection.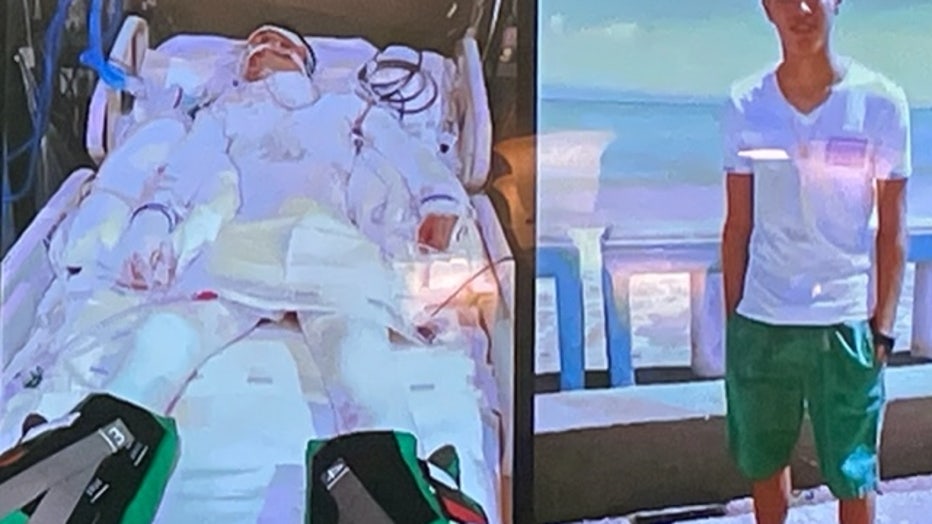 Credit: Family of John Beretta via NeJame Law.
Baerga's lawyers are coming after the Sheriff's Office for that money.  
"They're going to cost the taxpayers in Osceola County millions," said NeJame. "There should be consequences, because how else do we stop this type of activity for happening again?"
Deputy Crawford is now charged with culpable negligence, a misdemeanor punishable by up to a year in jail.
"I don't think it speaks to the severity of the negligence and the severity of the injuries, but I think that it addresses the crime under the current statute," said NeJame. "I think that the legislature should be cognizant of this and make the appropriate changes so that when this type of behavior occurs, that it does allow for a felony."
NeJame says the state attorney's office was considering a felony charge of attempted manslaughter. But manslaughter means basically that things happened by accident. NeJame explained, because of that, it's hard to prove a person "attempted" an accident. He said that's how the deputy wound up with just a misdemeanor.  
The culpable negligence charge is the same thing Sheriff Marco Lopez recommended to the state attorney's office a year ago. At that time, the sheriff pointed out that the deputies acknowledged the gas pumps and the risk of fire.
"After that statement, he picked up the discarded taser that was in the gas and says, 'You're about to get tased, dude.'"
When FOX 35 News asked the sheriff's office for comment on charges being filed today, it said, "We feel it's appropriate to let the criminal justice system determine if Deputy Crawford did a criminal act that could be proven beyond a reasonable doubt."
NeJame's team said Crawford was never fired from the sheriff's office, despite the criminal investigation. Instead, he's been on paid administrative leave.