Firefighters, deputies help save water-logged blue heron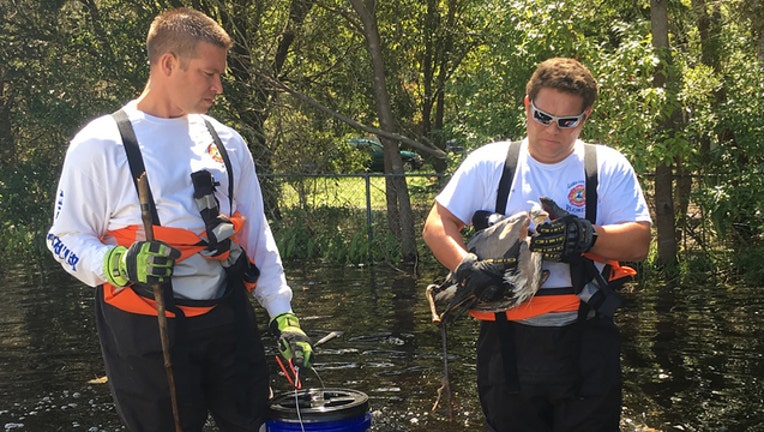 article
ASTOR, Fla. (WOFL FOX 35) - In the search for an elusive python, Lake County Fire Rescue's Chief Dan Miller and Lt. Jason Rivera instead discovered a struggling blue heron. The bird, an iconic symbol in the county's logo, was found water-logged in Astor's flooding.
"We were sitting at the Unified Command post and a gentleman came running in crying hysterically that a 9-foot python just ate his cat," said Chief Miller. "We jumped up and took off to go looking for the snake and we couldn't find it. What we found was this bird flopping around in the water. It couldn't get out."
The firefighters, in dry suits and heavy gloves, picked up the heron and placed it into a Lake County Sheriff's Office Agriculture/Marine Unit truck. The bird was allowed to rest and dry out, and was eventually released back into the wild.  
"People think of the fire service as just putting out fires and working on injured patients, but we are a part of the community and will work on whatever mission comes before us," said Fire Chief Jim Dickerson.