Family reunites with missing dog after 5 years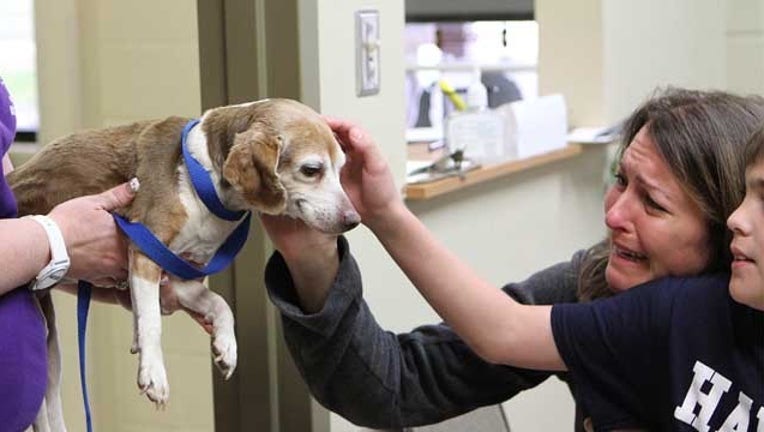 When Maisy the beagle showed up as a stray at Young-Williams Animal Center, the staff knew there was something special about her.
As part of the intake process, animals at Young-Williams Animal Center in Knoxville, Tenn. are scanned for a microchip. Fortunately, Maisy had one and her family had kept their contact information updated.
After missing Maisy for more than five years, Chad and April Helland also from Knoxville were reunited with her on Tuesday.

"We never gave up hope," Chad Helland said. "April and I had talked about Maisy on a regular basis, and we always wondered what happened to her. We're so thankful we had her microchipped all those years ago, and we're forever grateful to Young-Williams Animal Center for reuniting our family."

Young-Williams Animal Center encourages all community pet owners to microchip their pets. A microchip with registration is included in the adoption fee for every animal that is adopted from the shelter. The simple procedure can also be performed at local veterinary offices.

"Microchipping your pet can save your dog's or cat's life," said Jeff Ashin, CEO of Young-Williams Animal Center. "It provides a permanent ID tag that won't fall off and can't be removed. It is the most permanent way to show that your pet is part of your family. Without Maisy's microchip and updated registration, we may never have been able to reunite her with the Hellands."

Just like Maisy, pets can show up long after they first went missing.

"Pet owners shouldn't ever give up on a lost pet," Ashin said. "Pets show up weeks, months and years after they first go missing. Microchipping your pet is the best way to ensure you'll be reunited if your pet is ever lost, but you should also check our shelter, post fliers around the neighborhood and share lost pet notices on social media."