Despite resistance Florida Gov. wants $1 billion in tax cuts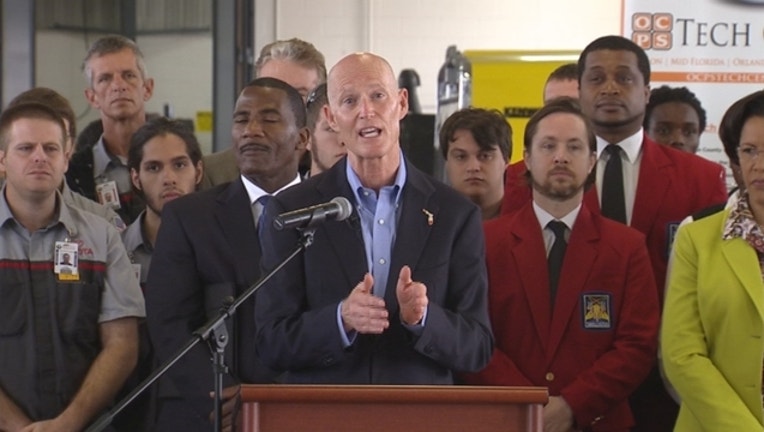 article
TALLAHASSEE, Fla. (AP) - Setting up another contentious budget battle, Florida Gov. Rick Scott was expected Thursday to call for $1 billion in tax cuts, most of it targeted at businesses.
Scott's is recommending the hefty amount despite signs that the Republican-controlled Florida Legislature will resist going along with such a large tax cut package. Scott, however, will argue that the dramatic tax cuts will help the state's economy withstand the next downturn.
"We can't only create jobs when the national economy is good," Scott said in a statement. "We must cut taxes and diversify our economy so Florida can grow even when the national economy is bad."
Scott has consistently called for tax cuts since he was first elected five years ago, but has he has been blocked by a recalcitrant Legislature. That's because the size of Scott's tax cuts have either required sizable spending budget cuts or been aimed at businesses instead of consumers. Earlier this year, lawmakers did agree to more than $400 million in tax cuts.
Sen. Tom Lee, the Brandon Republican in charge of the Senate budget, said he wanted to see the details of Scott's proposal, but added that the Senate would be cautious about the size of any tax cut package. That's because Scott's proposal exceeds the amount of surplus state economists have currently forecast. Senate President Andy Gardiner has already said he was willing to back $250 million in tax cuts in 2016.
"I think the Senate is interested in continuing to cut taxes in Florida but we want to do so in a responsible way that doesn't result in budget deficits," Lee said. "We look forward to the dialogue."
Legislators will consider Scott's tax cut package during the regular session that starts in January. Scott is expected to release his full budget recommendations sometime in December. The sheer size of Scott's tax cut package — coupled with his push to set aside $250 million for a new business incentive pool — suggest Scott will have to recommend spending cuts in other parts of the state budget.
This past year Scott pushed for tax cuts aimed more at Florida residents, including a cut in taxes charged on cellphones and cable television bills. This year, Scott is returning to a push for large cuts aimed instead at businesses, including the elimination of corporate income taxes for manufacturers and retailers. That alone would cost an estimated $770 million a year.
During his first campaign, Scott had vowed to completely eliminate the corporate income tax in seven years but legislators were only willing to make small trims to the tax that currently brings in about $2 billion a year to the state.
Scott also wants to cut sales taxes charged on commercial leases by 1 percent and permanently eliminate the sales tax charged on the sale of manufacturing equipment.
The governor is also calling for two sales tax holidays in 2016. He wants a 10-day back-to-school sales tax holiday as well as a nine-day sales tax holiday on supplies used for hurricane preparation. Scott also wants to permanently eliminate sales taxes on college textbooks.