Deputies: Wife arrested after disabled husband found in filth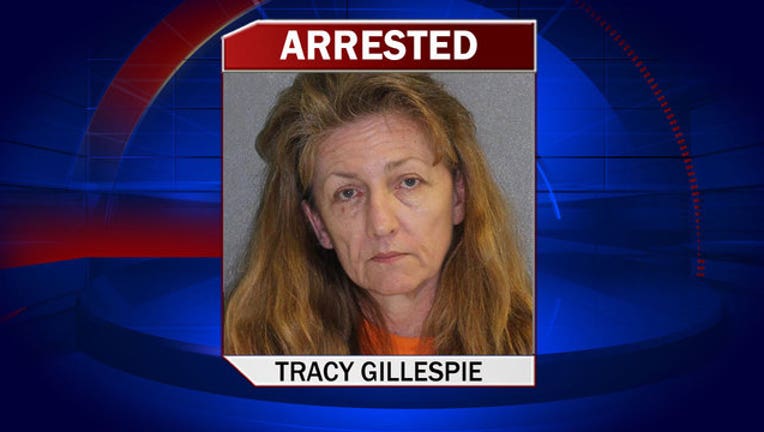 article
DELTONA, Fla. (WOFL FOX 35) - Volusia County deputies say a 65-year-old man with kidney failure is being treated at the hospital after his wife was arrested on neglect charges.  Deputies said David Gillespie called 911 on Thursday night, worried that a stranger was inside his home on July Circle in Deltona.
According to investigators, when deputies arrived on scene, Gillespie was on the floor, wrapped in a blanket and covered in urine, feces and blood. Gillespie told deputies that he fell out of his bed four days ago, and his wife failed to render any aid or contact medical services. According to the report, he was suffering from kidney failure. During the past four days, deputies say his wife,  53-year-old Tracy Gillespie, only gave him beer.  She was arrested and charged with neglect of an elderly and disabled adult.
Documents show that Tracy Gillespie works for Debary Health and Rehabilitation. We were unable to contact anyone at the facility for comment.  Neighbor Christine Peacock says she saw the man as he was taken to the hospital. "He just looked so drawn up and crippled and devastated. It's beyond my wildest imagination," she says.
Deputies say he was severely dehydrated and had open sores on his body which were bleeding. In the report, the deputy who responded said he had a hard time breathing inside the home due to a strong, foul odor.
"They just moved in," says Peacock.  "It's taken them a while. They've brought some stuff like a month ago, and I'm like, 'Hey congratulations!'  Then it took another month before they brought another truck load."  
Tracy Gillespie is out of jail on a $2,500 bond and back home.