Deputies deliver gifts to family after presents were stolen from car
ORLANDO, Fla. - Some of Santa's elves at the Orange County Sheriff's Office delivered Christmas gifts a few days early for one family after their gifts were stolen out of their car.
"Hi, Ms. Crespo? I'm looking for two children by the name of Bella and Izayah," said Orange County Lt. Yuri Melich. "Something very, very strange happened. Santa Claus came by and dropped some stuff off to us. I think it may belong to you. You guys want to come out?"
Ten-year-old Izayah and five-year-old Isabella woke up to find Christmas came ealy this year. The Orange County Sheriff's Office dropped off gifts on behalf of Santa after seeing our story on Fox 35 last week about the children's mom, Michelle Crespo.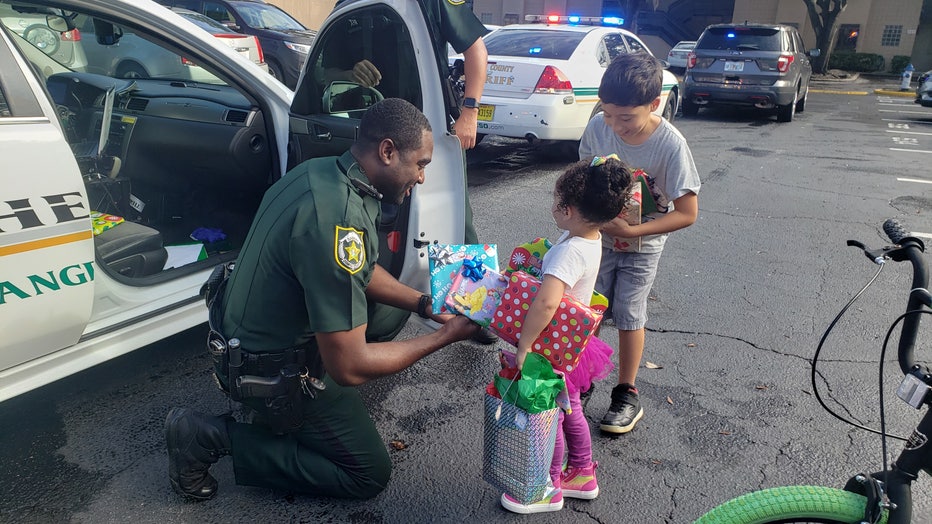 "And all of it was gone, just overnight," Crespo told Fox 35 last week. Someone broke into her car overnight and stole the Christmas gifts she bought for her children. 
Monday was a very different scenario at her home. 
"You want to go up on the bike? Here, how about that?" a deputy asked Isabella, 5. 
The theft is forgiven but not quite forgotten.
"Clearly faith has been definitely restored for me. It was heartbreaking to wake up to it, but out of everything, my biggest thing is if somebody really took the effort to do that, then they must have needed it and I hope it actually does go to somebody," said Michelle Crespo. 
"It feels pretty amazing. I did not expect it at all. It just popped out of nowhere," said Izayah.
"Thank you," said Isabella.