Delayed again: Opening of I-95 interchange in Palm Bay pushed back another week
PALM BAY, Fla. - A new I-95 interchange in Palm Bay that was delayed to a projected opening of Dec. 2 has been delayed again.
City leaders say that the interchange is now expected to open on Dec. 9.
In Palm Bay, the road to completion is long and full of dirt.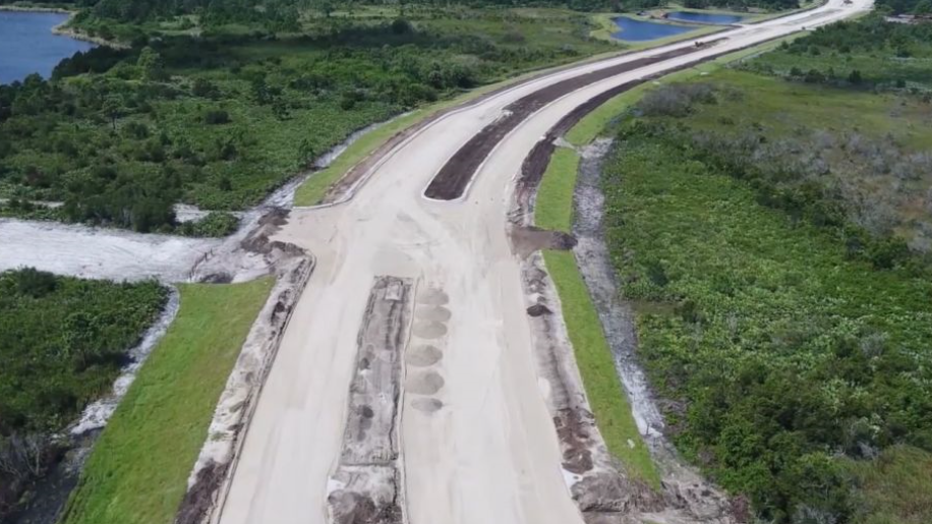 After months of delays, the St. John's Heritage Parkway was supposed to open Monday, Dec. 2, but "Now here we are Dec. 2, and we're being told it rained so Dec. 9," said State. Rep. Randy Fine, (R) Palm Bay.
The road project was delayed again.
The Florida Department of Transportation finished the I-95 ramp in August.
Taxpayer dollars covered the $28 million price tag for the ramp.
According to a letter from FDOT, the delays cost them another $475,000 to re-route the power supply, fix signs and keep traffic out.
The connecting road was set to be done by the City of Palm Bay in July, but weather delays pushed it back, leaving Palm Bay with a $16 million debt, according to a recent state audit.
A state audit released in October found that the city has a $16.4 million debt from the project, explaining that the city planned to fund the project by "primarily private resources," but never got that money from the developer and did not properly document the funding for it. 
That debt is expected to be paid.
"It's 100 percent taxpayer dollars and taxpayers will see the benefits within the next five to 10 years," said Palm Bay City Councilman Brian Anderson. 
Anderson says weather pushed the finish date back another week.
"What do you say to those taxpayers who might be upset about that?" FOX 35 reporter Lara Greenberg asked him.
"Nobody likes change or the patience it takes to getting anywhere. We live in a culture where it's instant gratification. We want things right now, but things take time," Anderson said.
Councilman Anderson hoped this project would be much further along by now also, but he says now crews will be working around the clock to make sure it's completed by Dec. 8.
"We've come against a wall pretty much between the city and the contractor," Anderson said.
If contractors don't finish by Dec. 8, they'll be fined.
Even then, the road still needs traffic signals, lights and inspections.
The actual opening date is slated for December 20. 
"We need to get the road done and get cars on it is the ultimate goal here," Anderson said.
"They're apparently paving the road as we speak. What they were doing for the six years before that, I have no idea. I'll believe it when it opens," Rep. Fine said.