Dancer is kicked out of Gentlemen's club for fighting, but returns with rifle-type BB gun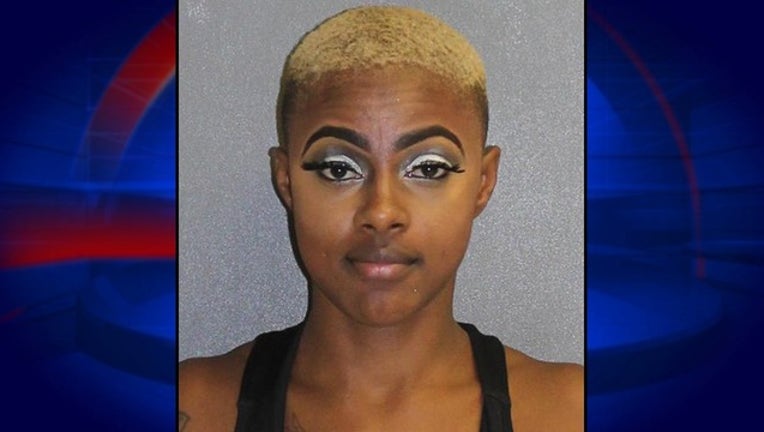 article
DAYTONA BEACH, Fla. (FOX 35 WOFL) - The Daytona Beach Police Department says that a dancer was kicked out of Gentlemen's Club for fighting another dancer for stealing her money. However, she returns to the club with a rifle-style BB gun.
Police say that on February 22nd, officers were dispatched to Pin-Ups Gentleman's Club on E. International Speedway in reference to a person with a rifle.
Upon arrival, officers say they made contact with the victims, identified as the manager, Amir Ahmed, and the armed security guard, Victor Garcia. Both stated that they had recently removed a dancer, identified as Amber Colquitt, from the property as she was involved in a fight with another dancer over money earned while working. 
Officers say that they were told by the victims that one of the bouncers picked up Colquitt and moved her outside. The victims followed. Colquitt was told to leave the property. She reacted in anger and made threats to come back and "shoot the place up." She even made comments of "when I come back, I'm starting with you." 
Both victims did also tell officers that the Colquitt said that she was struck by the manager and that she believes he was defending the other dancer over her.
After she left, the victims told officers that Colquit was seen making threats as she went around the building to the parking lot area. So both victims remained at the front entrance until her car let the property, but she soon came around the corner on foot holding something in her jacket.
The victims told officers that she was clearly still angry and yelling threats. She then pulled out a black rifle from her jacket, while continuing to make threats. The armed security pulled his gun in fear of their safety. He told Colquitt to drop her weapon and get on the ground. She complied and dropped her rifle.
Police also said they spoke to Colquitt on scene. She told them that she was an entertainer and puts on a show on stage at the business. She claims that patrons were throwing money on stage and another dancer that was not currently performing took about $25 from her. Colquitt admitted that she felt disrespected and felt that she was being stolen from. 
She continued speaking to police, admitting that she went to confront the dancer. She said that security got involved at that time and told her that they would check the cameras and make the manager aware of the situation. So, Colquitt continued to work until she was called into the manager's office to discuss the incident with the dancer, manager, and security.
She told officers that the manger stated that the dancer only picked up $3 and that he was not going to do anything about the incident. So, Colquitt, upset, left the officer and got dressed. She stated that she was leaving the club while the dancer who took her money was still on the floor working. 
Colquitt admitted to officers that a fight then started between her and the other dancer. She says it started with the two swinging at each other. She claims she was hit and then grabbed by security and carried out of the business. At that time, she engaged the manager and security in a verbal altercation. She went on to say that the manager struck her.
She told officers that in response to being hit, she felt that she could shoot the manager in self defense. She admitted that she went to her friend's car and grabbed a black Rifle-type BB gun. She had utilized the gun earlier in the day for a photo shoot. When she came back, she said "You want to hit females. I got something for you. You still want to hit females?"
Colquitt said that the manager said "Go ahead! Shoot me! Shoot me!" But, the armed security guard then pointed his gun at her and prompted her to drop the gun and get on the ground. She complied and told them that the rifle was a BB gun.
Police also checked out surveillance footage while there. They observed the physical altercation between dancers, a bouncer carrying Colquitt out to the front entrance, and a very animated verbal altercation between the manger and her in the front. Colquitt was also seen coming back to the front entrance carrying a large object wrapped in a black leather jacket that was revealed to be rifle. She did follow the security guard's demands.
Colquitt was placed under arrest for aggravated assault with a deadly weapon. She was transported to the Volusia County Branch Jail for processing. The rifle was collected. It was loaded with 52 brown/cooper BB's.