Crew caught dumping chemical-laced water down drain at OIA
ORLANDO, Fla. - A cleaning crew was caught on camera dumping water mixed with cleaning chemicals down a storm drain at Orlando International Airport. 
A FOX 35 News viewer reached out to us because he said he was disgusted by what he saw, so we took the video to the people in charge: the Greater Orlando Aviation Authority (GOAA).  A spokesperson from GOAA said it was not proper procedure to get rid of floor cleaner wastewater. 
The video shows a cleaning machine spewing wastewater into the drop-off lane, right outside Terminal B at OIA.
The man who took the video said he first saw it happening, then he smelled it, so he took out his phone and started recording.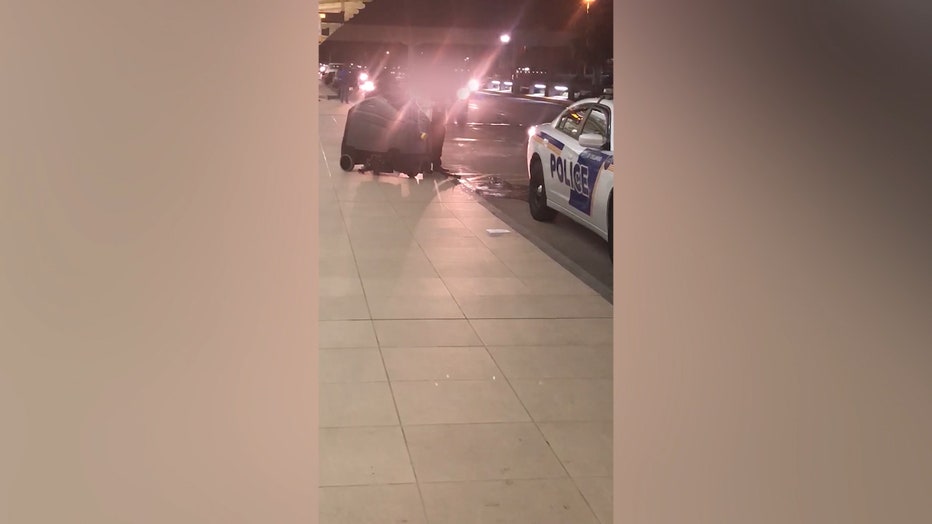 "It was like an obnoxious odor, like a Port-O-Let, like that stinky smell. It went across the street. It's black, disgusting, stinky water," said the man, who asked not to be named in this report.
A spokesperson from GOAA told us, this was definitely the wrong way to get rid of floor cleaner
What should they have done?  
The spokesperson said staff should have emptied the water in a special drain that goes directly into a sanitary system. According to a GOAA spokesperson, the floor cleaner that was dumped onto the street and went down that drain is a green bio-degradable water-based solution. However, the person who took the video is still concerned.
In a statement, a GOAA spokesperson said the cleaning company has been notified of the action and the authority is insisting that they re-train all workers on the proper way to dispose of wastewater.
"Thank you for bringing this to our attention,"  GOAA spokesperson wrote.
GOAA hires an outside cleaning company. Once the employees have been re-trained, they will be required to sign a statement saying it's been completed.