Counties, municipalities set up sandbag stations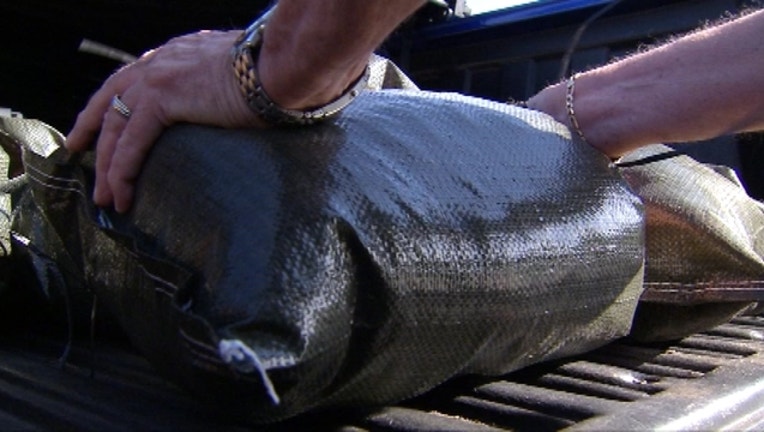 article
LAKE MARY, Fla. (WOFL FOX 35) - Whether or not Erika remains a full-fledged tropical storm or is downgraded to a tropical depression, the system is expected to bring heavy rain to parts of Central Florida.
Flooding may be an issue, so counties and select municipalities are offering sandbag stations. Some locations require you to bring your own shovel and bags. (scroll down the page to see full list)

ORANGE COUNTY
Saturday, August 29 from 7 a.m. to 7 p.m.  To find the sandbag distribution location nearest you, click here (PDF).  
Orange County distributes sandbags to Orange County's private property owners to alleviate flooding. Even though it is not the responsibility of the Orange County Roads & Drainage Division to provide flood protection to private property owners, there may be instances when this Division could respond and provide assistance to a limited number of flood protection requests. When it becomes known that possible flooding is expected to occur, each Roads & Drainage Division maintenance facility will respond, resources allowing, to requests from citizens requesting sandbags to protect their personal property as detailed below.
Any citizen requesting sandbags or more information on sandbags should call the Orange County Government Information Line at 311 (or 407-836-3111). The Public Works Maintenance Facility staff may deliver sandbags. Each facility will staff one flatbed truck with driver and helper and one pickup truck with driver and helper. This activity will be coordinated and dispatched from the area maintenance facility.
A maximum of 300 sandbags will be supplied per residence. At the time of delivery of sandbags, a sandbag receipt will be given to the citizen to return to Orange County Public Works. This receipt tracks the number of bags given out and states that the citizen is responsible for the disposal of the sandbags after the flooding situation passes.
Orlando
The City of Orlando is giving away sandbags to help residents prepare for the potential impact of tropical storm Erika. Residents must show proof of residence and will be given 10 bags per address.
Saturday, August 29, and Sunday, August 30, 2015
7 a.m. - 3 p.m.
WHERE:
City of Orlando Streets and Stormwater Division
1010 Woods Avenue
SEMINOLE COUNTY
Seminole County is opening sandbag operations this afternoon at Soldiers Creek Park located at 2400 S.R. 419 in Longwood.  Hours of operations are from 3:30p.m. - 7:00p.m. today and on Saturday from 8:00a.m. to 4:00p.m.  Residents must bring a shovel and fill bags on site. For additional information about preparing for Tropical Storm Erika, please visit www.prepareseminole.org.
Altamonte Springs
Due to the forecast of inclement weather, the City of Altamonte Springs is providing sand and bags for City residents at the following locations:
Eastmonte Park, 830 Magnolia Drive (off S Ronald Reagan Blvd)
Westmonte Park, 624 Bills Lane (off Spring Oaks Blvd)
Residents must bring their own shovel as this is a self-service operation. For more information, please contact us at (407) 571-8340 during normal business hours or at (407) 571-8686 for after hour questions. 
Longwood
On Saturday, August 29, 2015 and Sunday, August 30, 2015 from 7:00 AM - 2:00 PM each day, the City of Longwood Public Works Department will be issuing sandbags to all interested residents; there is a 10 bag limit per person. The Public Works Department is located at 907 E SR 434 behind Acme Comics. The Longwood Storm Information Line will be activated at 5:00 PM today and can be reached at (407) 260-3478.

VOLUSIA COUNTY
Volusia County's Public Works Department is providing free sand and bags to county residents. Residents should bring shovels and be prepared to fill and transport the bags. Materials are available at these locations:
Public Works office, 455 Walker St., Holly Hill
Road and Bridge office, 530 N. Dixie Freeway, New Smyrna Beach
Road and Bridge office, 200 N. State Road 415, Osteen
Road and Bridge office, 2560 W. State Road 44, DeLand
New Smyrna Beach
New Smyrna Beach residents may pick up free sandbags from 10 a.m. - 4 p.m., Saturday, August. 29, at the New Smyrna Beach Public Works Department, 124 Industrial Park Avenue.  Sand and bags are provided. However, residents must bring shovels and fill their own bags. There is a limit of 20 sandbags per household. More than 400 bags had been distributed over the first few hours of distribution this morning. For more information on sandbags, citizens may call (386) 424-2209.
Deltona
The City of Deltona will provide filled sand bags to city residents at
Festival Park, 191 Howland Blvd., on Saturday, Aug. 29. from 8:30 a.m. to noon
Deltona City Hall, 2345 Providence Blvd., Aug. 29. from 8:30 a.m. to noon
There is a limit of 15 filled sand bags per vehicle. Residents can get an additional 15 empty bags to be filled off-site from the distribution locations.
Port Orange
Port Orange has sandbags and dirt available to the community while supplies last.  Residents must bring shovels to fill their own bags.  Double-lined trash bags work just as well as sandbags.
The bags and dirt are available at:                            
Fire Station 71, 4200 Ridgewood Avenue
Fire Station 72, 6027 Central Park Blvd.
Fire Station 73 at 1090 City Center Blvd.
Fire Station 74 at 6701 Airport Rd.
Fire Station 75 at 1701 Town West Blvd.
FLAGLER COUNTY
Fire Station 41, 5593North Ocean Shore Blvd., Palm Coast.
Fire Station 71, 89 E County Road 2006, Bunnell.
Emergency Operations Center, 1769 East Moody Blvd., Building 3, Bunnell.
        
Palm Coast

Sand only:
Palm Coast Public Works Yard, 1 Wellfield Grade, off U.S. 1just north of Palm Coast Parkway.
Indian Trails Sport Complex, 5455 Belle Terre Parkway, Palm Coast.
Palm Coast Community Center, 305 Palm Coast Parkway NE, at the corner of Palm Coast Parkway and Club House Drive.
The Intracoastal Park across from European Village Palm Harbor Drive, under the Hammock Dunes Bridge).
Sand bags only:
Palm Coast Community Center, 305 Palm Coast Parkway NE, from 8 a.m. to 5 p.m. Monday through Friday; 8:30 a.m. to 11 a.m. and 12:45 p.m. to 5 p.m. Saturday; and, 9 a.m. to noon Sunday.
Palm Coast Public Works Yard, 1 Wellfield Grade, off U.S. 1, bags will be made available daily.
Palm Coast city offices, 160 Cypress Point Parkway, Suite B-106, during regular business hours, 8 a.m. to 5 p.m. Monday through Friday.
Palm Coast Utility Department, 2 Utility Drive, Palm Coast during regular business hours, 8 a.m. to 5 p.m. Monday through Friday.
Bunnell
Sand and bags: Old City Hall (the coquina building), 201 West Moody Blvd., Bunnell.
Flagler Beach
Sand and bags:  Fire Station 1, 304 South Central Ave., Flagler Beach, in the front parking lot.

OSCEOLA COUNTY

Osceola County residents may fill and make sand bags at several locations. Unincorporated Osceola County Residents: The locations will close at 6 p.m. and re-open at 8 a.m. on Saturday. There is a 25-bag limit and help is available for those unable to fill the bags themselves.
Road & Bridge Department, 3850 Old Canoe Creek Road
Road & Bridge Department, 1698 S. Hoagland Boulevard in Kissimmee, 34741
Poinciana Library, 101 N. Doverplum Avenue in Poinciana, 34758
Buenaventura Community Center, 501 Florida Parkway, 34743
Kenansville Community Center, 1178 S. Canoe Creek Road in Kenansville, 34739
Holopaw Community Center,  8801 Community Center Road in Holopaw, 34773 
Celebration Library, 305 Campus Street, 34747

Kissimmee
The corner of Thacker Avenue & Mabbette Street across from the YMCA

Saturday, 8 a.m. - 6 p.m.
Sunday, 8 a.m. - 5.p.m.
12 bags per household
ID required-City of Kissimmee residents only please

St. Cloud
O.P. Johnson Park, 324 Georgia Ave., St. Cloud, FL 34769
Saturday, 8 a.m. to 6 p.m.
Sand and bags; citizens must their bring shovels.  (Help will be available for citizens who are unable to fill their own bags).

In addition, County fields at Parkway Middle, Oren Brown and Buenaventura Lakes were closed in anticipation of the rains associated with Erika.

Residents and visitors should continue to monitor local news for further instructions, ensure disaster supply kits are fully stocked and plans are in place to remain safe.
LAKE COUNTY
Sand is available at four Lake County Fire Stations: 10, 14, 53, and 110. Please bring your own shovels and bags.
Fire Station 10, 23023 State Road 40, Astor, FL 32102
Fire Station 14, 42700 State Road 19, Altoona, FL 32702
Fire Station 53, 2505 Spring Lake Road, Fruitland Park, FL 34731
Fire Station 110, 6234 County Road 561, Clermont, FL 34714
Clermont
The City of Clermont is offering free sandbags to the public beginning immediately through Monday. The following alerts are provided to help residents prepare for the possibility of Tropical Storm Erika passing through Central Florida early next week, with potential heavy winds and rain in the meantime:
Sandbags - Sand and sandbags are available immediately at the city's Public Works Department at 400 12th Street. Residents can fill up the bags for free with a limit of 10 bags.
Preparation - Residents are urged to start getting prepared for the possibility of heavy winds and rain, including securing items, such as patio umbrellas and trash cans. A complete guide can be found at www.lakecountyfl.gov/hurricane_guide