Clinton and Trump essentially tied in latest Florida poll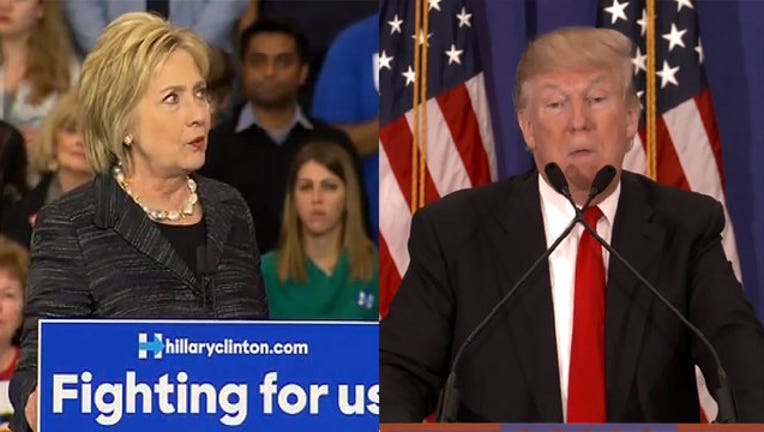 article
TALLAHASSEE, Fla. (WOFL FOX 35) - Democratic presidential nominee Hillary Clinton has pulled into a statistical tie with Republican opponent Donald Trump in Florida, according to a poll released Tuesday.
Clinton, who narrowly trailed in a Quinnipiac University poll of the state last month, now leads the Florida race with 46 percent of likely voters, to 45 percent for Trump. That is well within the survey's margin of error of 3 percentage points.
The Quinnipiac poll seems to back up nationwide surveys that have shown Clinton gaining support in the wake of both parties' national conventions last month. The poll of 1,056 Florida likely voters was conducted from July 30 to Sunday, which also largely coincided with a fight between Trump and the Muslim-American family of a fallen soldier whose parents slammed Trump at the Democratic National Convention in Philadelphia.
In a four-way race, the poll found, Clinton and Trump are tied at 43 percent each. Libertarian nominee Gary Johnson, the former governor of New Mexico, received support from 7 percent of those surveyed, while Green Party nominee Jill Stein drew 3 percent.
Last month, Trump held a three-point lead against Clinton in Quinnipiac's head-to-head poll, with his lead growing to five points when Johnson and Stein were added to the mix.
Florida is the largest of several states that will likely decide November's election. The Connecticut-based Quinnipiac also released poll numbers Tuesday showing Clinton leading by four points in Ohio and 10 points in Pennsylvania.
In all three states, Clinton's support came heavily from voters who are opposed to Trump. Florida voters, though, are more hospitable to Clinton than in the other battlegrounds --- 41 percent of her Florida supporters say they are mainly voting to stop Trump, while 42 percent said they are casting their ballots because they like Clinton; another 13 percent are doing so because the former secretary of state is the nominee of the Democratic Party.
"It is not that her voters are in love with Secretary Clinton --- they just dislike her less than they disdain Trump," said Peter A. Brown, assistant director of the Quinnipiac University Poll.
But Trump relies on an anti-Clinton vote even more: 54 percent of his supporters in Florida say they are backing him to oppose Clinton, with just 29 percent saying they are doing so because they like Trump. Another 10 percent of his backers are going with Trump because he is the GOP nominee.
Both candidates are underwater in terms of Florida voters' opinions of them, with 39 percent viewing each of the major party nominees favorably. Trump's unfavorable rating is 54 percent, with Clinton getting that mark from 55 percent of voters.
There are also large gaps between the candidates along racial, ethnic and gender lines. Clinton leads among Florida women, 53-40, while Trump outpolls her by roughly the same margin among men, 51-39. Trump draws the support of 57 percent of white voters, to 36 percent for Clinton, while non-white voters back her by almost 50 points, 68-21.
The survey's partisan breakdown differs some from the earlier Quinnipiac poll. In July, 31 percent of respondents were Republicans, 29 percent were Democrats and 32 percent were independents. The survey released Tuesday still had the GOP making up 31 percent of the sample, but the Democratic share rose to 34 percent while independents fell to 30 percent.
Both candidates have focused heavily on Florida in recent days. After a visit to the state last week, Trump is set to return to Florida on Wednesday and Thursday. Clinton continued a swing through the state Tuesday, visiting Miami.