Florida deputies shoot, kill man who led them on chase in Brevard County: sheriff
COCOA, Fla. - Deputies shot and killed a man who led them on a chase in Brevard County Wednesday night, according to the sheriff's office.
The suspect, later identified as 36-year-old Richard Ruiz, was shot by nine deputies on State Road 528 near Interstate 95 after he reportedly started firing shots from his vehicle at deputies, who returned fire, Brevard County Sheriff Wayne Ivey told reporters during a news conference Thursday morning.
"If you point a gun at one of my deputies, you just guaranteed yourself a trip to the morgue," Sheriff Ivey said.
The chase began shortly after 10 p.m. Wednesday when deputies received a call about a suspicious person seen in the parking lot of the Sunset Bay apartment complex in Merritt Island.  A responding deputy immediately identified the person as Ruiz, whom he recognized from prior domestic violence cases. Ivey said the victim in those cases lived at the complex.
"Ruiz has a very violent past," Sheriff Ivey explained. "In fact, three times in a two-week period, he had a domestic violence, a violation of the conditions of the domestic violence order and then another domestic violence and battery."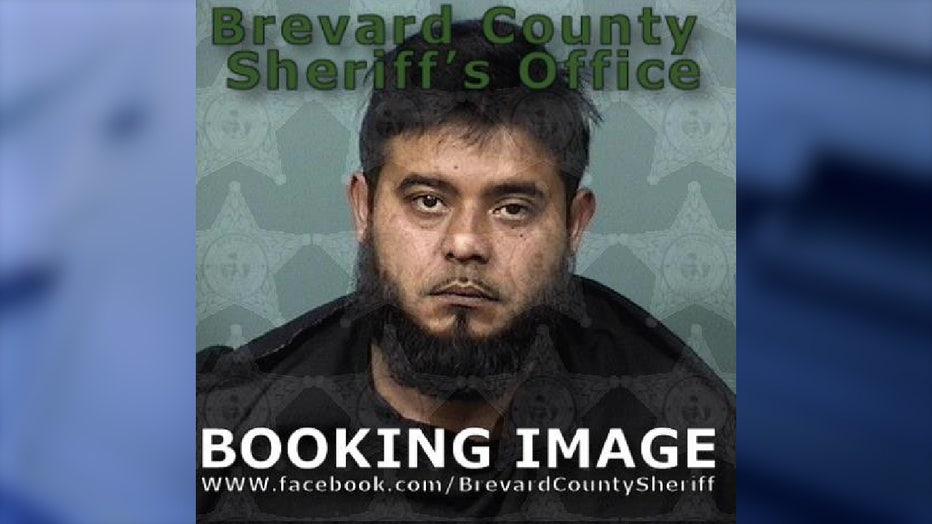 Previous mugshot of Richard Ruiz (Photo via Brevard County Sheriff's Office)
Deputies gave commands to Ruiz, who was armed with a handgun, but officials said he did not comply. It was then that Ruiz got into his pickup truck to flee, almost running over one of the deputies, Ivey said. Deputies pursued Ruiz who was traveling westbound on State Road 520 but lost sight of him. 
Ruiz's vehicle was eventually spotted getting on Interstate 95, and at one point, he was seen driving northbound in the southbound lanes, causing deputies to shut down the interstate, so drivers would not be harmed, Ivey said.
Ruiz then drove onto State Road 528 and deputies conducted a pit maneuver causing Ruiz's truck to flip on its side.
""Our team made the absolute right decision to conduct a put maneuver and take him out of action. They did it. They did it textbook, and the vehicle he was driving flipped up on its side," Ivey said.
When deputies tried to enter the vehicle through the sunroof, Ivey said a round was fired from the vehicle, narrowly missing the head of a nearby deputy.
"We had begged him to come out of the vehicle. He made a decision to pick a fight with the wrong people,"Ivey said.
Authorities believe there were additional rounds fired from inside the vehicle and, as a result, deputies fired back, killing Ruiz. 
MORE HEADLINES:
Ivey said the deputies involved in the shooting have been placed on paid administrative leave, which is protocol in deputy-involved shootings.  When asked why deputies decided to pursue Ruiz on a chase, Ivey said it was because Ruiz was a violent offender with a criminal history. 
"He had a loaded hand gun with him, and our team gave him multiple commands to comply. He refused," said Ivey. "These men and women deserve the right to go home to their families, and we're not going to let a violent thug stop them from going home to their families. We're just not."
SR-528 was blocked for several hours after the chase and shooting but has since reopened. 
An investigation is ongoing.