Reptile industry on edge after accidental killing of pregnant boa constrictor
BROWARD COUNTY, Fla. - Video of the Florida Fish and Wildlife Conservation Commission (FWC) accidentally killing a man's legally-owned pregnant boa constrictor, worth about $100,000, has the reptile industry in Florida on edge.
That happened while FWC officers were euthanizing nearly three dozen pythons, whose owner says he was keeping at the FWC's direction. The FWC outlawed ownership of certain python species in 2021.
At its most recent meeting, the FWC talked about making further changes to its restricted species list.
Several local breeders and people who own reptile-focused shops told FOX 35 News they're terrified of what could happen to their businesses.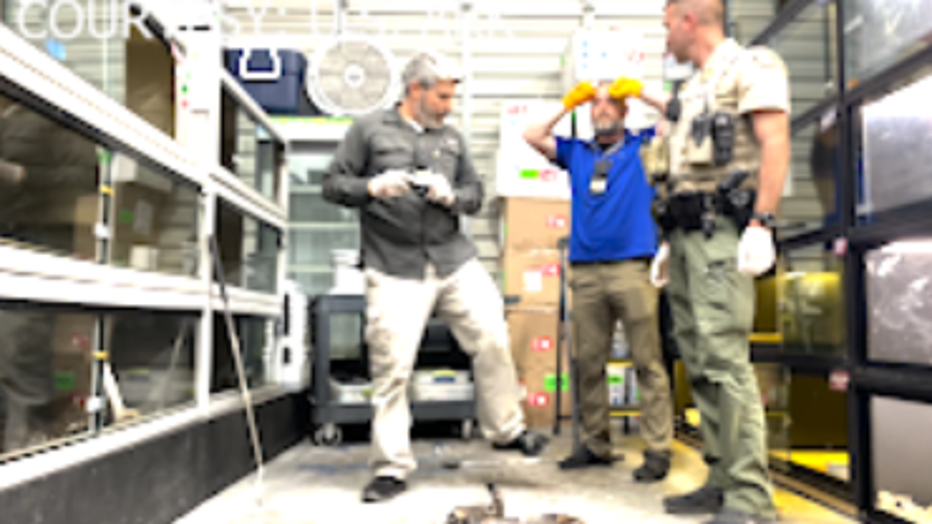 FWC officers reacting after realizing they've killed a legal pregnant boa constrictor 
None would go on camera, for fear of retribution from the state, but a group representing those business owners spoke with FOX 35. That group, American Reptile Keepers (ARK), says people in the reptile industry are truly scared.
"They're truly scared. They're like, 'Should we speak out? Should we be quiet? Do I hide my animals? Do I move out of state?'" recounted Elizabeth Wisneski, the President of U.S. ARK Florida. "We're a multi-million dollar industry in the state of Florida. It is huge. People are losing jobs, and the scary part – they're losing their retirements. What are they going to do? This is their livelihood."
Daniel Parker, who's also with U.S. ARK Florida, says it's troubling to him to see the FWC killing so many snakes, instead of trying to re-home them. Pythons are legal to own in many other states. 
"FWC has said, 'Nobody is going to lose their animals, and we're not trying to put anybody out of business.' But as they've exemplified right here, people have lost their animals, and they've had their animals killed and had them confiscated, so how can people believe that?" said Parker.
Video of the incident shows the officers on the scene saying they made a mistake in killing it. FOX 35 News reached out to the FWC to hear its perspective on the boa constrictor being killed, and we received the statement below: 
"The FWC is aware of the incident involving the euthanasia of multiple snakes at a Broward County captive wildlife facility on Thursday, April 6, 2023. Final reports for this incident are currently in development. 
"Preliminary information indicates that an unpermitted escaped reticulated python was found in the general vicinity of the facility on Wednesday, April 5, 2023. Reticulated pythons are a nonnative invasive reptile on the FWC's Prohibited species list. FWC officers inspected the facility the following day to determine if it was the source of the escaped python or if all the facility's animals were accounted for. Officers did not initiate contact with the facility owner with any intention of engaging in the euthanasia of animals.
"Preliminary information also indicates that the facility owner requested that the FWC officers euthanize all of his unpermitted pythons. The owner formally relinquished the pythons and requested that the FWC officers conduct the euthanasia activities on-site at his facility.
"While complying with the facility owner's request to euthanize the relinquished pythons, officers inadvertently euthanized a boa constrictor which was not on the list of dozens of snakes relinquished. The FWC will examine if there are appropriate methods to avoid similar inadvertent events from occurring in the future.
"The FWC Division of Law Enforcement is determining the full details of this incident and more information will be released as soon as it is verified and appropriate. Assembling the information and records may take time but the FWC is committed to providing it."