Central Florida church follows social distancing guidelines with a drive-in Easter Sunday service
LEESBURG, Fla. - There was a packed parking lot at Leesburg's First Baptist Church, but all the parishioners were still in their cars, instead of sitting in the pews.
"This is my dad parked next to me, my sister and brother-in-law on the other side. We kind of followed each other here because we normally sit together in church, so we felt like we could still be together in church, today," said parishioner Lynne Winker.
Everyone is having to do things differently because of the coronavirus outbreak. First Baptist was doing a drive-in Easter service.
"Obviously we want to follow the guidelines that have been set forth, be respectful of that. Follow our authorities. Keep our people as safe as possible, but we want people to see each other and engage. We think that's a powerful part of worship," explained Stephen Wolgamott, a worship pastor at the church.
.MORE NEWS: Easter Bunny abides by social distancing guidelines, surprises children amid COVID-19 pandemic
"But I like it because you do get to at least see people and feel like you're engaging with your other church members," Winker said.
The church broadcast the service on FM radio so that everyone in the parking lot could hear.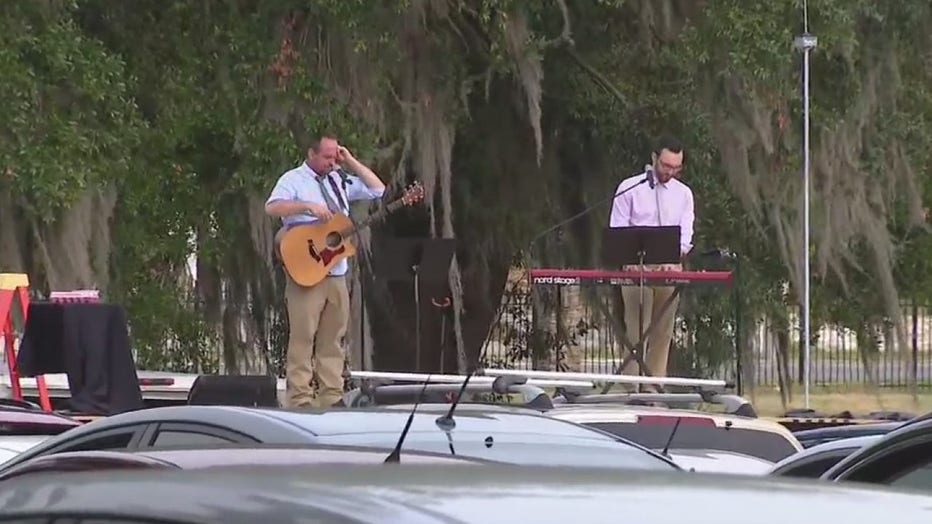 "We tell everybody to stay in your car, we even have the cars spaced-out. We have them tuned to their FM transmitter and that way they can hear. We also have speakers that pump out in case you want to roll your window down and hear that way," Wolgamott said.
The church says more than 260 cars showed up for the service. Winker said it worked, but she liked the old way better. "Because I can give my dad a hug."
CLICK HERE FOR COMPLETE CORONAVIRUS COVERAGE
Tune in to FOX 35 News for the latest coronavirus news.
MOBILE USERS: Click here to tune in to FOX 35 News