Boy Scouts: Storms kill boy, volunteer in northern Minnesota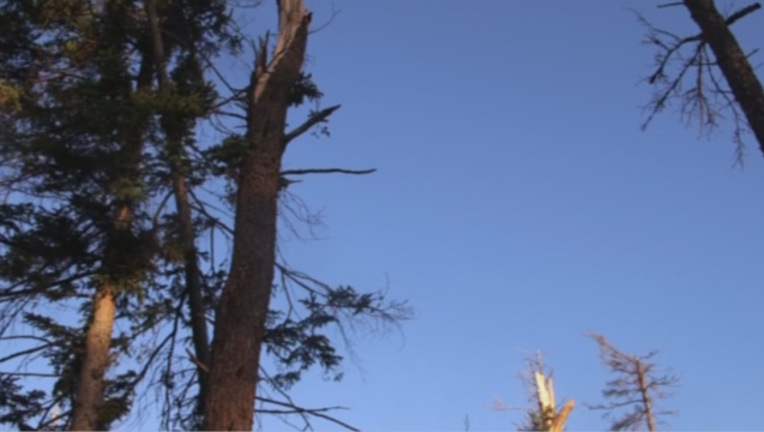 article
ELY, Minn. (KMSP) - A Boy Scouts leader confirmed that a boy and a woman adult volunteer were killed when severe thunderstorms hit their camp in northern Minnesota. Two other children were injured and taken to the hospital by Canadian rescue crews.
According to the Ontario Provincial Police Northwest Region Rainy River Detachment, 39-year-old Rorth Lac of Carrollton, Texas and 13-year-old Christian James Sanchez of Lewisville, Texas died in the storm.
John Van Dreese, general manager of the Northern Tier High Adventure Base Program, said the group was camping in the Boundary Waters Canoe Area Wilderness when the powerful storm hit early Thursday morning. Van Dreese said the camping group was from Texas.
Nine people, including 3 adults and 6 boys, were camping near Basswood Lake, about 20 miles north of Ely, Minn. at the Canadian border. St. Louis County sheriff's official and Canadian rescuers were working to evacuate the rest of the group.
Boy Scouts of America statement
"This is a very difficult time for our Scouting family. During the early morning hours of Thursday, July 21, a severe storm with strong straight-line winds unexpectedly came through Charles L Sommers Canoe Base at Northern Tier. We're extremely saddened to confirm that falling trees resulting from this storm caused the death of two attendees – a youth member and an adult volunteer leader – as well as two injured youth members who sustained non-life threatening injuries. These two youth were transported to the nearest hospital by Canadian emergency crews, out of an abundance of caution. We are working with authorities now to notify the families of those involved and will support them in any way we can.
"The safety and well-being of our participants is our top priority. Immediately following the radio distress call, we contacted the local authorities for support, and began making contact with all crews on-site to offer assistance and assure the safety of all involved.
"We are also mindful of the Scouts present on the outing and the impact the incident had on them, and will be offering grief counseling to our members and volunteers. Please join us in keeping these families in your thoughts."
Last month, the brother of U.S. Rep. Tim Walz of Minnesota was killed during a Father's Day camping trip in the Boundary Waters when a powerful storm brought a tree down on his tent. Craig Walz, 43, was killed and his son was injured.
Severe thunderstorms knocked out power for tens of thousands of people in Minnesota on Thursday, as temperatures soared into the 90s with a triple-digit heat index. The National Weather Service issued an excessive heat warning for the southern two-thirds of the state through 7 p.m. Friday.