Bondi breaks silence on Trump donation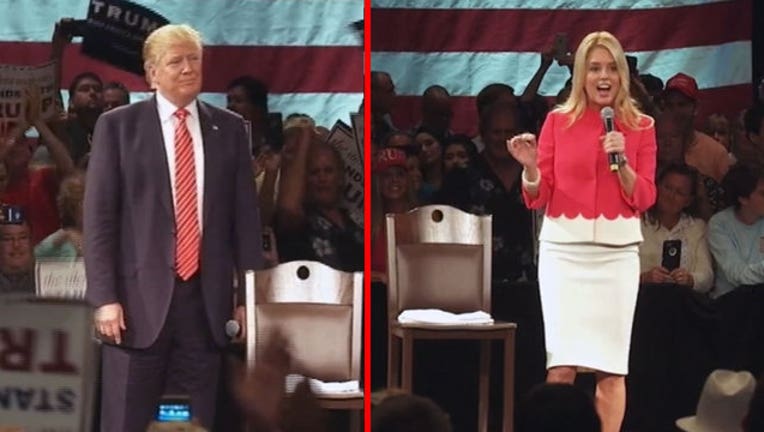 article
TALLAHASSEE, Fla. (NSF) - Attorney General Pam Bondi rejected renewed assertions Tuesday that a $25,000 political contribution from current Republican presidential nominee Donald Trump influenced her office in 2013 to dismiss allegations that Floridians had been bilked by Trump University.
Addressing the news media before the start of a state Cabinet meeting, Bondi contended only a single complaint had been filed by a Floridian against the Trump educational company between the time she took office in 2011 and the time of the donation. She also said she had no knowledge of the complaint at the time it was made and that a lower-level staff member found no justification to investigate.
"There was one complaint by one citizen against Donald Trump in 2011," Bondi said. "I had absolutely no idea, nor would I have had an idea that there was one complaint."
Bondi, a Republican who has two years remaining in her term and has not announced future political plans, has been in the middle of a national media firestorm about the contribution.
During Tuesday's often-contentious session with reporters, she said she had no regret about the $25,000 donation, which was made from Trump's charity foundation to a political committee known as "And Justice for All," which helped in her successful 2014 re-election bid. She said her mistake had been in failing to personally address media questions about the contribution earlier.
Bondi, an early supporter of Trump's presidential run, said she has no intention of leaving office over the matter and that she hopes the coverage, which she argued was often "misreported," doesn't impact the credibility and work of her office.
"I hate that this is taking away from all the things we can be doing to help people," Bondi said.
Despite Trump's statements on the campaign trail that he has given contributions to other politicians to get favors, Bondi said there were no strings attached with the 2013 contribution to her re-election effort.
"I would never, ever trade any campaign donation for some type of favor to anyone," Bondi said.
Trump, who has an estate in Palm Beach, has made similar statements that he sought nothing from Bondi. But he has also said, including once during a January rally in Clear Lake, Iowa, that he gives money to politicians "because when I want something I get it. When I call, they kiss my ass. It's true. They kiss my ass."
Hope Hicks, a spokeswoman for Trump's campaign, has called the pay-for-play allegation involving Bondi "totally ridiculous."
Bondi said Tuesday that even after all the coverage, which has included reports of more than one complaint to her office about Trump University, the state does not need to get involved because the issue focuses on a New York-based organization.
New York Attorney General Eric Schneiderman announced this month that he was looking into the Trump foundation after it disclosed Trump paid a $2,500 penalty to the Internal Revenue Service because the contribution to Bondi violated tax regulations.
A lawsuit filed three years ago by Schneiderman against Trump and Trump University remains in court and has become an issue in the presidential race.
State Sen. Dwight Bullard, D-Miami, and U.S. House Democrats have called on U.S. Attorney General Loretta Lynch to investigate the contribution to Bondi.
Outgoing state House Minority Leader Mark Pafford, D-West Palm Beach, said the acceptance of the money created "doubt" about Bondi's agency, and he has a hard time believing her.
"My guess is if the federal Department of Justice had the dollars, there would be several investigations," Pafford said. "And based upon what I've seen written in the press, I suspect there is a lot more behind the scene. … I don't buy it, and I don't think Floridians should buy it."
The contribution was made in September 2013.
Bondi, who personally solicited the donation, said she had known Trump before becoming attorney general in 2011, possibly meeting in New York while making regular guest appearances on Fox News and that they may have crossed paths because of a murder case she was prosecuting.
Information provided by The News Service of Florida.