Blue Bell releases new Camo 'n Cream flavor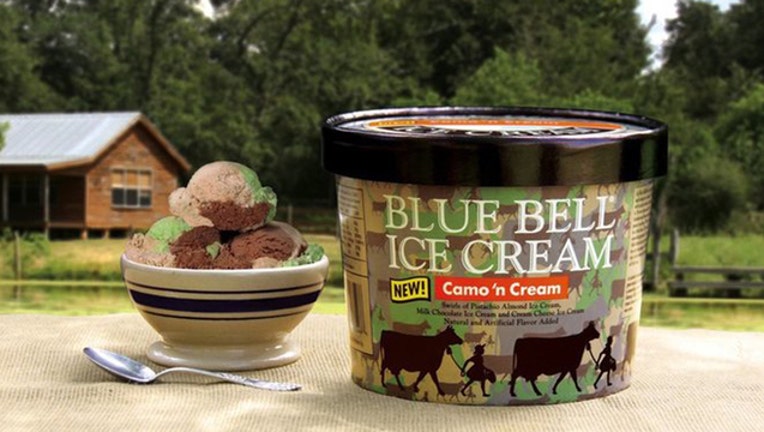 article
There's now a new Blue Bell ice cream flavor in stores that's three times the fun.
According to the ice cream maker, Camo 'n Cream is combination of three flavors – Pistachio Almond, Milk Chocolate and Cream Cheese.  The flavors are swirled together in a camouflage pattern.
"We are having a little fun with this flavor," said Carl Breed, Blue Bell's marketing director. "You see the camo design on everything these days, so we thought why not create an ice cream flavor that looks camouflage? The best part is these three flavors taste great together. We tried a few different combinations but chose these flavors because they complement each other so well. We think our fans will love the mixture of Pistachio Almond, Milk Chocolate and cream cheese ice cream."
Camo 'n Cream is available in limited quantities in the half gallon and pint sizes.
Blue Bell released another new flavor called Cookie Two Step in July. It has a creamy vanilla base with hints of brown sugar, chunks of chocolate crème-filled cookies and chocolate chip cookie dough pieces mixed inside.
Other favorites like Banana Pudding, Ultimate Neapolitan, Pecan Pralines 'n Cream and Strawberries & Homemade Vanilla has also returned to store shelves over the past few months.
Blue Bell was forced to close its three production plants last year following a deadly Listeria outbreak that killed three people. The plants were upgraded with all new equipment and new sanitation procedures before the popular ice cream finally re-entered the North Texas market in November.