Baldwin Park home split by crane repaired in time for the holidays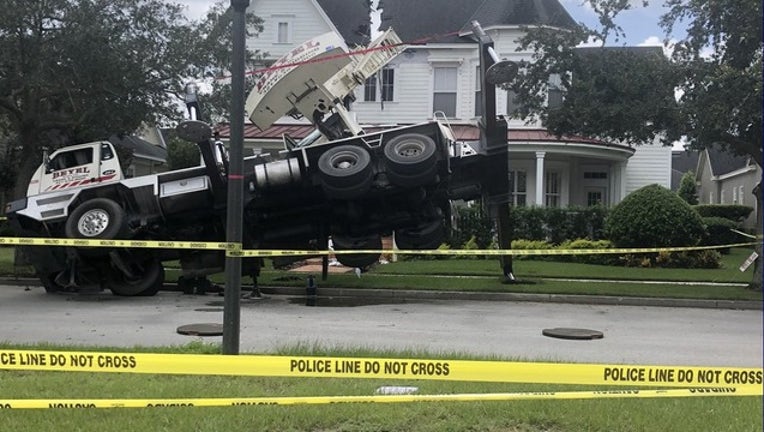 article
BALDWIN PARK, Fla. (FOX 35 WOFL) - A crane crashed through the roof of a million-dollar home Baldwin Park home in September. Thankfully though, the family who lived there will be able to celebrate the holidays in their home thanks a Gold Key Roofing and Alair Homes- Orlando.
Gold Key Roofing and Alair Homes teamed up to repair the home. Gold Key President Jeffrey Hewitt says that he turned to the "best custom builder in the area to lead the repair – Jim Krantz with Alair Homes-Orlando." The two companies have worked together previously.
In just 73 days, the home was repaired with a new roof line, new wood, truss, drywall, insulation, interior work, and cleanup. 
Although Gold Key has repaired more than 10,000 homes throughout 40 years, they say that these complex repairs could not have been done without the prompt assistance of Alair Homes. They were on site and working the very next day after the accident.
"Alair Homes offered their expertise and resources to make this happen," Hewitt said, completing a virtual holiday season miracle in record time.
The homeowner, Steve Loncar, also spoke about the repairs, saying that "we  could not be more grateful for Jeff and Gold Key and Jim and his team at Alair. From the moment, we arrived and saw the crane in our home, Jeff and Jim were there to assure and comfort us, and have been there every step of the way." He also said that "without them, we would still be staring at a very large whole in our house."
Steve also mentioned that "it is truly amazing that Gold Key and Alair completed this repair so quickly, but I was most impressed with their high standard for quality and attention to detail. You just don't see that very often these days."
Also a homeowner, Dana Loncar said that "I cannot say enough about Jeff and Jim – they are proof there are really good people in this world." She went on to say that "They have gone over and beyond to ensure not only that we could be back in our home for the holidays, but they have checked in to see how our family is doing throughout the past few months. They are honest, genuine people and business owners who we will recommend a million times over."
Dana also mentioned that "there is no doubt Jim and Jeff and their teams do great work, but they put people ahead of business, and for that we are eternally grateful."
This story was written in Orlando, Florida.