After 14 years, man's conviction overturned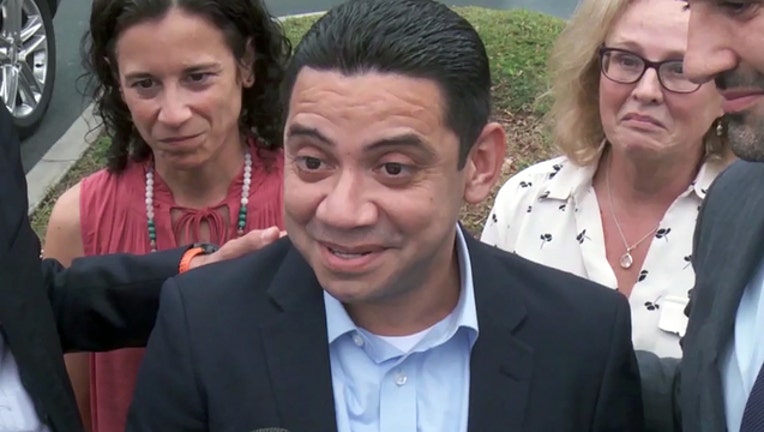 article
ORLANDO, Fla. (WOFL FOX 35) - After 14 years in prison, Clemente Aguirre-Jarquin is a free man.
He was released from an U.S. Immigration and Customs Enforcement detention facility in Orlando around 4:30 p.m. on Monday and smiling from ear to ear.
The State Attorney's Ofice dropped all charges against the former death row inmate.  Aguirre-Jarquin was convicted of murdering two women in Altamonte Springs in 2004. Defense attorneys said he was the one that discovered the gruesome stabbings, but he didn't kill them.
"Happy, unbelievable! I've got an amazing team, they work hard!" he said.
The Innocence Project out of New York was part of that team.  Prosecutors say the decision was based upon new evidence that materially affects the credibility of a critical state witness.  
"While I believe there is sufficient evidence to present this case to a jury and determine the credibility of all the witnesses, I do not believe we can meet the additional requirement mandated by the Supreme Court, of a reasonable likelihood of success at trial," explained State Attorney Phil Archer in a statement released to the media.
Two years ago, the Florida Supreme Court overturned Aguirre's conviction, based on repeated confessions by a relative of the victims Cheryl Williams and Carol Bareis.  Despite being an illegal immigrant from Honduras, Aquirre-Jarquin hopes to continue living in Florida.
"So I can stay in the country legally! I want to stay here! I just pray God will open a way, and I will talk to him and will know."
He can't believe this nightmare is over and he is free to do whatever he wants.
"That's the first thing I'm gonna do. I'm gonna call my momma and maybe I can eat something. Attorney says, We've got reservations don't worry."
An ICE spokesperson says Aguirre-Jarquin's immigration case is under review. Prosecutors say investigators will also review all the evidence and determine if they need to proceed with the investigation.