Abandoned newborn baby girl found outside Polk County mobile home park, deputies say
MULBERRY, Fla. - A newborn baby is recovering in the hospital after deputies say she was abandoned in the woods outside a Polk County mobile home park early Saturday morning. 
According to Polk County Sheriff Grady Judd, a lady thought she heard cats screaming and fighting until about midnight on Friday. An hour and a half later she heard what sounded like a baby crying. She and her husband searched around and looked in the woods and found a baby girl.
Judd said the couple called 911. EMS and deputies who arrived found the baby wrapped in old blankets with the umbilical cord and placenta still attached. 
According to PCSO, the baby is 6.5 pounds, fully developed and is very healthy except for some insect bites that she sustained from being in the woods for at least an hour and a half. 
READ: Newborn surrendered at Florida fire station is first baby saved by state's only 'Baby Box'
Polk County Fire Rescue medics say the girl was born about one hour before she was found, based on the infant's body temperature.
The temperature was in the lower 50s in Mulberry overnight.
Judd named the baby Angel Grace Lnu.
"She's as beautiful as an angel. It's by the grace of God she is not dead and Lnu is last name unknown," Judd explained. 
Judd says the baby is believed to be of Hispanic descent and investigators are trying to find her parents. 
"From experience, it's usually a younger person who does not want the child or who has somehow hidden the presence of the child from their parents and now they've abandoned this child in the woods all alone," Judd stated. "Thank God for neighbors who were inquisitive and said that screaming is not right and it's coming from not in the mobile home park, but out in the woods and there they find this child."
The child has been turned over to the custody of DCF.
"We don't know if the child was born in the woods or whether the child was taken to the woods after it was born. But, certainly, we saved this person from a homicide charge because had that child laid out there and died then we would be talking about a murder investigation," Judd stated.
Judd said if the mother doesn't want the child, there are thousands of people across the country that would give anything to be able to have a healthy baby girl.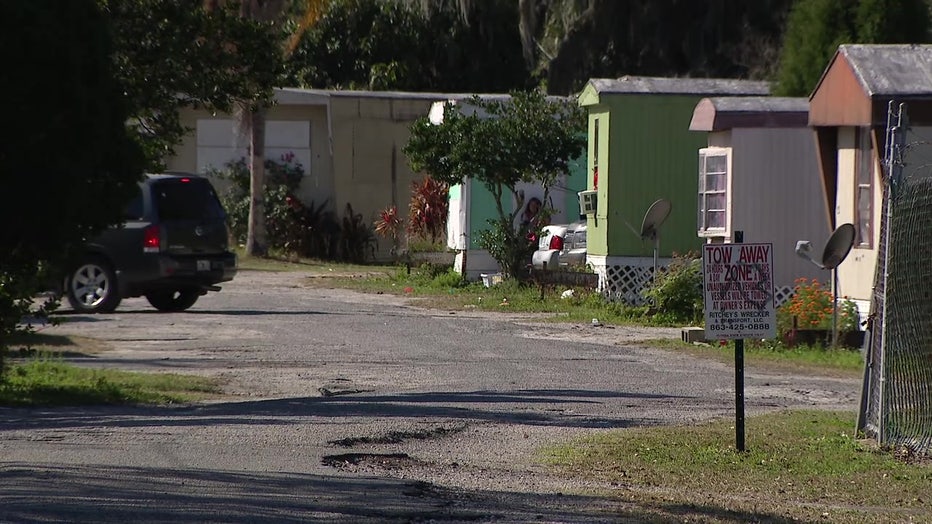 The baby was found on a small hill outside the Regal Loop Mobile Home Park.
"We'll be sure that the child gets in a good home, but we'll also find out, with the community's help, who the mother is. We want to hold her accountable, but she is not required to take the child if she doesn't want the child," he said. "We will hold her accountable because she left this child abandoned in the woods to die."
Judd believes the mother is from the area or has relatives in the area, but they do not know who she is. 
He added that investigators have taken DNA samples and will be at the FDLE lab in Tampa first thing in the morning.
"At six-and-a-half pounds, the baby is healthy and she has a great set of lungs. As she was screaming out for help she saved her own life as well," Judd said. "Had it not been for a great set of lungs on a healthy baby, she would've been dead. Had it not been for this wonderful lady and her husband, this baby would've been dead."
Judd says this is the first he's seen a baby being wrapped up and placed in the woods where someone had to go find it. 
Florida's Safe Haven Law, which was enacted in 2000, allows parents to leave their unharmed newborn child (under a week old) at any Safe Haven facility (hospitals or properly staffed EMS/Fire Station) anonymously, and without fear of prosecution. 
Anyone with information about the mother of this baby is asked to call the Polk County Sheriff's Office at 863-298-6200.