4-year-old remains hospitalized after capsized boat incident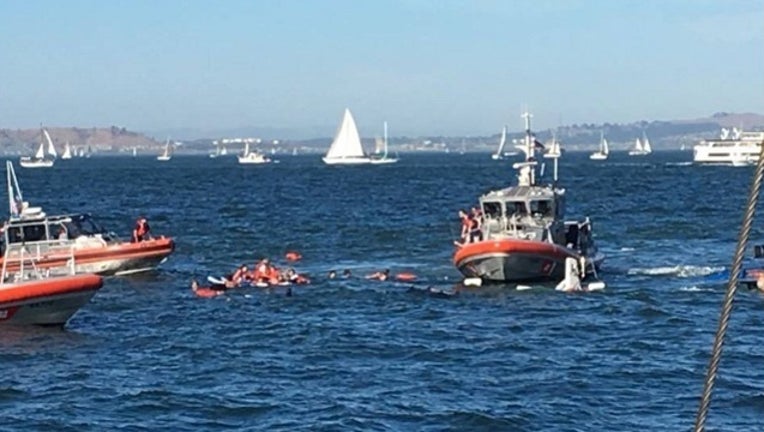 article
SAN FRANCISCO (BCN) - A 4-year-old boy who was in critical condition after a boat he was on with 29 other people capsized in the San Francisco Bay Saturday afternoon, remains hospitalized but is now in good condition, a spokeswoman with the San Francisco Department of Public Health said this morning.
The boy, along with his mother, brother and father were all taken to Zuckerberg San Francisco General Hospital following the incident, however the boy's mother, brother and father were treated and released from the hospital, according to public health department spokeswoman Rachael Kagan.
The 4-year-old was initially found unconscious and was not breathing when he was rescued.
The family was on the 34-foot sailboat Khaleesi, which capsized at about 4 p.m. about 100 yards off of Pier 45 in San Francisco, U.S. Coast Guard officials said.
Coast Guard crews were able to rescue 20 people from the water.
A San Francisco Fire Department boat crew rescued eight people, while good Samaritans rescued the two remaining victims, according to Coast Guard officials.
Some of the victims had become trapped under the hull, but bystanders, police, firefighters and Coast Guard crews rescued all 30 within 32 minutes, Coast Guard officials said.
"Strong operational partnerships among maritime agencies in the Bay Area were critical today, both in ensuring the waterside security of the Fleet Week air show events, and in emergency response resulting in the rescue of 30 people from the frigid bay waters," Capt. Tony Ceraolo, commander of Coast Guard Sector San Francisco, said in a statement.
In all, five adults and the three children were hospitalized. Fire officials did not say where the other child and three other adults were hospitalized.
Information about the remaining four victims was not immediately available.