UCF football player, woman arrested in violent home invasion at downtown Orlando high-rise, police say
LAKE MARY, Fla. - Orlando police officers have arrested two people – including a University of Central Florida student – in a violent home invasion that allegedly happened at a downtown high-rise earlier this month. Police are still searching for two more suspects.
On the afternoon of Jan. 9, officers responded to an apartment on the 28th floor of 55 West on Church Street after a resident reported that masked men with firearms barged into his unit, beat him, and threatened him with guns. Before the accused home invaders left, the victim said they stole his phone and some recording equipment.
OPD's Criminal Investigations Violent Crimes Unit investigated the incident.
RELATED: Resident beaten by armed, masked men in violent home invasion at downtown Orlando high-rise, police say
"Our detectives discovered the victim and his ex-girlfriend, Nevaeh Mosher, had a disagreement regarding a new male friend," OPD said in a news release. "After she returned to the apartment the previous night wearing the new male friend's clothing. The victim discarded these items of clothing, causing Mosher to tell the owner of the clothes, who was identified as Justin Hodges."
Detectives said Mosher gave Hodges instructions on how to enter the secured apartment building.  According to investigators, Hodges and two other men entered the complex, met Mosher, and all four proceeded to the apartment where the victim was inside. When the victim answered the door, investigators said he was pushed into the apartment and struck in the face by the suspects. 
Utilizing surveillance video, detectives said they were able to capture all the subjects entering and exiting the property. After reviewing the video, they said they spoke with Mosher.
"Parts of her story were deceptive and inconsistent about what she did before and after the incident," OPD said, which prompted detectives to obtain an arrest warrant for her.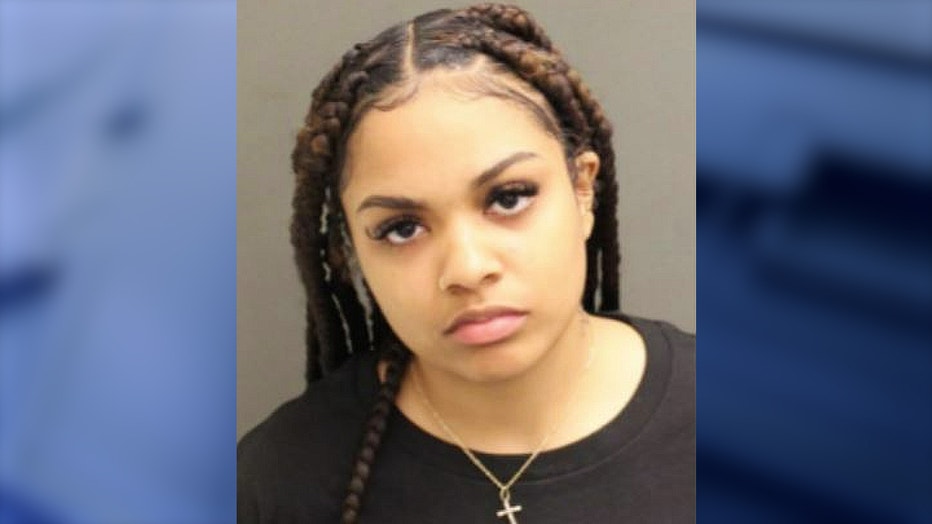 Nevaeh Mosher [Credit: Orlando Police Department]
Mosher, 21, was taken into custody on Tuesday when detectives said they obtained a complete confession to her involvement in the home invasion robbery.
An arrest warrant was then obtained for Justin Alexander Hodges, 20, who was arrested on Thursday.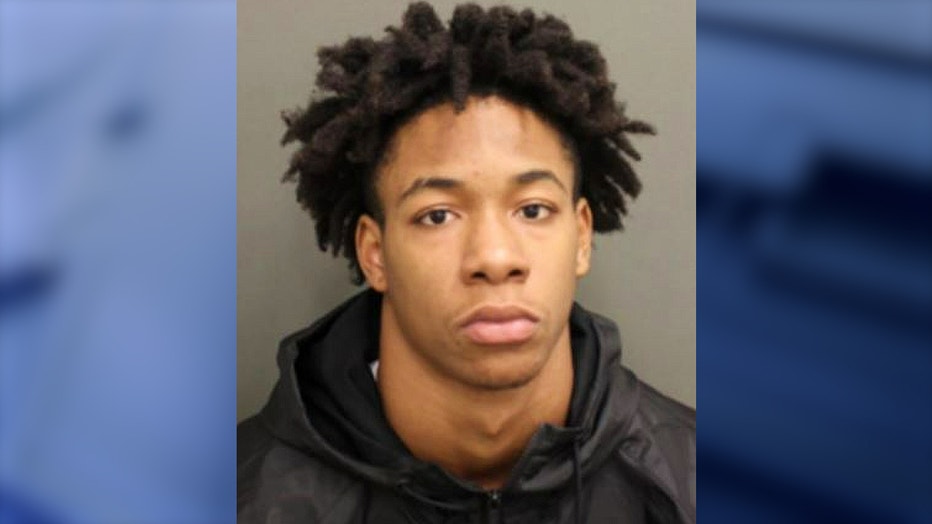 Justin Alexander Hodges [Credit: Orlando Police Department]
"Hodges' statement corroborated the story provided by Mosher, but he minimized his involvement in the incident, claiming he was trying to assist Mosher in getting her belonging from inside the apartment," OPD said. "Hodges was forthcoming with one of the firearms used in this crime belonging to his girlfriend, which he gave to one of the other suspects to use for this incident."
Detectives said they also located the discarded clothing on a lower floor breezeway at 55 West, which they said was an issued item to Hodges from a local university athletic team. Hodges is reportedly a football player at the University of Central Florida.
UCF Athletics released the following statement to FOX 35:
"Justin Hodges has been dismissed from the football program. Per university policy, the UCF student conduct process will be initiated."
The search for the other two suspects is ongoing. Anyone with information regarding this incident is asked to contact OPD at 321-235-5300 or Crimeline at 1-800-423-TIPS (8477).