18-month-old girl shot, killed in Flagler County, sheriff says: 'The child is an innocent victim'
PALM COAST, Fla. - Flagler County Sheriff's Deputies are investigating the shooting death of an 18-month-old girl.
Monday afternoon, blood stains still marked the door in Palm Coast where the shooting happened. Law enforcement was called out to the area a little before midnight Sunday.
Sheriff Rick Staly said killings in Flagler County are rare – let alone that of a toddler.
Sheriff Staly said the shooting may be accidental, and later clarified the one-and-a-half-year-old was shot. 
"The child did not touch the firearm," Sheriff Staly explained. "The child is an innocent victim."
The sheriff also said, accident or not, someone could go to jail for this. Intent doesn't decide whether someone will serve time, he explained.
"If an 18-month-old child dies by gunfire, there is negligence there at some point, and someone should be held accountable for that," Staly said. 
The news of the little girl's shooting death echoed through the neighborhood Monday.
"It's devastating," said neighbor Sarah Scott, who lives down the road. "To hear of that happening in my neighborhood is shocking."
Scott has a baby of her own, and moved into that neighborhood because it seemed safe.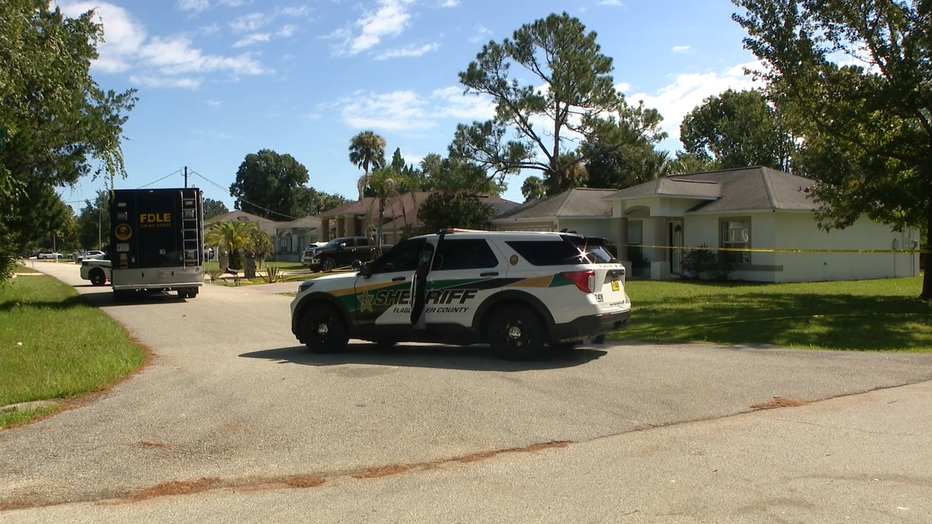 "It was a little bit nerve-wracking as a mom," she said of hearing the news about what happened.
The sheriff's office says inside the house deputies also found 420 grams of marijuana and 11 grams of a white powder investigators think is either cocaine or heroin.
Detectives took one person into custody from the house, 21-year-old CJ Nelson Jr. 
A woman could be seen weeping and heard wailing as deputies took Nelson in.
The sheriff's office wouldn't directly confirm whether the gun used in the shooting belonged to Nelson, but said he was not allowed to have a gun, and was taken into custody for breaking that rule.
He's also the primary person of interest in the shooting death of the little girl, though all eight people who were in the house are being investigated.
"It would be a lot easier if everybody would tell us the truth," said Sheriff Staly. "I hope that the witnesses will come around and cooperate more than they have been."
The sheriff says this case might not be solved in a day, it might take a while, but he promised to get to the bottom of things.