12-year-old among 12 accused in beating of pregnant woman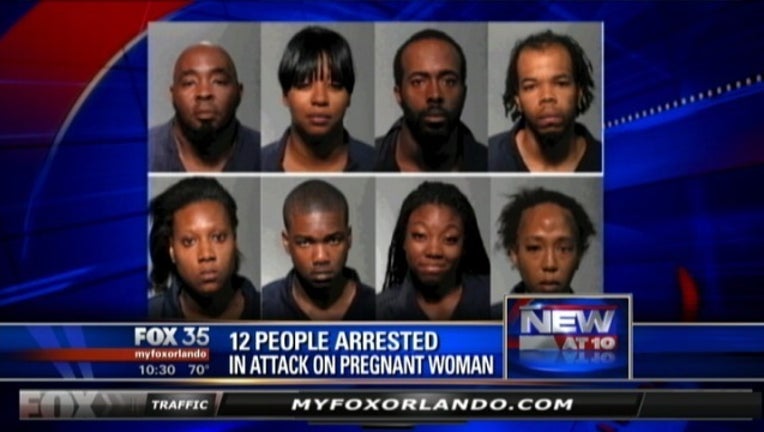 article
A pregnant woman is recovering from an attack after Seminole County Sheriff's deputies said she was beaten during a brawl in Sanford by 12 people, including four juveniles. The youngest suspect is 12 years old.

Neighbors said the fight broke out on Sunday just after 10 p.m. in the Palm Point subdivision along Daffadil Terrace.

"The kids down there were with one another down there," said Danny Hughes, a neighbor. "Then the parents got in it. Lord, have mercy."

One 911 caller said one suspect grabbed a gun during the altercation.

"They're down here fighting each other with guns!" said the caller to dispatchers.

"Boom. Boom. Boom," said Hughes."They threw something. I don't even know what they threw. I heard the glass break. I think she got hit, and that's when the police came."

The Sheriff's Office report revealed that the victim, Ashley Flournoy, was hit in the head.  Flournoy is who is six-months pregnant.  Flournoy's sister, Terika Young, and mother, Susan Young, tried to help but were also beaten. The report also revealed one attacker yelled, "I don't care you're pregnant."

Deputies told FOX 35 the attack may have started because of an ongoing feud between neighbors.
Antoinette Letitia Ford, 23, is charged with aggravated battery, a felony.  An arrest report lists co-defendants as:  24-year-old Javaress Reshod Barnes, 25-year-old Arshala Lee Ford, 29-year-old Quentin Herring, 18-year-old Iareian Jiquel Kennedy, 42-year-old Harry Maurice Roberts, 28-year-old Lasheena Shawndrell Thomas, and 20-year-old Jarvis Jamaal Young.  A 12-year-old boy, a 14-year-old boy, a 16-year-old girl and a 15-year-old boy were also arrested. Seven of the eight adults bonded out of jail on Monday morning.
The public defender argued Monday morning that Herring didn't realize Flournoy was pregnant. The judge said Herring violated his probation. He was ordered to stay away from the victims.

Neighbors said more needs to be done.

"No, [the victims] don't deserve that," Hughes said. "Whatever happened, they didn't deserve that, and we don't deserve it neither.  Living in this neighborhood, they're tearing it up."

We're told Flournoy and her mother and sister are OK.