10-foot alligator captured near Ybor City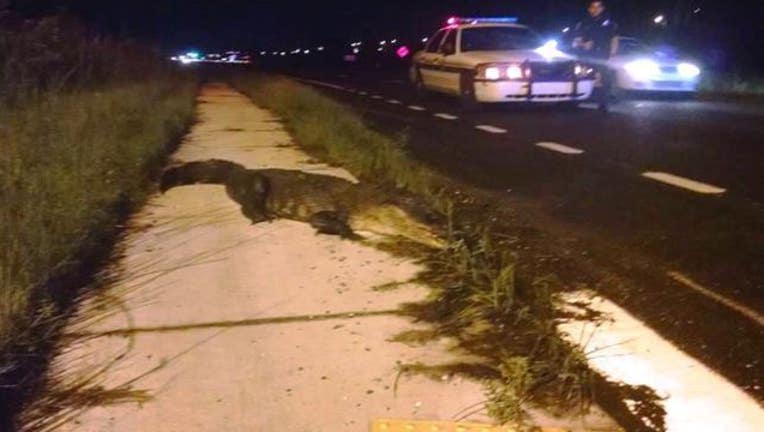 article
TAMPA (FOX 13) - Tampa police took an unusual suspect into custody Monday morning. A 10-foot gator was captured at Adamo Drive and 45th Street, just southeast of Ybor City.
But the roaming reptile wasn't going down without a fight.
Around 2:30 a.m., police got a call about the cold-blooded incident. This suspect was much too large for handcuffs.
"I know some of our officers have one tool or another to get some smaller gators and remove them but when it's that big, you really have to bring in the experts," said Tampa police spokesperson Stephen Hegarty.
Officers had to call Captain Phil Walters of GatorGuides.com for reinforcement.
"When I show up, I'm like wow, that's a big alligator!" said Walters. "Probably 300 pounds, would definitely make a snack out of you if he wanted to."
This trophy class reptile was definitely not ready to call it a night.
"It took about a half hour to subdue him. It's a handful of us against brute force," Walters said. "But, I had some of my trusty tools here, a lariat, a perfect tool for this situation. Lassoed him twice, tied him to a telephone pole, had a little assistance from law enforcement and away he went."
In the daylight, you can see the claw scrapes on the sidewalk.
Just where was the gator going? We spotted the business, Gator Gypsum, just steps down the block. Perhaps the swamp needed some construction supplies.
"A creature that big, that old, in the middle of a population center like the city of  Tampa. Wow, do we have wildlife here or what?" Walters said.
As for the gator, Walters said its hide and meat are being processed.
He also said this serves as a reminder. We live in Florida with not only gators, but crocodiles, bears, scorpions and snakes. Whether you're out in the country or downtown, keep your eyes open.