1.5 million fentanyl doses seized in massive Florida drug ring bust: 'No sympathy' for 'these scumbags'
VOLUSIA COUNTY, Fla. - More than 40 people were arrested in connection to a massive drug ring responsible for trafficking over 2,300 grams of fentanyl into Central Florida, Volusia County Sheriff Michael Chitwood said in a joint news conference Tuesday. That's the equivalent to 1.5 million doses, he said, which is enough fentanyl to wipe out the entire city of San Diego. 
"Operation Daly Dose" kicked off in August 2022 as a multi-jurisdictional investigation into fentanyl and cocaine trafficking in Central Florida. The Volusia County Sheriff's Office worked with the Volusia Bureau of Investigation, West Volusia Narcotics Task Force, Lake County Sheriff's Office, FBI, DEA and Homeland Security on the operation named after Drew Daly, 29, who was arrested earlier this year for allegedly trafficking fentanyl. 
Chitwood said Daly got his supplies from Vernon Woodward II, 41, and Preston Ingram, 36, who were also arrested as part of the investigation. Woodward's home and vehicles in DeLand were named in an April 4 shooting where multiple shell casings were recovered after a neighbor's house was hit by a stray bullet, officials said in a news release. 
"These drug traffickers were responsible for trafficking kilo amounts of fentanyl in Volusia and Lake County on a monthly basis," Chitwood said. 
The task force estimates that 6 to 8 kilos a month have been "coming in and destroying" Central Florida since the investigation began. At least one overdose death is under investigation in connection to Daly's organization, officials said in a news release. 
"There should be no sympathy or no kind of anything for what these scumbags are doing to our community," Chitwood added. 
RELATED:
What is fentanyl?
Fentanyl is a prescription drug that can be made and used illegally, according to the National Institute on Drug Abuse. In hospitals, the medicine is used as a pain reliever for patients who might have just had surgery or have a physical tolerance to other opioids. 
The synthetic opioid, however, is illegally made in labs and sold in different forms, including powder, eye dropper, nasal spray or pills. Fentanyl is also mixed by drug dealers with other drugs like heroin, cocaine, meth and MDMA because "it takes very little to produce a high with fentanyl, making it a cheaper option," according to the NIDA. 
Some of fentanyl's effects include extreme happiness, drowsiness, nausea, confusion, constipation, breathing problems and unconsciousness. 
'They won't be seeing the light of day for quite a while'
Throughout the investigation, officials said over 41 people have been arrested on multiple charges, including: 
Armed trafficking in fentanyl
Armed trafficking in methamphetamine
Armed trafficking in cocaine
Armed trafficking in MDMA
Armed trafficking in heroin
Use of two-way communication device
Possession of firearm by convicted felon
Conspiracy to introduce contraband into county intake facility
Trafficking in stolen property
Some of these suspects got life sentences since it wasn't their first conviction, Chitwood said. "This time, with the amount of weight and just everything that went on with the wire taps and search warrants and some of them in their own words felt they won't be seeing the light of day for quite a while," he said.
Officials said they used surveillance, search warrants, intelligence gathering and wire taps to "infiltrate and dismantle" the alleged drug operation. One of their search warrants revealed PVC piping where the suspects reportedly stored drugs inside and buried and a fentanyl pill press, Chitwood said. Also in a "stash house" in Orange City, officials found drugs and weapons in trees. 
Furthermore, the ring is also allegedly connected to a series of organized thefts at multiple Walmart stores, where one of the suspects pretended to be an employee to steal TVs to trade them for drugs. 
"These guys aren't that smart, but they're also not that stupid," Chitwood said. 
Photo: Volusia County Sheriff's Office
'Secure that (expletive) border'
Chitwood broke down where the fentanyl comes from and how it gets into the U.S. 
"China sends the pre-cursors into Mexico and those labs ship it to us," he said. "I think we're pretty confident in saying that. … When you have a porous border, this is what comes into our community."
Pre-cursors are chemicals used in the illegal making of street drugs.  
In Volusia County, Chitwood estimates there are about 3,000 overdose deaths a year. "We're going to keep it up our end, but we do need people to secure that (expletive) border and make it a little bit more difficult to get the narcotics in here," he said. 
Over 3,000 grams of drugs seized
Officials shared what was seized in the massive drug bust: 
2,319.7 grams of fentanyl
53 grams of black tar heroin
138 grams of cocaine
423 grams of meth
43 grams of MDMA
180 opioid pills
6.5 pounds of marijuana
11 firearms, one of which was stolen
$100,000 in cash
Photo: Volusia County Sheriff's Office
2,300 grams of fentanyl is equal to 1.5 million doses
Officials said that 2,300 grams of fentanyl is the equivalent of 1.5 million doses. Just 1 kilo of fentanyl is equal to 673,000 doses. 
One kilo of cocaine is the equivalent to 5,500 doses, while 1 kilo of heroin is 142,000 doses. 
'The days of smoking the innocent joint' are over
Lake County Sheriff Peyton Grinnell stressed the importance of adults talking to their children about the dangers of fentanyl. 
"The days of smoking the innocent joint, it's really Russian roulette today," he said. "When they go to parties on a Friday night, that innocent toke off a marijuana cigarette might be the last thing that they ever do."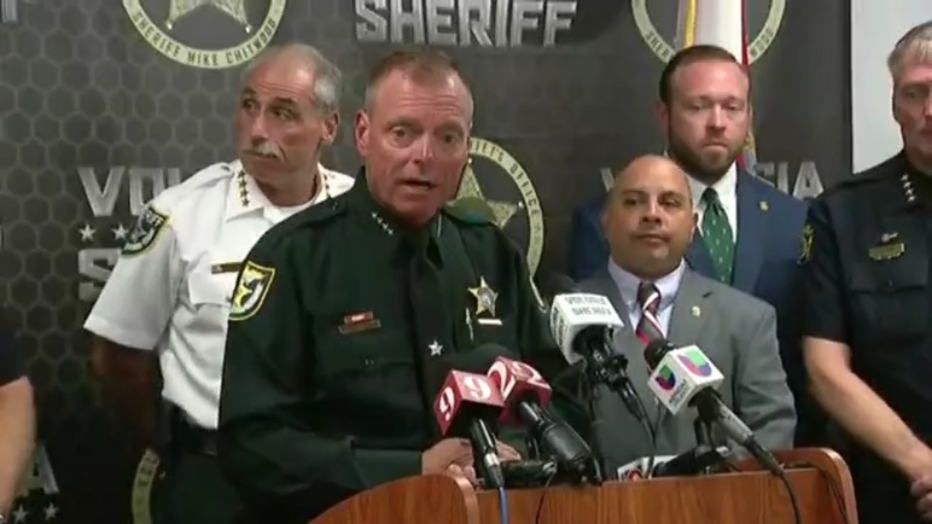 'We're actively coming to get ya'
The drug investigation continues as recent as Tuesday morning. Officials said two dozen suspects were taken into custody during a sweep last Thursday that included nine search warrants executed across Central Florida. 
Monday night, two other suspects were brought in from Deltona, while another was picked up in Lake County on Tuesday morning. 
"We're out there actively, just 'cause there's a warrant out there. We're actively coming to get ya," Chitwood said. "You got nowhere to hide, and they can't hide from an arrest warrant."
RELATED: 
Over 40 people arrested in Operation Daly Dose
Among the three dozen arrests made in this investigation was Daly's girlfriend Lauren Toce, who was responsible for a child who experienced a drug overdose in 2020. The child survived, but Toce was arrested for violating probation for child neglect. 
While she was incarcerated, she allegedly conspired with Daly and his brother Patrick Daly in an attempt to smuggle cocaine, Xanax and other contraband into the Volusia County Branch Jail, officials said in a news release. Deputies intercepted their efforts.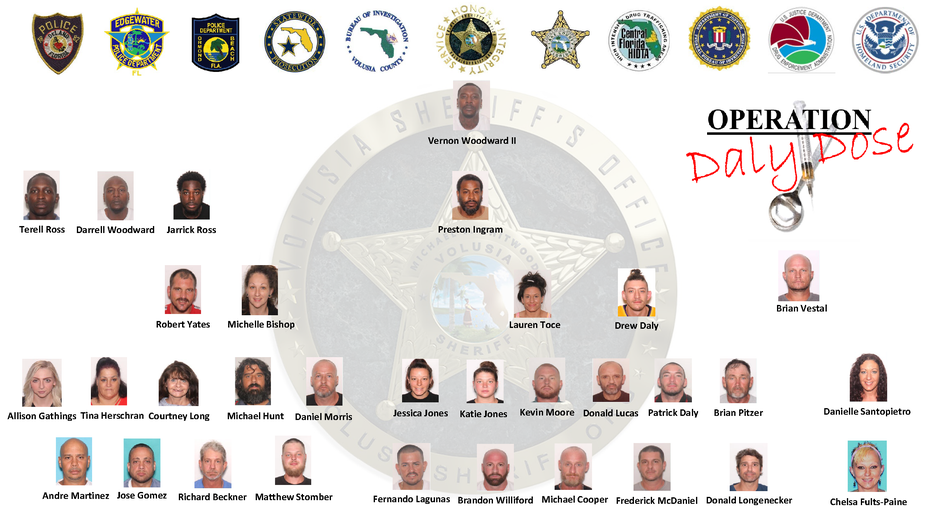 Photo: Volusia County Sheriff's Office
The following suspects were arrested, per the Volusia County Sheriff's Office:
Vernon Woodward II, 41 of Orange City
Conspiracy to Traffic in Fentanyl (28 grams or more)
Trafficking in Fentanyl (28 grams or more)
Conspiracy to Traffic in Cocaine (28 Grams or More)
Trafficking in Cocaine (28 Grams or More)
Conspiracy to Manufacture Fentanyl
Manufacture Fentanyl
Unlawful Use of a Two Way Communications Device
Preston Gerald Denard Ingram, 36 of DeLand
Conspiracy to Traffic in Fentanyl (28 grams or more
Trafficking in Fentanyl (28 grams or more)
Conspiracy to Traffic in Cocaine (28 Grams or More)
Trafficking in Cocaine (28 Grams or More)
Delivery of Cocaine
Manufacture Fentanyl
Unlawful Use of a Two Way Communications Device
Drew Thomas Daly, 29 of DeLand
Conspiracy to Traffic in Fentanyl (28 grams or more)
Trafficking in Fentanyl (28 Grams or more)
Trafficking in Fentanyl x 3 (4 Grams or more)
Conspiracy to Traffic in Cocaine (28 Grams or More)
Possession of a Conveyance with knowledge that the Conveyance will be used for the Sale of a Controlled Substance
Conspiracy to Traffic in Stolen Property by Organizing, Planning or Supervising the Theft of Property
Conspiracy to Introduce Contraband into a County Detention Facility
Possession of Cocaine (VSO 22-20914)
Unlawful Use of a Two Way Communications Device
Terell Devon Ross, 40 of DeLand
Conspiracy to Traffic in Fentanyl (28 grams or more)
Armed Trafficking in Fentanyl (28 grams or more)
Armed Trafficking in Methamphetamine (Over 200 grams)
Armed Trafficking in Cocaine
Armed Trafficking in MDMA
Armed Trafficking in Heroin
Possession of a Firearm by a Convicted Felon
Unlawful Use of a Two-Way Communications Device
Darrell Deandre Woodward, 40 of Orange City
Conspiracy to Traffic in Fentanyl (28 grams or more)
Conspiracy to Traffic in Cocaine (28 Grams or More)
Unlawful Use of a Two-Way Communications Device
Lauren Marie Toce, 35 of DeLand
Conspiracy to Traffic in Fentanyl (28 grams or more)
Trafficking in Fentanyl (14 grams or more)
Trafficking in Fentanyl (4 grams or more) (2)
Possession of a Conveyance w/ Knowledge It Will Be Used for the Sale of a Controlled Substance
Conspiracy to Introduce Contraband into a County Detention Facility
Unlawful Use of a Two Way Communications Device
Brian Heath Vestal, 45 of DeLand
Conspiracy to Traffic in Fentanyl (28 grams or more)
Conspiracy to Traffic in Cocaine (28 grams or more)
Possession of a Conveyance for the Sale of a Controlled Substance
Possession of a Structure w/ Knowledge It Will Be Used for Trafficking in a Controlled Substance
Unlawful Use of a Two Way Communications Device
Michelle Lynn Bishop, 33 of DeBary
Conspiracy to Traffic in Fentanyl (14 grams or more)
Unlawful Use of a Two-Way Communications Device
Tina Marie Herschman, 52 of Deltona
Conspiracy to Traffic in Fentanyl (4 grams or more)
Unlawful Use of a Two-Way Communications Device
Allison Rebeka Gathings, 28 of Orange City
Solicitation to Deliver Fentanyl
Solicitation to Deliver Cocaine
Unlawful Use of a Two Way Communications Device
Courtney Marie Long, 55 of Orange City
Solicitation to Deliver Fentanyl
Conspiracy to Purchase Fentanyl
Solicitation to Deliver Cocaine
Conspiracy to Purchase Cocaine
Unlawful Use of a Two Way Communications Device
Michael Patrick Hunt, 40 of Port Orange
Purchase of Fentanyl
Conspiracy to Purchase Fentanyl
Unlawful Use of a Two Way Communications Device
Daniel Wayne Morris, 40 of DeBary
Conspiracy to Traffic in Fentanyl (4 Grams or More)
Unlawful Use of a Two Way Communications Device
Jessica Paige Jones, 32 of DeLand
Solicitation to Deliver Fentanyl
Conspiracy to Purchase Fentanyl
Unlawful Use of a Two Way Communications Device
Katie Lee Jones, 32 of DeLand
Solicitation to Deliver Fentanyl
Unlawful Use of a Two Way Communications Device
Danielle L Santopietro, 40 of Orange City
Solicitation to Deliver Fentanyl
Unlawful Use of a Two Way Communications Device
Andre Martinez, 53 of Deltona
Solicitation to Deliver Fentanyl
Conspiracy to Purchase Fentanyl
Unlawful Use of a Two Way Communications Device
Fernando Scott Lagunas, 30 of DeLand
Conspiracy to Traffic in Fentanyl (14 grams or more)
Unlawful Use of a Two Way Communications Device
Brandon Kurtis Williford, 41 of Orange City
Solicitation to Deliver Fentanyl
Solicitation to Purchase Buprenorphine
Unlawful Use of a Two Way Communications Device
Michael Wade Cooper, 50 of DeLand
Solicitation to Deliver Fentanyl
Unlawful Use of a Two Way Communications Device
Donald Irvin Longenecker, 42 of DeLand
Solicitation to Deliver Fentanyl
Unlawful Use of a Two Way communications Device
Trafficking in Stolen Property by Organizing, Planning or Supervising the Theft of Property
Conspiracy to Traffic in Stolen Property by Organizing, Planning or Supervising the Theft of Property
Felony Petit Theft with Two or More Priors
Chelsea Fults-Paine, 40 of DeLand
Solicitation to Deliver Fentanyl
Unlawful Use of a Two Way Communications Device
Richard Alan Beckner, 57 of DeBary
Solicitation to Deliver Fentanyl
Conspiracy to Purchase Fentanyl
Unlawful Use of a Two Way Communications Device
Kevin Lee Moore, 29 
Solicitation to Deliver Fentanyl
Conspiracy to Deliver Fentanyl
Unlawful Use of a Two Way Communications Device
Frederick Roy McDaniel III, 34 of DeLand
Solicitation to Deliver Fentanyl
Conspiracy to Deliver Fentanyl
Unlawful Use of a Two Way Communications Device
The following are wanted:
Jarrick Lorenzo Ross, 30 of Orange City
Conspiracy to Traffic in Fentanyl (28 grams or more)
Unlawful Use of a Two Way Communications Device
Patrick Steven Daly, 32 of DeLand
Conspiracy to Traffic in Fentanyl (14 grams or more)
Delivery of Cocaine
Delivery of Buprenorphine
Delivery of Alprazolam
Conspiracy to Deliver Fentanyl
Conspiracy to Introduce Contraband into a County Detention Facility
Introduction of Contraband into a County Detention Facility
Unlawful Use of a Two Way Communications Device
Robert Lee Yates, 33 of Deltona
Conspiracy to Traffic in Fentanyl (28 grams or more)
Unlawful Use of a Two Way Communications Device
Donald Lowell Lucas III, 44 of DeLand
Solicitation to Deliver Fentanyl
Unlawful Use of a Two Way Communications Device
Brian Keith Pitzer, 52 of Deltona
Solicitation to Deliver Fentanyl
Possession of Fentanyl
Unlawful Use of a Two Way Communications Device
Jose Angel Gomez Jr (aka "Guido"), 44 of Orange City
Solicitation to Deliver Fentanyl
Solicitation to Deliver Cocaine
Unlawful Use of a Two Way Communications Device
Matthew Quinn Stomber, 28 of Orange City
Solicitation to Deliver Fentanyl
Conspiracy to Deliver Fentanyl
Unlawful Use of a Two Way Communications Device