Will smoke from Canada reach Florida like New York? What we know about wildfires, air quality
ORLANDO, Fla. - All eyes are on Canada as the country continues to battle hundreds of active wildfires, bringing orange, hazy skies and hazardous air quality to parts of the U.S. 
There are currently over 400 active wildfires in Canada – more than half of which are considered "out of control" – that have left 20,000 people displaced. Warm and dry conditions are mostly to blame for the blazes. 
The apocalyptic-looking haze is currently making its way across the Northeast, Midwest and even the Southeast – as far away as South Carolina. The National Weather Service said this weather system could stick around into the weekend. Could the wildfire smoke reach Florida?
Will the Canada smoke reach Florida?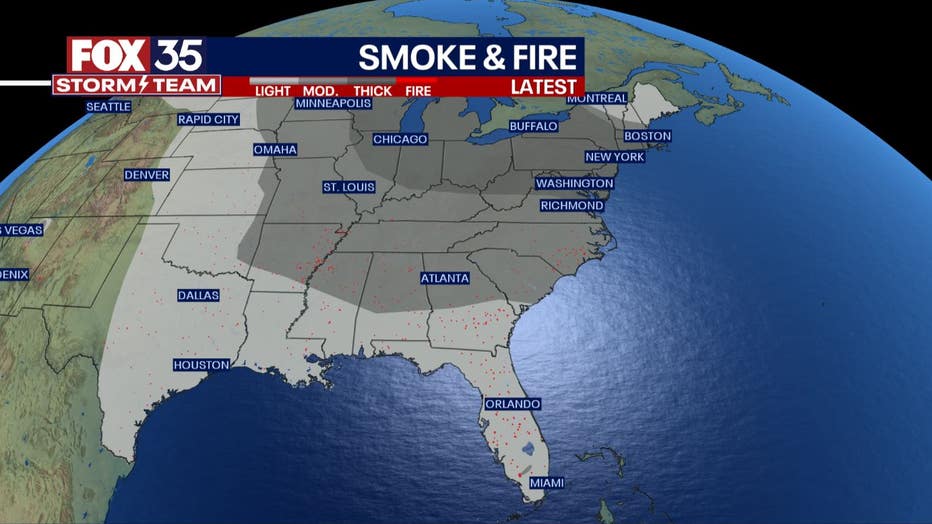 FOX 35 Meteorologist Allison Gargaro said the smoke isn't expected to arrive as far south as Central Florida, but could reach the Florida-Georgia border as early as Thursday evening. 
Orlando International Airport authorities said they are not experiencing any delays because of the smoke at this time, a spokesperson said. 
What does hazardous air quality mean?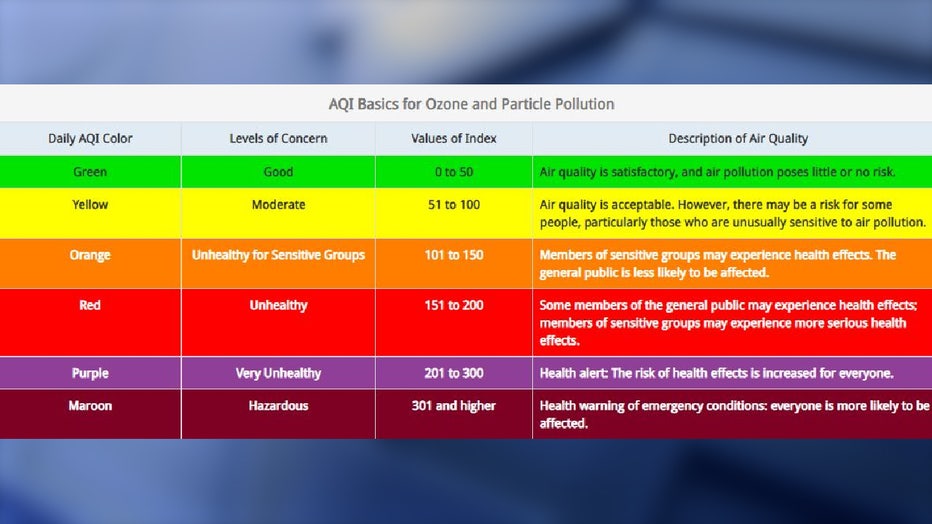 Hazardous air quality means the Air Quality Index – which reports ozone levels, particle pollution and other air pollutants, according to the National Weather Service – has a reading between 301 and 500. It comes with the following official description: "Health warning of emergency conditions: everyone is more likely to be affected."
Exposure to hazardous air quality can cause headaches, irritated eyes, fatigue, difficulty breathing, chest pains, asthma attacks, irritated throat and increased coughing, the NWS said. 
When is the air quality going to get better?
A wind shift is the main key to pushing out the hazardous weather system. 
"A weather pattern change is forecast to bring a wind shift to the areas seeing smoke by late this weekend and into early next week," Gargaro said. "An increase in southerly winds will usher in cleaner air."
In addition to the wind shift, a chance for showers and thunderstorms will help clean out the smoke, she said. 
What does Canada look like right now?
Check out this recent satellite imagery of Canada and parts of the U.S. from the National Oceanic and Atmospheric Administration: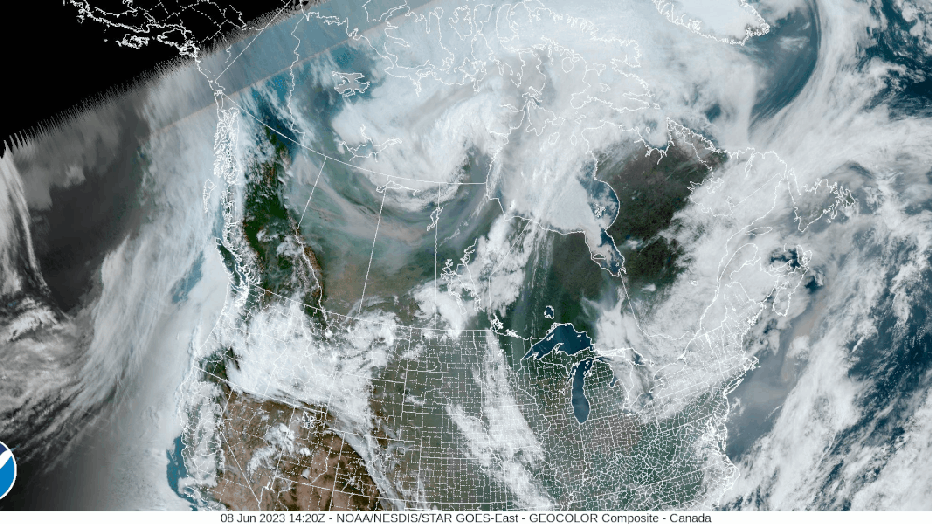 What does New York look like right now?
Check out this recent satellite imagery of New York and the northeastern United States from NOAA:
Photos: Canada wildfire smoke blankets New York City, giving it an orange hue
A haze covered 
NEW YORK, UNITED STATES - JUNE 7: View on June 7, 2023 of hazy New York city skylines during bad air quality because smoke of Canadian wildfires brought in by wind. Authorities urge people to wear masks, all outdoor activities for school children were canceled as well as regular baseball game at Yankee stadium between Yankees and White Sox. Many activities in city parks were canceled as well. (Photo by Lev Radin/Anadolu Agency via Getty Images)
How to track air quality in your area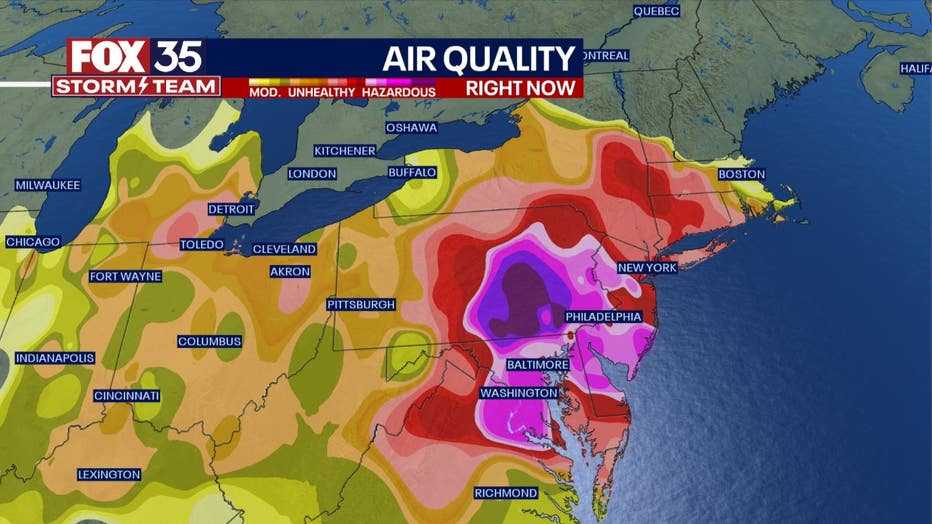 To track the Air Quality Index in your area, visit AirNow.gov and enter your zip code. It'll give you an up-to-date reading of the AQI in your area and a forecast for the next couple of days. 
You can also check out the Florida Department of Environmental Protection's website, which gives you a map of the AQI across the state. 
For those wondering, Florida AQI levels remain in the clear as of Thursday afternoon!