Models show uncertainty about Eta's path, tropical storm weakening
ORLANDO, Fla. - Tropical Storm Eta is located just off the coast of Florida and is expected to make landfall in the state but exactly where is hard to pinpoint, as the latest models show some uncertainty. 
Eta hit land late Sunday on Lower Matecumbe Key, Florida. The system's slow speed and heavy rains posed an enormous threat to South Florida, an area already drenched from more than 14 inches of rain last month. Eta could dump an additional 6 to 12 inches, forecasters said. It has since moved back over the Gulf of Mexico.
RELATED: WATCH: Eta brings strong winds, flooding to South Florida
The National Hurricane Center (NHC) said in its latest advisory that Eta was just 135 miles west-southwest of the Dry Tortugas, Florida. It is moving southwest at 16 mph, moving over the Gulf of Mexico and towards Florida's Big Bend region. If the current track holds, Eta will make landfall as a tropical storm on Saturday in the Panhandle.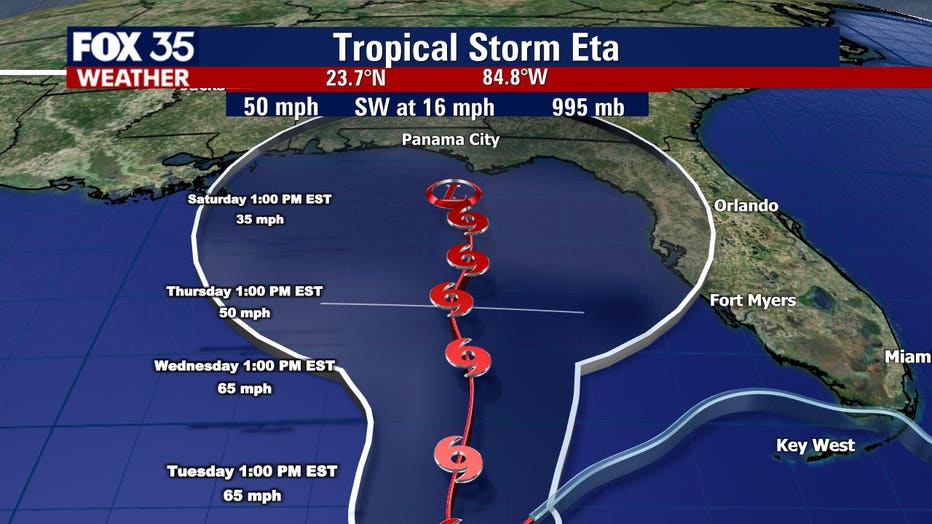 However, FOX 35 meteorologist Jayme King has expressed concern over the latest forecast modeling, as it shows uncertainty in the medium to longer-term outlook.
Nevertheless, the NHC said Eta has weakened and has maximum sustained winds of just 50 mph. Little change in strength is expected on Monday but it could slightly strengthen on Tuesday and Wednesday, followed by gradual weakening thereafter.
TRACK THE TROPICS: Visit the FOX 35 Orlando Hurricane Center for the latest in the tropics, including daily updates, live radar, and severe weather alerts
As the storm moves closer to the Panhandle, Central Florida has started to feel gusty winds, heavier rainfall, and rough storm surge.
FOX 35 meteorologist Jayme King believes the rest of Monday will be breezy and wet.
ACTIVE WATCHES AND WARNINGS
Tropical Storm Watch: 
The Cuban provinces of La Habana, Artemisa, Mayabeque, Pinar del Rio, and the Isle of Youth
Brevard County prompted school officials to close all of the county's schools on Monday, as a tropical storm warning was active there. It has since expired. Nonetheless, the county could feel very strong winds and squalls near tropical storm force. The situation is thankfully unfavorable for tornadoes but showers and thunderstorms could occur. 
Out of an abundance of caution on Saturday, Governor Ron DeSantis issued an executive order declaring a state of emergency in the following counties: Broward, Collier, Hendry, Lee, Martin, Miami-Dade, Monroe, and Palm Beach Counties.
WEATHER ALERTS: Download the FOX 35 Weather App to track the tropics on your phone, receive severe weather alerts, and get the latest daily forecasts
Tropical Storm ETA has left dozens dead and over 100 missing in Central America so far. ETA breached Cuba even as searchers in Guatemala were still digging for people believed buried by a massive, rain-fueled landslide. Authorities say 15 people are confirmed dead and at least 109 are missing in Guatemala, many of them in the landslide in San Cristobal Verapaz.
ETA was once a Category 4 hurricane, and authorities from Panama to Mexico were still surveying the damages following days of torrential rains during the week. In Guatemala, search teams first had to overcome multiple landslides and deep mud just to reach the site where officials have estimated some 150 homes were devastated.
RELATED: Guatemala searches for victims as Eta makes landfall on Cuba
ETA is the 28th named storm of the 2020 Atlantic Hurricane Season, which ends on Nov. 30.
Watch FOX 35 News for the latest on hurricane season.