Tropical depression forms in Gulf of Mexico; Tropical Storm Franklin nears Tuesday landfall
The National Hurricane Center is tracking not one, not two, but five systems in the Atlantic Ocean and the Gulf of Mexico – one of which is a tropical storm. 
Tropical Storm Emily, located in the Central Atlantic Ocean, was downgraded to a post-tropical cyclone on Monday morning.
TODAY'S FORECAST: Rain chances dry up across Central Florida as tropics heat up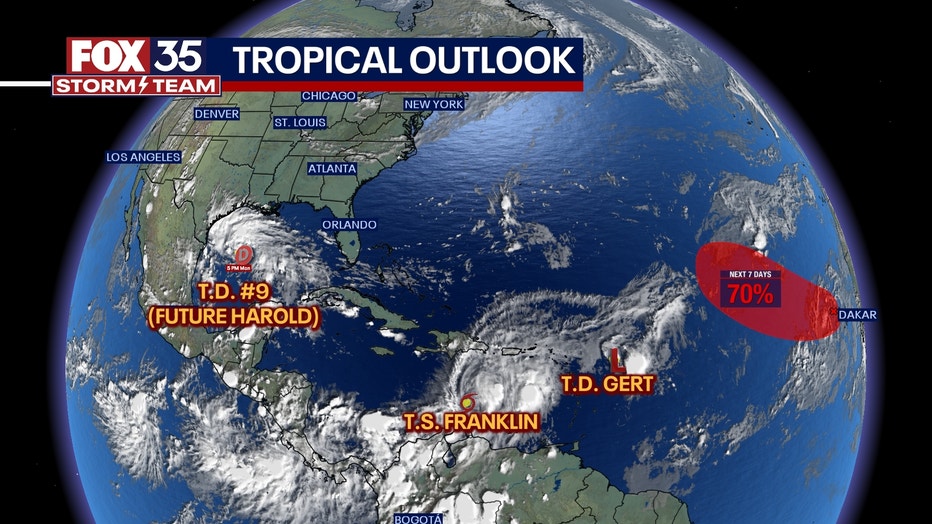 Tropical Storm Emily downgraded to remnant low
The National Hurricane Center issued its last advisory on Emily on Monday morning. 
Emily developed into a tropical storm around 10:30 a.m. Sunday, but is now a remnant low located over 1,200 miles west-northwest of the Cape Verde Islands. 
There are no hazards affecting lands for this storm. 
Tropical Storm Franklin to make landfall in Hispaniola by Wednesday
Tropical Storm Franklin formed around 5 p.m. on Sunday, just hours after the formation of Tropical Storm Emily.  As of Monday evening, it was not an especially well-organized tropical cyclone and had been meandering.
Franklin is located about 290 miles south of Santo Domingo in the Dominican Republic, early Monday evening. The storm is producing maximum sustained winds of 50 mph as it moves west at 5 mph. 
A sharp turn to the north is expected on Tuesday into Wednesday. On the forecast track, the center of Franklin is forecast to reach the southern coast of Hispaniola early on Wednesday.
Tropical-storm-force winds extend outward up to 70 miles from the center. The region could see up to 10 inches of rain, with isolated amounts of up to 15 inches. Puerto Rico is also expected to get 2 to 4 inches of rain. 
Tropical Storm Gert downgraded to tropical depression
Tropical Storm Gert formed shortly after midnight on Monday morning and had been downgraded to a tropical depression by the evening, the NHC said. 
Gert is located over 375 miles east-southeast of the northern Leeward Islands with maximum sustained winds at 30 mph.  The storm was moving west-northwest at 7 mph
Gert or its remnants should turn northwestward overnight Monday into Tuesday morning.
There are no hazards affecting lands for this storm. 
Tropical Depression Nine forms in Gulf of Mexico
Tropical Depression Nine, formerly Invest AL-91, developed a closed and well-defined center of circulation late Monday afternoon. The system continues to bring organized showers and thunderstorms associated with a trough of low pressure to the eastern Gulf of Mexico. This storm still has the potential to become a tropical storm before it approaches the western Gulf of Mexico coastline on Tuesday. 
The depression is moving fairly quickly to the west. The far outer bands of the depression are nearing the coast of Texas and northern Mexico, and they are expected to begin moving inland overnight on Monday.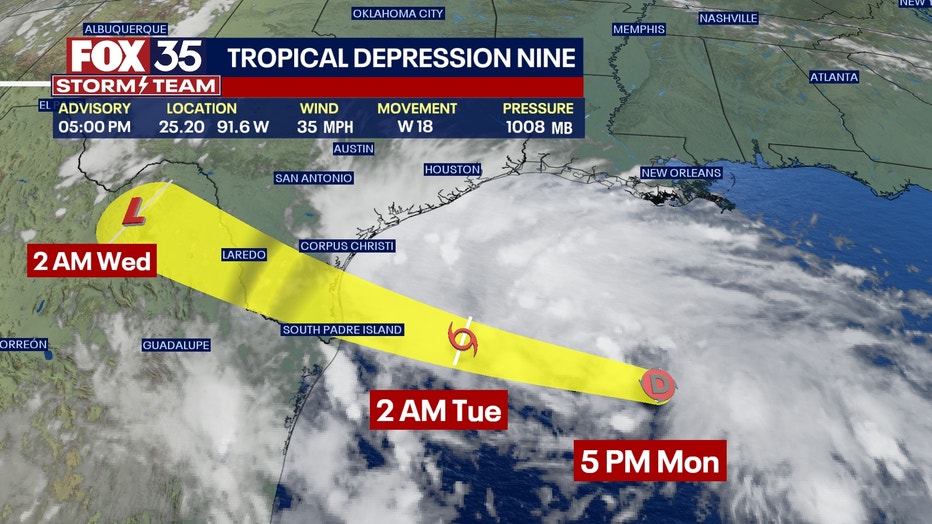 A continued quick west or west-northwest motion is expected, taking the system over southern Texas by midday Tuesday.   The models are in fairly good agreement, and little change was made to the previous NHC track forecast.
IN CALIFORNIA: More than a dozen earthquakes rock Southern California amid Tropical Storm Hilary
Invest AL-92 could become tropical depression
The NHC is also tracking a large area of disorganized showers and thunderstorms over the far eastern tropical Atlantic that's associated with a tropical wave near the Cape Verde Islands.
Showers and thunderstorms over portions of the tropical eastern Atlantic are associated with this tropical wave and conditions are favorable for a gradual development of this system into tropical depression later this week. It is expected to move west-northwestward across the eastern tropical Atlantic.
There's a 40% chance this storm develops in the next two days and a 70% chance it does in the next seven.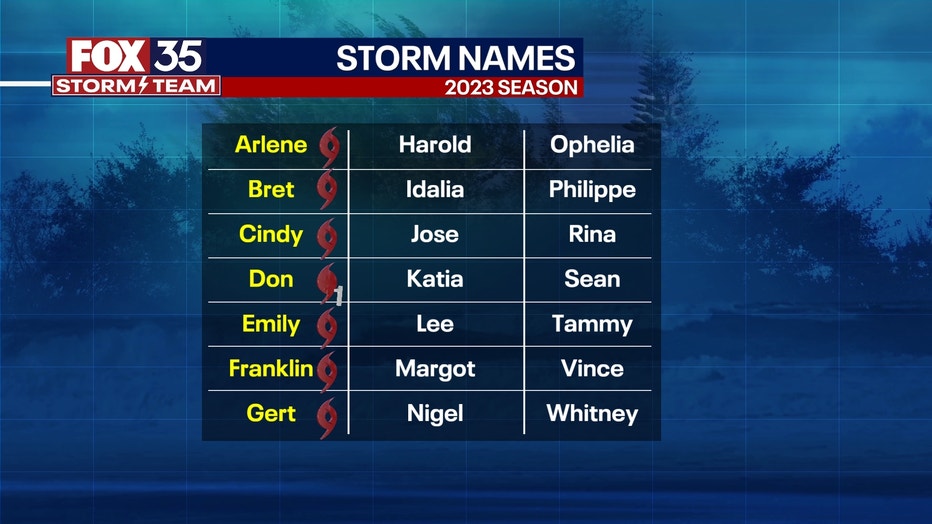 Will any storms impact Florida?
The FOX 35 Storm Team continues to track these five systems, none of which are expected to impact Florida at this time. 
Download the FOX 35 Storm Team Weather App for the latest updates.