Orlando weather: Rain chances dry up across Central Florida as tropics heat up
Tonight's low: 78 degrees | Tomorrow's high: 93 degrees 
Main weather concerns
Tropical moisture in the Gulf of Mexico will rob our rain chances across Central Florida on Monday. In fact, you can expect mostly dry skies on Monday and through the middle of the week. Winds could be breezy at times, especially along the coast.  Highs will warm to the low/mid-90s inland and upper-80s along our east coast.
Beaches
If you are heading out to the beach, expect a breezy onshore wind that will lead to rough surf and a moderate-to-high rip current risk. Highs will warm to near 90 with a mix of sun and clouds.  Stay hydrated and don't forget your sunscreen.
Theme parks
It is a hot and humid day at the theme parks. Dry skies are expected with a few clouds passing through by this afternoon. Forecast high reach 93 degrees with feels like temperatures soaring to the triple digits. Take breaks inside the air conditioning and refill your water.
Outlook
A tropical wave will continue moving west into the Gulf of Mexico. In its wake, drier air moves in from the north which will keep rain chances low through the first half of this week. Highs will warm into the low to mid-90s under mostly sunny skies each afternoon. Rain chances appear low even through late week with only isolated afternoon storm chances at best. Download the FOX 35 Storm team weather app to track the radar right on your cell phone.
Tracking the Tropics
The FOX 35 STORM TEAM is tracking multiple tropical storms and disturbances in the tropics. Tropical Storm Emily was downgraded to a post-tropical cyclone, Tropical Storm Franklin is churning in the Atlantic with a possible Tuesday landfall in Hispaniola, and Tropical Storm Gert has been downgraded to a tropical depression. None of these storms will impact the United States.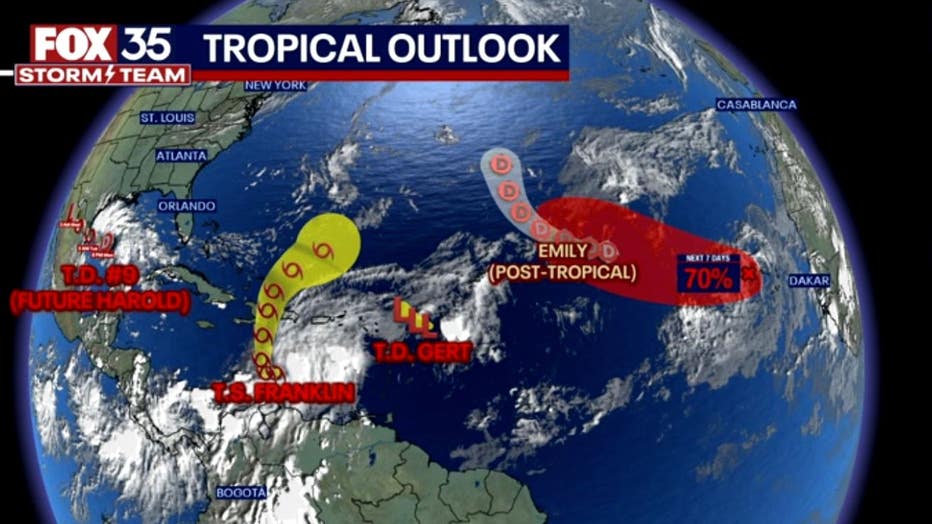 A tropical wave in the Gulf of Mexico was upgraded to a tropical depression on Monday and could become a tropical storm before making landfall in southern Texas this week. 
Despite the abundance of activity, no system is expected to threaten Central Florida.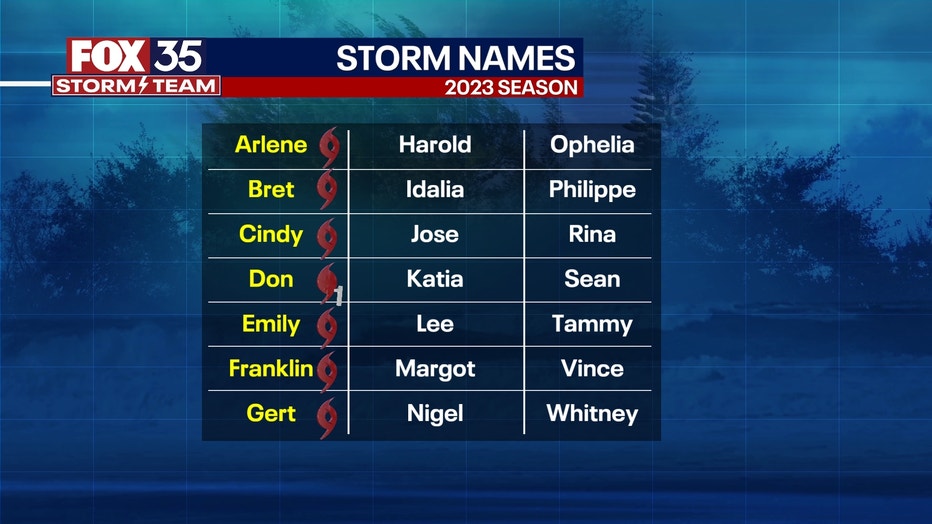 The FOX 35 STORM TEAM will be tracking the tropics, so be sure to depend on us always!  Download the Fox 35 Storm Team Weather App.