UFC star McGregor facing criminal charges in New York City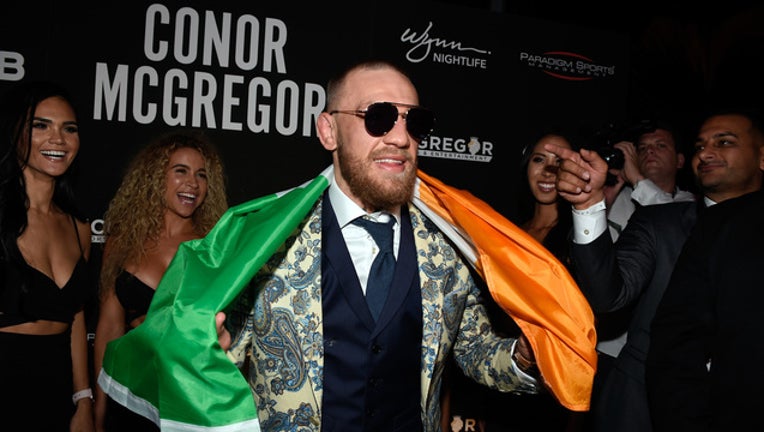 article
NEW YORK (AP) - Ultimate fighting star Conor McGregor is facing criminal charges in the wake of a backstage melee he allegedly instigated that has forced the removal of three fights from UFC's biggest card of the year.
Video footage appears to show the promotion's most bankable star throwing a hand truck at a bus full of fighters on Thursday after a news conference for UFC 223 at Brooklyn's Barclays Center.
The New York Police Department says McGregor was charged and awaiting a court appearance Friday, facing three counts of assault and one count of criminal mischief. It was not immediately known if McGregor has an attorney who could comment on his behalf.
UFC President Dana White said Friday he spoke to McGregor via text and the brawler said the confrontation was something that "had to be done."
"It was probably the worst conversation we ever had," White told FS1's "First Things First" on Friday morning. "We talked yesterday before he turned himself in.
"It's not that I don't think he understood what happened. He justified it. It was justified to him."
White said the 29-year-old McGregor said he was sorry about the fighters who were injured, but, "this had to be done."
Video showed McGregor with a group of people causing chaos Thursday as they took an elevator to the loading dock at Barclays Center. He can be seen tossing trash cans and being prevented from throwing a barricade at a bus during his unannounced appearance in New York.
Police said McGregor threw a hand truck at a bus causing minor injury to a person on the bus. UFC said three fights on Saturday's UFC 223 card have been scrapped as a result of the incident.
"The organization deems today's disruption completely unacceptable and is currently working on the consequences that will follow," UFC said in a statement. "Individuals involved in the incident are not welcome at tomorrow's ceremonial weigh-in or Saturday's event at Barclays Center."
McGregor hasn't fought for UFC since November 2016 and was stripped this week by UFC President Dana White of the 155-pound championship he had never defended. White also said this week he did not expect McGregor to attend Saturday's fights.
McGregor profanely responded on Twitter and wrote, "You'll strip me of nothing." He was just getting started.
McGregor last fought at all in a boxing match he lost to Floyd Mayweather Jr. on Aug. 26, 2017.
The popular Irishman is tight with UFC 223 fighter Artem Lobov, who was involved this week in a scuffle in a hotel with Khabib Nurmagomedov. Nurmagomedov fights Max Holloway for the lightweight championship left vacant by McGregor.
Lobov was yanked from the card and banned from the building.
Michael Chiesa was sent to the hospital with injuries sustained in the attack and was forced out of his scheduled fight against Anthony Pettis.
"A decision was made by the New York State Athletic Commission to pull me from UFC 223," Chiesa tweeted. "I'm devastated to say the least. @showtimepettis I hope to run this match up ASAP. June 9th in your backyard. That's all I have to say for now. Much love."
Flyweight Ray Borg suffered multiple cornea abrasions in the wake of the McGregor attack and his fight against Brandon Moreno was also scratched.
White said this week in New York that McGregor would fight again for UFC this year. McGregor's actions now put any future fights in doubt.
McGregor once held the 145 and 155-pound championships at the same time and boldly stated he wanted an ownership stake in UFC. But the trash-talking, egocentric has been out of the fight game except for his boxing dalliance with Mayweather that made him wealthy enough to never have to fight again. McGregor and his girlfriend welcomed their first child, a son, in May 2017.
___
Associated Press writer Dan Gelston in Philadelphia contributed to this report.