UCF's Swoboda prepping for draft, fundraising for heat stroke charity
WINDERMERE, Fla. - At 6'10, 325 pounds, Windermere Prep graduate and University of Central Florida offensive lineman Ryan Swoboda has hopes of being picked in this summer's NFL Draft.
"It's been the dream my whole life," said Swoboda. "I remember growing up when I was like four years old watching Green Bay Packers games with my dad. So yeah, just to have the opportunity to do it is really cool."
Swoboda is projected to potentially be a late-round draft pick.  But just getting to this point almost didn't happen. 
"I wasn't heavily recruited out of high school," said Swoboda. "I chose the University of Virginia. I started there and for health reasons, I could not play for my entire first season. Ultimately I started for three years. I graduated from the University of Virginia. I came to UCF last season, and I was here for one year, and I've loved it."
Now Swoboda is raising money for a heat stroke charity, because he was a victim of heat stroke himself, during his freshman year at Virginia. And if he could fully remember what happened during that incident, it might have been scarier for him.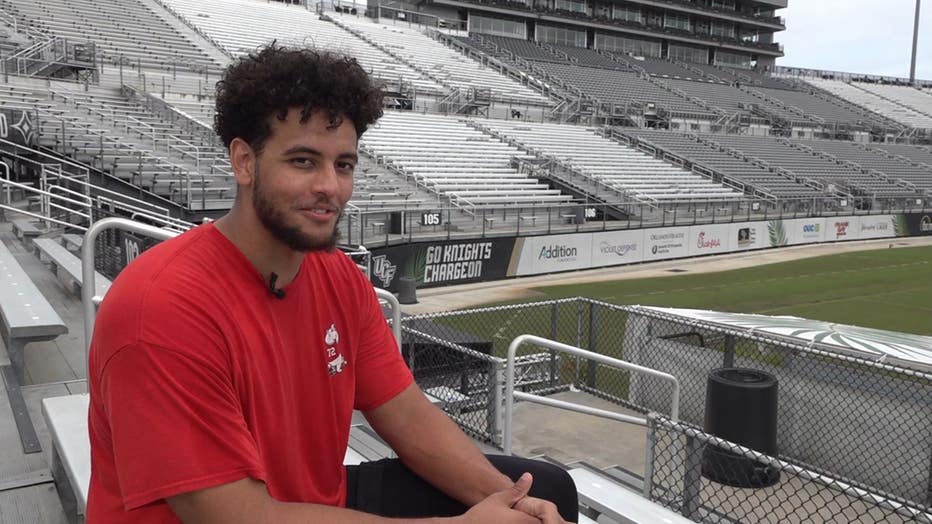 "It was our third day of our freshman year. It was especially hot. We're up downing, we're working. We start to push the sled. I finish the rep on the sled and that's the last thing that I remember," said Swoboda. "What I've been told is, after I finished my rep pushing the sled, I kinda jog off, I collapsed on the field. Ambulance comes. I'm taken to the hospital. I don't recall any of this."
Swoboda was told he had experienced an exertional heat stroke with a core temperature of 109 degrees. 
"I'm put in a medically induced coma for three days. Ultimately I stay in the hospital for about three weeks," he explained. "Football is really out of the question, I'm just happy to be alive at this point."
After over a year of rehab, and with his full college career behind him now, Swoboda is trying to help educate on heat stroke. He's already raised $2,000 dollars via social media donations for the Zach Martin Foundation - which helps provide treatment for heat stroke victims in high schools.
"Football has given me so much," said Swoboda. "So just the opportunity to give back and let other athletes play and do it safely, that's something that is a passion of mine and I want to keep doing it."