Report: Cowboys TE Jason Witten retiring after 15 seasons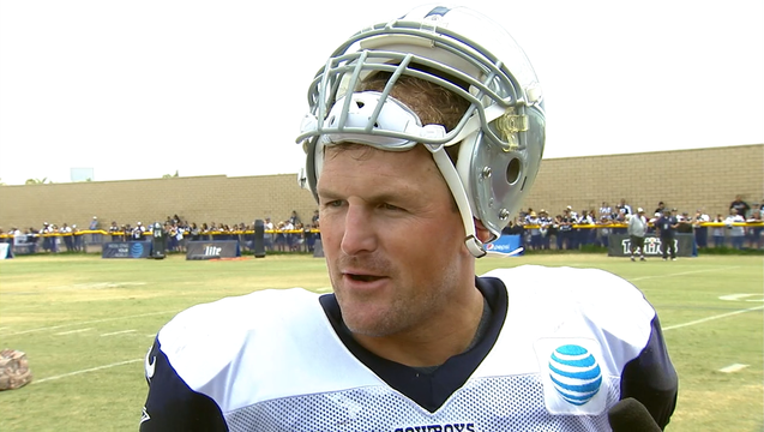 article
Dallas Cowboys TE Jason Witten plans to retire after 15 years playing in the NFL, according to an ESPN report.
Witten is reportedly headed to the Monday Night Football broadcast booth, ESPN NFL reporter Chris Mortensen said on Friday.
Witten met with owner and general manager Jerry Jones, who said no announcement was coming Friday. Jones said he'd have several conversations with Witten this week and indicated the franchise leader in games, catches and yards receiving hadn't made a final decision.
"He has some things to think about and discuss with his family from a professional perspective," Jones said before the introductory news conference for first-round pick Leighton Vander Esch. "He also told me those things are going to require a few more days of consideration, at least through the weekend. He has not made any decisions that are definite at this time."
Jones said the Cowboys would have no other comment on Witten's future the rest of the weekend, which includes the last two days of the NFL draft on Friday and Saturday.
Former Cowboys quarterback and FOX NFL analyst Troy Aikman talked about his conversation with Witten and the advice he gave him.
"You know, what you think is best for you. And he knows he's a smart guy, and he's a great father and a great husband," Aikman said. "And I told him that the life that broadcasting afforded me with my children to give me the opportunity to be with them during the week."
If he does transition to the broadcast booth, he'll join Aikman and Tony Romo as Cowboys players who have left the game to become NFL commentators.
"Jason Witten will do good at whatever he does," Romo said. "I think ultimately whatever he puts his mind to he's going to be good at. Even if he didn't start off good, he's going to be good."
Witten quickly became a leader on the field and in the locker room after being drafted in 2003. He sits fourth on the list of most receptions in NFL history and was the 2012 Walter Payton Man of the Year.
But it was Witten's philanthropy that best defined his good guy image, like his work with kids from the Family Place over the past 10 years. After speaking publicly about growing up with an abusive father, Witten created the SCORE Foundation that's dedicated to, as Witten says, breaking the cycle of family violence.
The news on the second day of the draft could affect Dallas' plans just a week after Witten suggested he might play until he was 40 and intended to return this coming season. Witten turns 36 early next month.
Witten was drafted by the Cowboys in the third round of the 2003 NFL Draft after a college career at Tennessee. He's made 11 Pro Bowls and was named Walter Payton NFL Man of the Year in 2012. Witten would retire as the franchise leader in receiving yards (12,448), receptions (1,152) and most consecutive games played (235).
The Jason Witten SCORE Foundation connects mentors with families suffering from domestic violence or abuse and established a domestic violence prevention program in 2010. The foundation was inspired by his family's experience growing up with domestic violence.
Those positive marks of his character were on the forefront of fans' minds on Friday. They had mixed emotions about what the Cowboys might look like without their fan favorite.
"First class, Grade A player, awesome person, as a player, unbelievable," Gilbert Guerrero said. "Dependable, what else can you say about him."
"He's first class, Hall of Famer, he has the numbers, he has the character, he's a clean-cut guy, straight up. He should've told somebody he was thinking about retiring, but other than that - first class Hall of Famer," said Julio Martin.
One specific memory of Witten kept coming up again and again among fans.
"The best memory of him I think in everyone's mind I think is when his helmet got ripped off and he's running down the field," said Eric Connor.
"Definitely his catch where his helmet popped off," said Jacob Bishop.
But Witten's charity work off the field also struck a chord with fans.
"He came from a rough upbringing with domestic violence and stuff in his background. From what we see on TV, he seems like a great guy and a great dad… like a role model for people like my son," said Joe Butler.
Witten would be replacing Jon Gruden as an analyst in the MNF booth. Gruden returned to coaching in the offseason. Witten would be the third Cowboys player to be in the No. 1 broadcast team for a network. Troy Aikman is the lead analyst for FOX and Tony Romo just finished his first season as lead analyst for CBS.