NFL Draft 2021: Falcons nab Gators Pitts at No. 4; Dolphins select Bama's Waddle at No. 6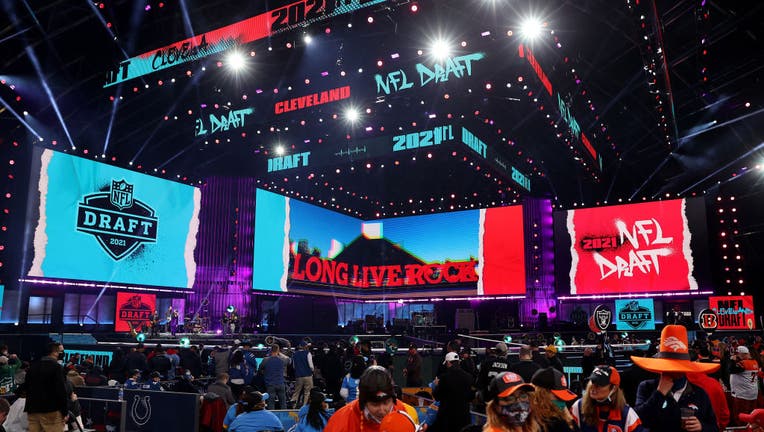 article
The Jacksonville Jaguars made the easiest and maybe most significant selection in franchise history when they chose Clemson quarterback Trevor Lawrence with the first pick in the NFL draft Thursday night.
The Jaguars made the announcement that's been expected for months shortly after the start of the draft, setting off a raucous celebration inside TIAA Bank Field.
A sold-out draft party, which included a crowd of 8,000, cheered wildly as NFL Commissioner Roger Goodell stepped to the podium to call Lawrence's name.
Falcons draft tight end Kyle Pitts with No. 4
Kyle Pitts is considered by many the most dynamic player in this year's draft. The Atlanta Falcons certainly thought so and have selected the Florida tight end with the fourth overall pick.
He was the first non-quarterback taken after Jacksonville drafted Clemson's Trevor Lawrence, the Jets got BYU's Zach Wilson, and San Francisco went for North Dakota State's Trey Lance.
Pitts figures to be more of a hybrid tight end/wide receiver in the pros, with few blocking assignments. So what when Pitts is 6-foot-6, 245 pounds and presents an intimidating matchup for even the best defenders. Pitts has sure hands, speed, reach, elusiveness and intelligence. He should be an instant starter in Atlanta, maybe an instant star.
Dolphins select wide receiver Waddle at No. 6
Miami has drafted Jaylen Waddle, the game-breaking receiver from Alabama, with the sixth overall pick.
The first player chosen from the national champions, Waddle is as versatile as any wideout in a draft very deep in pass catchers. He has blazing speed, and elusiveness and also can return kicks.
Waddle joins his college quarterback, Tua Tagovailoa, in Miami.
Waddle played in only six games last season because of a broken left ankle.