GROUPS TO WATCH: The two most challenging 2018 FIFA World Cup groups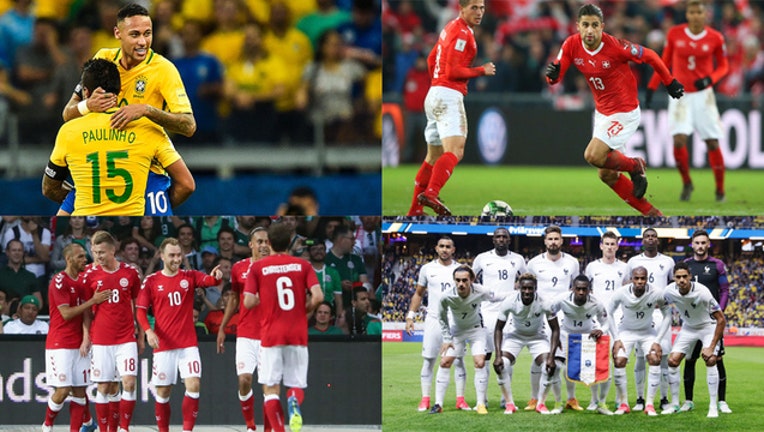 article
When it comes to groups in the 2018 FIFA World Cup, there's no one "group of death." Instead, two groups stand out as tougher than the rest.
We calculated the average difficulties of each group, relying on the latest FIFA/Coca-Cola World Rankings to do so. And we found that Group C and Group E are head and shoulders above the rest.
Group E
Brazil (2)
Switzerland (6)
Costa Rica (23)
Serbia (34)
Average Ranking: 16.25
With an average ranking of 16.25, Group E narrowly edges out Group C as 2018's toughest draw. Brazil emerges as the favorite for the group, four spots ahead of Switzerland in the latest FIFA Rankings.
Brazil famously fell to the Germans, 7-1, in the 2014 FIFA World Cup semifinals, and has endured a little bit of a rough patch since then. With a new coach at the helm, the club has seemingly righted the ship, and comes into the tournament looking for revenge.
The Swiss are no slouches either. They finished in the round of 16 at the 2014 FIFA World Cup and the 2016 UEFA Championships, but hope to make a deeper run in this edition of the tournament.
Costa Rica and Serbia round out the group. Costa Rica surprised many people in 2014 by advancing to the round of eight. The Ticos also finished third in the last CONOCAF Gold Cup.
Look for Brazil and Switzerland to advance to the knockout stage.
Group C
France (7)
Peru (11)
Denmark (12)
Australia (36)
Average Ranking: 16.5
Group C lacks the star power at the top that Group E boasts, but it still features a hardened group of teams. France, Peru and Denmark are all in the top 15 of the latest FIFA rankings, so what the group lacks in star power, it makes up for in depth.
France finished as the runner-up at the 2016 Euros, falling to Portugal in the final match. The team made it to the round of eight in the 2014 World Cup, where it eventually fell to Germany 1-0.
Peru has never been much of a contender in the tournament – this is the country's first appearance since 1982. But it's moved up quickly in the rankings since 2015. The team isn't very well known internationally, but could turn some heads in Russia.
Denmark missed the World Cup in 2014, but punched a ticket for the 2018 event after a 5-1 win over the Republic of Ireland. Like Peru, the team has never been much of a force in World Cup events, but could have the star power to make it to the knockout stage.
Denmark and Peru should make the group interesting, as it will be a dogfight for the right to advance to the knockout stage.
The 2018 FIFA World Cup starts June 14 on Fox.