Good news for sluggers: Lower wall at Marlins Park in 2016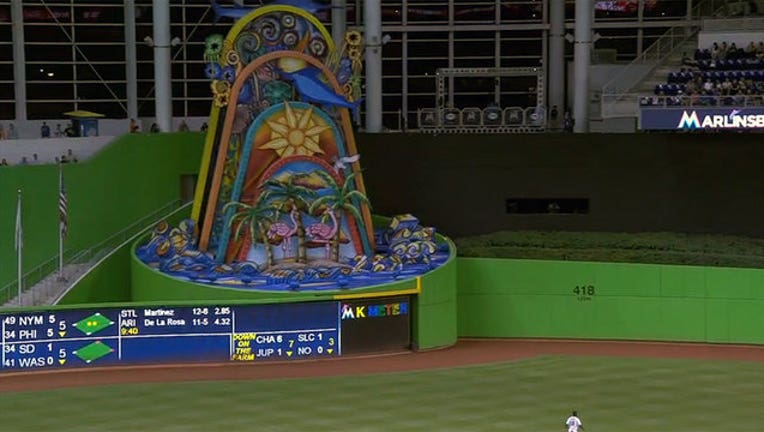 article
MIAMI (AP) - The Miami Marlins have decided to alter their outfield wall and give hitters a better chance in their spacious ballpark.
The Marlins still want a park that favors pitchers, team president David Samson said Tuesday. But the wall will be lowered and perhaps moved closer to home plate for the 2016 season.
"It can be very disheartening for players to hit a ball 410 feet and have it not go out," Samson said. "We're trying to make it play more fair."
In the four years since Marlins Park opened, only 412 homers have been hit. That's the second-lowest total in the majors to 411 homers at San Francisco's AT&T Park.
Giancarlo Stanton, the Marlins' $325 million slugger, has long contended the park doesn't play fair because it's too roomy. But his longest drives carry far beyond the wall, and since 2012 he has hit more homers at Marlins Park (68) than on the road (57).
And many visiting managers have said they like the contrast to bandboxes elsewhere.
Reducing dimensions is most likely in the power alleys, especially right-center field, Samson said. A lower outfield wall could create more excitement for spectators watching from the Clevelander nightclub in left-center field.
"We want to make the wall low enough that people can jump over and make catches," Samson said. "The thought of the left fielder jumping into the Clevelander is sort of awesome."
The height of the wall ranges from 11 1/2 to 13 1/2 feet. The power alleys are 384 feet to left-center field, 392 to right-center and 422 to center. And the ball doesn't carry well under a retractable roof that is almost always closed.
The Marlins are consulting with an architect about the changes, which will come with Marlins Park scheduled to host the All-Star Game and Home Run Derby in 2017.