From the gridiron to the diamond, UCF's Plumlee shows versatility and talent
ORLANDO, Fla. - Sports fans have definitely gotten used to seeing John Rhys Plumlee playing football in the "Bounce House," but now for the first time since he transferred to UCF, they're getting a taste of John Rhys Plumlee the baseball player.
"It was always my first love, you know baseball was," said Knights Center Fielder/Quarterback Plumlee. "It was a way for me to be a kid and to be able to go outside and play. I figured out that I was pretty good at it and that I could express myself in that way on a Baseball field and still have a lot of fun doing it."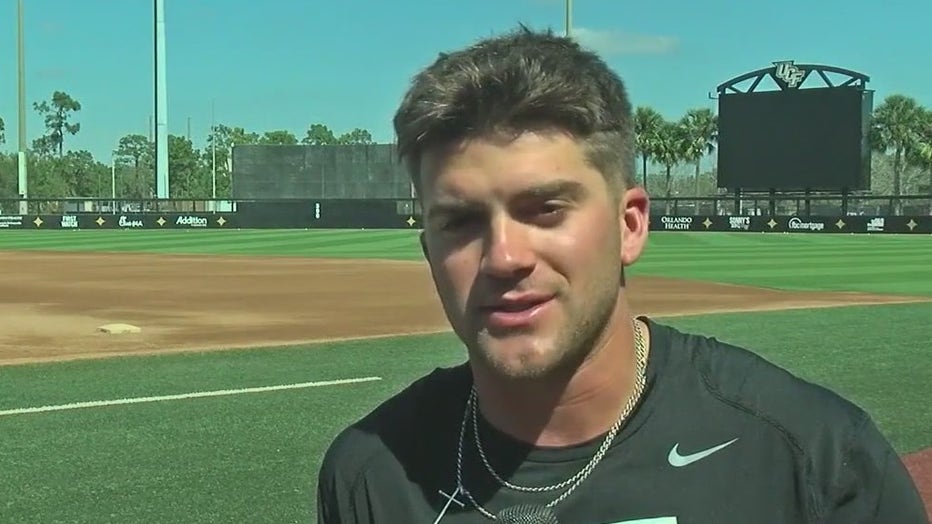 It's definitely fun when you're winning, and the Knights are off to a 5-1 start this season, including a road sweep of Clemson last weekend, where Plumlee hit a home run and played some great defense. J.R.P. had to sit out last Baseball season because the NCAA wouldn't allow him to play right after transferring, which has made the start to this season that much sweeter.
"I think it makes you appreciate it a little bit more," said the UCF senior. "When something's taken away from you a little bit it makes you appreciate the amount and effect that it has on your life for sure."
Things are going to get a little complicated in a few weeks when the Knights start-up spring Football practice. That's an important stretch for the team's starting Quarterback.  But it's also smack dab in the middle of the Knights' starting Outfielder's Baseball season too.  Plumlee said he'll mostly leave the details up to Football Head Coach Gus Malzahn and Baseball Head Coach Greg Lovelady.
"Although I don't know exactly what the plan looks like right now, I know it's gonna be handled," said Plumlee. "Because those two coaches have really been really really awesome about communicating and figuring out what the best thing is for me."
In the meantime, J.R.P. will continue living out his dream, playing two sports at an extremely high level.