Florida school tragedy leaves profound effect on Dwyane Wade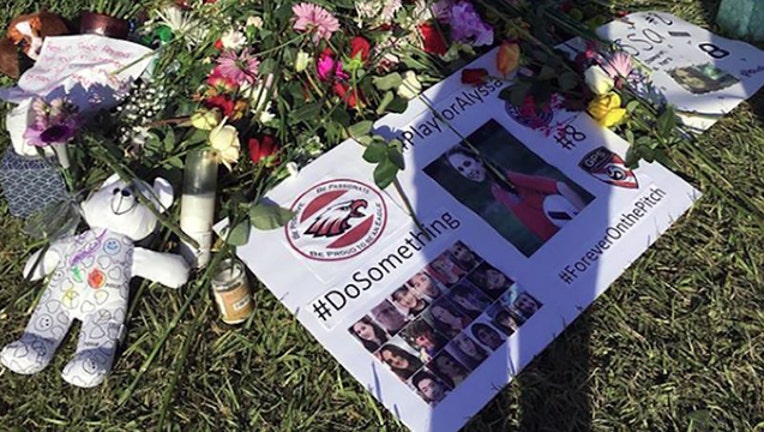 article
MIAMI (AP) - Joaquin Oliver was buried in a jersey bearing Dwyane Wade's name. So perhaps it was fitting that Wade's best game this season came in sneakers with Oliver's name scrawled on them.
The Miami area is reeling right now, and will be for a while, in the aftermath of the shooting at Marjory Stoneman Douglas High. The school will reopen Wednesday, the first official day it will be in session since 17 students and teachers were killed in a Valentine's Day massacre that only cranked up the volume on the national debate over guns.
Oliver was one of the 17 victims. His parents buried him in a Wade jersey. Wade is trying to meet the family, hoping to thank them, comfort them, listen to them, help them, hug them, and almost certainly cry with them.
"That they thought of me in that process, as something that he would have wanted, is mindboggling," the Miami Heat guard said.
So is the fact that, again, Wade finds himself trying to solve a problem that apparently cannot be solved. He has been touched by countless tragedies in recent years, ranging from the Trayvon Martin shooting, to the death of his cousin in a shooting in Chicago shortly after he decided to join the Bulls in 2016, and now the senseless killings at the school about an hour north of Miami.
In this social media era, athletes have strength in numbers. The voices of people like Wade, LeBron James, Colin Kaepernick and others have more power than they likely ever imagined. Wade insists he isn't going to be silenced about the shooting, and that his friends won't either.
Put another way, no, as one national television pundit recently suggested James should, he will not 'shut up and dribble.'
"Being frustrated isn't going to help," Wade said. "You've got to keep going. You've got to look at the people before you and understand that nothing they did happened even close to overnight. The changes that Martin Luther King were trying to make, it took a long time before we could see them. Changes that an individual is trying to make, you do what's in your heart. When you're long gone, maybe one day it'll take hold."
Wade scored a season-high 27 points Tuesday night, hitting a gamewinner with 5.9 seconds left to lift Miami over Philadelphia 102-101. On the side of one of his sneaker heels, he scrawled Oliver's name.
"Some due respect to him and his family," Wade said .
___
TANK WATCH
The race to be the worst gets real this week.
If there is one entertaining thing about Tank Season, it's those nights when two teams that may not necessarily be that concerned with winning games go head-to-head - and one, perhaps sadly, has to emerge from that contest with more points than the other.
The next few days offer some great - or terrible - matchups in that regard.
Wednesday, there's Phoenix-Memphis. Friday brings Dallas-Chicago. On Saturday, it's Memphis-Orlando. And a tanking twinbill awaits Sunday, with Phoenix-Atlanta and New York-Sacramento games on tap.
It's easy to see why these teams are playing for the worst possible record and therefore the best possible chance of getting the No. 1 pick in June's draft. When the new draft lottery system goes into place next year, the tanking phenomenon will hopefully lessen.
___
THE WEEK AHEAD
Some of the games to watch over the coming week:
- Rockets at Clippers, Wednesday: The last time these teams met in Los Angeles, a chippy game was followed by postgame sparks. Don't expect a repeat.
- 76ers at Cavaliers, Thursday: Philadelphia has lost 18 straight when facing LeBron James on the road. Its last such win: 2007, led by Allen Iverson.
- Bucks at Pacers, Friday: It's the first of two meetings in a four-day span between these midpack East contenders, who split two contests in January.
- Celtics at Rockets, Saturday: Boston led the first meeting by 3 seconds, and won - rallying from 26 down. Houston will have plenty of incentive this time.
- Hornets at Raptors, Sunday: Charlotte is playing well, and thinks a playoff spot is within reach. But Toronto has routed the Hornets three times already.
- Suns at Heat, Monday: A long, critical Miami homestand ends, and it's always entertaining to see Goran Dragic go up against his former Phoenix club.
- Nets at Warriors, Tuesday: An interesting game for this reason - back in November, Brooklyn was down 28 in the third and nearly beat the champions.
___
STAT LINE OF THE WEEK
Anthony Davis, New Orleans: He has been MVP-worthy for the Pelicans of late, and 53 points, 18 rebounds, five blocks and three assists Monday against Phoenix.