Baltimore Ravens agree to 1-year deal with Robert Griffin III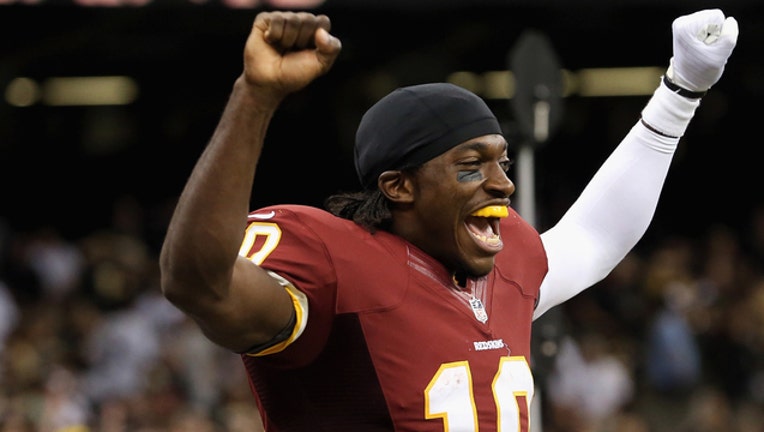 article
BALTIMORE, Md. - The Baltimore Ravens have announced they have agreed to a one-year deal with former Redskins quarterback Robert Griffin III.
Ravens General Manager Ozzie Newsome made the announcement on Wednesday in a press conference.
Newsome said Griffin worked out with the team last week, prior to the agreement.
Griffin posted on Twitter Wednesday with the popular Ravens hashtag, #playlikearaven.
The team says the terms were finalized late Tuesday night, and Newsome expects Griffin, also known as "RG3," to sign the contract next week.
Griffin would be back-up quarterback to Ravens  10-year league veteran QB Joe Flacco. The Baltimore Sun reports Ravens' current backup quarterback Ryan Mallett is headed to free agency.
"I felt like (Griffin) really wanted to be here. He really wanted to be a Raven," said Ravens Coach John Harbaugh.
"Obviously, his personality, he's a confident guy. He's a very talented quarterback," he said.
"He's had a lot of success in this league early on. We're excited about it. We felt like we needed a No. 2 quarterback."
Griffin won the 2011 Heisman Trophy playing for Baylor University before being drafted by the Redskins as the second overall pick in the first round of the 2012 NFL Draft.
Despite a celebrated rookie season with the Redskins, the latter of his career with the Redskins was plagued by poor performance and injuries. By the end of the 2012 season, he tore knee ligaments in a playoff loss to Seattle. He returned in 2013, but was benched after throwing 16 touchdown passes and 13 interceptions.
The following season Griffin was set back by a dislocated ankle and sustaining a concussion during the 2015 preseason.
RG3 was replaced by Kirk Cousins as lead quarterback in 2015 and was eventually released by the Redskins.
Griffin signed with the Browns in 2016, but was released from Cleveland after one season.
The Associated Press contributed to this report.