Alabama knocks out Michigan State 38-0 in Cotton Bowl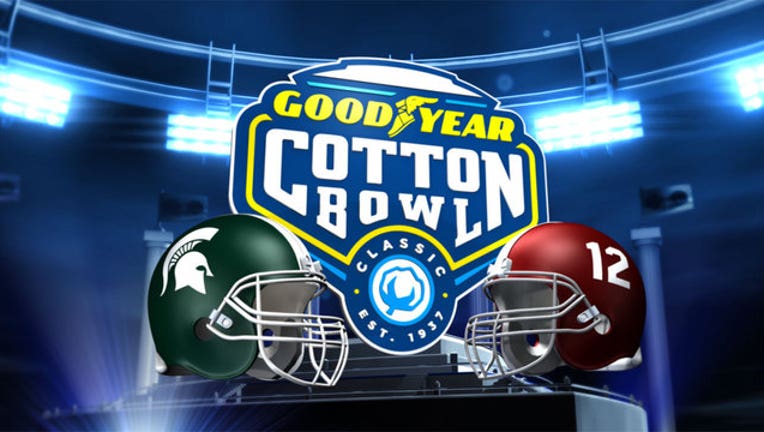 article
The loss still stung. It burned Alabama so badly to be beaten in the College Football Playoff semifinals last year that the Crimson Tide was determined to handle its business differently this time around.
The players said they were more focused and promised to be more prepared, more precise in their execution and more relentless in their effort.
Nick Saban said he saw something in his team coming into the Cotton Bowl that he had never seen before. Michigan State claimed it was ready for a 15-round brawl, but the Tide knocked out the Spartans early on Thursday night like a nonconference cupcake.
No. 2 Alabama 38, No. 3 Michigan State 0.
Alabama (13-1) will face No. 1 Clemson (14-0) on Jan. 11 in Arizona looking for its fourth national title in nine seasons under Saban.
"I think last year when we came to this game, we were just happy to take part in the game," Saban said. "I think this year we wanted to sort of take the game and really thought our guys had a vision of what they wanted and everybody paid the price for what they had to do in preparation."
The Tide took it but not the way it had done for so much of this season — at least offensively. Instead of pounding away at a Michigan State defense that was stacked to stop Heisman Trophy winner Derrick Henry from running wild, Alabama aired it out.
Jake Coker played the game of his career, hooking up with Calvin Ridley for two touchdowns, and going 25 for 30 for a career-best 286 yards. Conventional wisdom on beating Alabama was to take away the run and make Coker, the promising Florida State transfer who sat the bench most of last season, win the game.
Clemson might have to come up with a new plan.
"He's a great quarterback, he's a great leader, and he can make things happen when we need them," receiver ArDarius Stewart said.
The Tide looked like a team with no weaknesses against overmatched Michigan State (12-2). The freshman Ridley was brilliant, streaking by defenders on deep throws and outfighting them on jump balls. He caught eight passes for 138 yards. Jonathan Allen and the ferocious Tide defensive front sacked Connor Cook four times and allowed the Spartans only one trip into the red zone — which ended with Cyrus Jones intercepting a pass at the goal line.
Jones added a high-stepping 57-yard punt return touchdown for the Tide, which hardly even had to use the 242-pound Henry. He ran 20 times for 75 yards and scored two touchdowns. The last made it 38-0 halfway through the fourth quarter. The celebration at that point was pretty tame on the Alabama sideline.
The 'Bama fans were having fun, though, breaking out the "S-E-C!" chant and singing along to "Sweet Home Alabama" with that familiar "Roll Tide Roll!" AT&T Stadium in North Texas — where Alabama started its season by blowing out a Big Ten team (Wisconsin) — had turned into Tuscaloosa west. Happy New Year, indeed.
"This is a special team that I couldn't be prouder of," Coker said.
The Tide is the only team to be playing in the College Football Playoff each of its first two seasons.
Last season the Crimson Tide couldn't get past the semifinals, upset by Ohio State in the Sugar Bowl. Heading into another game as a big favorite against the Big Ten champions, the Tide players said all week that the focus was better and their attitude more serious.
"This is no surprise," Allen said. "We had great practices every day. We worked our butts off and this is what you get when you work hard."
The Tide players talked about how some players were too concerned about where they would be drafted or partying on Bourbon Street last season. In chilly Dallas there was nothing to do but practice and that was fine by them. The players set the curfews this week. In by midnight the first two days in town and by 11 p.m. the last two.
"Maybe we were a little bit too complacent, and I take responsibility for all that," Saban said about last year's game. "The whole time we were here, it was total focus on winning the game."
Michigan State embraced its role as the underdog and came in expecting to slug it out with the Tide. The Spartans offensive line watched video of the 1971 Ali-Frazier fight to prepare.
"If we were sitting in here and we lost by five points, people might be saying nice things about you a little bit more but we wouldn't feel any better," Michigan State coach Mark Dantonio said.
Alabama broke through in the second quarter by going deep to Ridley for 50 yards to the 1. Running behind the blocks of defensive linemen A'Shawn Robinson and Jarran Reed, Henry punched it in for his SEC-record breaking 24th touchdown, and with 5:36 left in the first half it was 7-0 Tide.
It felt like more.
"It was like they didn't want to take on any blockers on," Reed said. "I think they were scared."
It would only get worse. It was Alabama at its best and it looked downright terrifying to be on the other end.
___
Follow Ralph D. Russo at www.Twitter.com/ralphDrussoAP