2021 NFL Draft: Florida teams represented in Round 2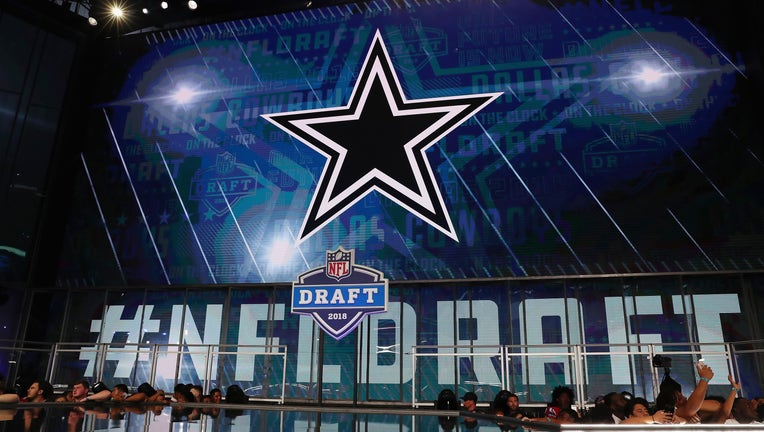 article
One thing didn't change on the second night of the NFL draft. The SEC and, specifically, Alabama was the place to go.
Georgia cornerback Tyson Campbell to Jacksonville and Mississippi wide receiver Elijah Moore to the Jets were the top two selections Friday night.
Soon after, two more members of the national champion Crimson Tide went: offensive lineman Landon Dickerson and defensive tackle Christian Barmore.
A dozen SEC players were chosen in the opening round, a record-tying six from 'Bama. Then four of the first six guys to go in the second round were from that conference.
Jacksonville Jaguars pick George CB Tyson Campbell at No.1
For the second straight night, the Jacksonville Jaguars began proceedings in the NFL draft, this time opening the second round by selecting Georgia cornerback Tyson Campbell.
After doing what everyone projected by taking Clemson quarterback Trevor Lawrence first overall, and then adding his college teammate in running back Travis Etienne later in the round, Jacksonville bolstered its secondary with Campbell. His fellow Bulldogs cornerback Eric Stokes was taken in the opening round by Green Bay.
Campbell goes 6-foot-2, 188 pounds, a good size for the position. He fared well against some of the best SEC receivers.
After 12 SEC players were chosen Thursday, the conference was off to a fast start in Round 2.
Miami Dolphins pick Oregon SAF Jevon Holland at No. 4
The biggest knock so far on Miami Dolphins' second-round draft choice Jevon Holland is that he won't help their running game.  
The Dolphins took Holland, a safety from Oregon, with the 36th overall pick Friday after the Denver Broncos leapfrogged them to take a running back. The Dolphins needed a ball carrier, but Denver moved one spot ahead of them by trading up to select North Carolina's, Javonte Williams.  
Miami then chose Holland, a native of Canada, with the 36th overall pick.  
Williams was the third running back taken, and the Dolphins were shut out in their pursuit of a top-tier ball carrier for the second draft in a row despite a strong need.  
The Dolphins traded up from 50th to 42nd to take 6-foot-6, 306-pound Liam Eichenberg, a three-year starter at left tackle for Notre Dame. He was a finalist for the Outland Trophy last year.  
Holland was born nearly 3,000 miles from Miami in Coquitlam, British Columbia. His father, Robert, played at Sacramento State and in the Canadian Football League.  
"Football is super popular across all of Canada," Holland said. "My dad and brother both played. It's me just trying to follow in their footsteps, and I think it turned out to be a pretty good choice."  
Holland had five interceptions at Oregon as a freshman in 2018 and four as a sophomore, when he also averaged 15.3 yards on 16 punt returns. He opted out last year.  
"I played receiver in high school," he said, "and that's where I developed a lot of my ball-hawking ability."  
Eichenberg further bolsters pass protection for Tua Tagovailoa, joining an offensive line that included a franchise-record three rookie starters last year.  
When asked what he knows about Tagovailoa, Eichenberg smiled.  
"I know he's a lefty. I know he played at Bama. And I know he's a great player," Eichenberg said. "I'm looking forward to meeting him."  
To move up and take Eichenberg, the Dolphins sent the 50th overall pick and a third-round choice next year to the New York Giants.   In the first round  Thursday, Miami drafted Alabama receiver Jaylen Waddle and Miami Hurricanes edge rusher, Jaelan Phillips.
Atlanta Falcons pick Central Florida SAF Richie Grant at No. 8
Richie Grant is hoping to take advantage of the Atlanta Falcons' dramatic turnover on their depth chart at safety.  
As Grant prepared for the NFL draft, he saw the changes in Atlanta as a possible opportunity where he could be needed. The Falcons were thinking along the same lines.  
The Falcons addressed a glaring need by selecting UCF's Grant at No. 40 overall in the second round on Friday night.  
The cost-cutting Falcons lost veteran safeties Ricardo Allen, Keanu Neal, and Damontae Kazee in free agency. The team added two possible 2021 starters by signing Erik Harris and Duron Harmon but needed to add long-term help in the draft.  
"I can say I knew it was a need," Grant said. "I knew it clicked well."  
Grant (6-0, 197) had 10 career interceptions and was a Thorpe Award finalist as one of the nation's top defensive backs in 2020.   When asked what he will bring the Falcons, Grant said "A dog. Short and sweet. You're going to get a dog. I'm ready to work. You're about to get a playmaker, a leader, on and off the field."  
Grant already was watching the Falcons' turnover at safety closely even before he began training with Harris in preparation for the draft. Grant said the two talked about possibly playing together in Atlanta after Harris signed a one-year deal with the Falcons.   "He said it's a great place to be and he wanted me to be his teammate," Grant said. "Things have a way of working out."  
Grant said Harris took on a mentor-type role.  
"He became like my big brother," Grant said. "I love that type of bond."  
The Falcons selected Florida tight end Kyle Pitts with the No. 4 overall pick on Thursday night.  
Pitts was the first pick for the Falcons' new leadership duo of general manager Terry Fontenot and coach Arthur Smith.   Fontenot and Smith are plotting a new direction for a team that finished 4-12 in 2020. Coach Dan Quinn and Thomas Dimitroff were fired following an 0-5 start.  
Atlanta swapped second-round picks with Denver, moving down five slots to No. 40 overall to select Grant. The trade also included two picks on Saturday with the Falcons acquiring a fourth-round selection and sending the Broncos a sixth-rounder.   The Falcons entered the draft with no quarterback on their depth chart behind starter Matt Ryan, who will by 36 this season. That made quarterback a position of need in the draft as the team needs depth for this season and to develop a future replacement for Ryan.  
Earlier Friday, the Falcons addressed the depth issue at quarterback by signing free agent A.J. McCarron to a one-year deal. McCarron, a 2014 fifth-round draft pick from Alabama by Cincinnati, was a backup in Houston the last two seasons.
Miami Dolphins pick Notre Dame OT Liam Eichenberg at No. 10
After Alabama became the first school to have eight of the first 38 players selected in the draft, there was a run on offensive tackles.
Chicago took Teven Jenkins from Oklahoma State at 39; Miami traded up to take Notre Dame's Liam Eichenberg at 42; Stanford's Walker Little went to Jacksonville at 45 and Clemson's Jackson Carman was taken by Cincinnati at 46.
Jacksonville Jaguars pick Stanford OT Walker Little at No. 13
The Jacksonville Jaguars used the second night of the NFL draft to line up potential replacements for two starters.  
They selected Georgia cornerback Tyson Campbell with the first pick in the second round (No. 33 overall) and then added Stanford offensive tackle Walker Little with the 45th choice.  
Grabbing Campbell so early raised questions about the team's confidence in CJ Henderson, the ninth overall pick in 2020 who missed eight games as a rookie and was inconsistent when he was on the field.  
Little is expected to be groomed to replace up-and-down left tackle Cam Robinson, who recently signed a one-year franchise tag worth $13.75 million in 2021. Robinson was ranked as one of the league's least effective pass-blockers last year.  
Little played one game in 2019 before tearing a ligament in his left knee. He opted out of last season because of the coronavirus pandemic.  
"Just trying to be at my peak and step in as soon as I can," Little said. "I have no concerns about playing again."  
Campbell and Little add to Jacksonville's draft haul that includes two former Clemson stars: quarterback Trevor Lawrence and running back Travis Etienne. Both were formally introduced Friday.
L.A. Chargers pick Florida State CB Asated Samuel Jr. at No. 15
The Los Angeles Chargers started day two of the NFL draft by addressing their needs in the secondary, selecting cornerback Asante Samuel Jr. with the 47th overall pick.  
Samuel appeared in 32 games with 23 starts for Florida State from 2018-20. He recorded four interceptions, 29 pass breakups and 96 tackles for the Seminoles. His pass breakups led all active Atlantic Coast Conference defensive players. Samuel was a first-team, All-ACC selection last season. He picked off three passes, recovered two fumbles and had 31 tackles.  
He is the second Florida State defensive back drafted by the Chargers over the past four drafts. Safety Derwin James was a first-round pick in 2018.  
New coach Brandon Staley also coached former FSU standout Jalen Ramsey when Staley was the Rams' defensive coordinator last season.  
Samuel joins a Chargers defensive backfield that is light at cornerback. They re-signed Michael Davis but released Casey Hayward Jr. Davis and Chris Harris Jr. are projected to be the starters.  
Samuel's father, Asante Sr., played 11 seasons in the NFL (2003-13) and won a pair of titles with New England. He also led the league in interceptions in 2006 with the Patriots and '09 with the Philadelphia Eagles.  
The Chargers addressed their needs at offensive tackle in the first round, taking Northwestern's Rashawn Slater with the 13th overall pick.
Tampa Bay Buccaneers pick Florida QB Kyle Trask at No. 32
Tampa Bay made Florida Heisman Trophy finalist Kyle Trask the first quarterback taken during the second day of the draft with the final pick of Round 2.  
Trask is the sixth quarterback taken overall after five went in the first 15 picks Thursday night. He finished fourth in the Heisman voting after a record-breaking season with the Gators and now he'll compete to be the backup to Tom Brady.