Orlando's first meadery opens doors with over 20 buzzworthy flavors of honey-based alcohol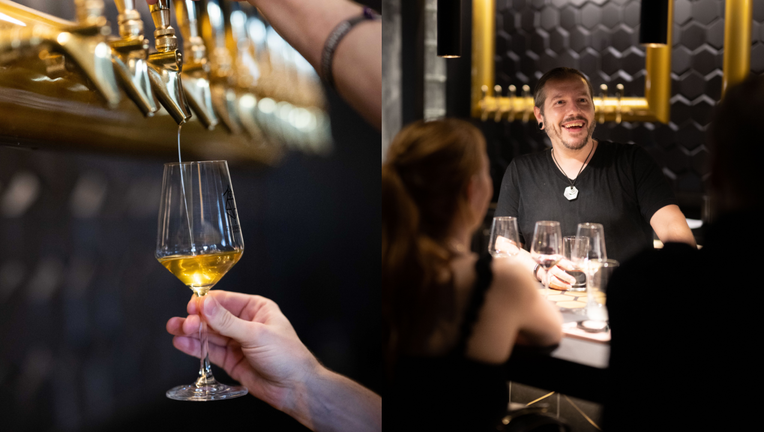 article
ORLANDO, Fla. - The first meadery in Orlando is now open – and they're pouring up dozens of flavors of honey-based alcohol ranging from sparkling and crisp to dry and sweet. 
Introducing the newest drinking experience on Mills Avenue, Zymarium Meadery. They held their grand opening on Sunday on Mills Avenue, giving dozens and dozens of Orlando residents the opportunity to try civilization's oldest form of alcoholic beverage: mead. 
"Zymarium Meadery was designed as a destination for people to gather and truly connect over great mead and good conversation," co-owners Ginger and Joe Leigh said in a statement to FOX 35 News. "From the deliberate dark tones and minimum distractions, to the cozy spaces to relax and sip on over 20 different, award-winning meads made in-house, we set out to create a totally unique experience in Orlando – and we're thrilled to officially be open for business!"
Customers can choose from over 20 different meads that are sourced from as many local sources as possible, according to the meadery's website. Zymarium typically likes to source its honey within two hours of Orlando to ensure that the money goes back to growing local hives and the bee population.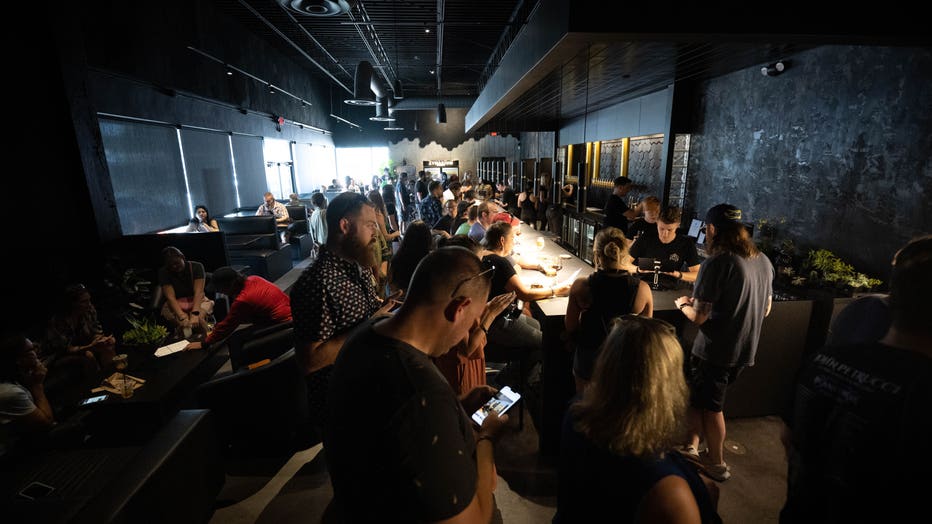 "I was very impressed with the concept. I was not familiar with mead, but the staff was great and quick to educate," Zack Shields, who attended this weekend's grand opening, told FOX 35 News. "The aesthetic was very clean with nods to honeycomb all around. I tried three different flavors of what looked like 20 to 25 taps that they had behind the bar. Some tasted like a very sweet white wine while others had more of a smooth crisp finish."
If you need a suggestion, Shields said his favorite mead was the Soliloquy of Nectar: Florida Fall.
"It was a little less sweet, more of a smooth finish similar to a Sauvignon Blanc that had hints of orange," Shields told FOX 35. "Very Florida-tasting, which I guess was the goal."
Shields also tried the Endless Berries & Cream flavor, which Zymarium only makes one keg of a day. 
"Once it's gone, it's gone," he said. "I had the last pour when the keg ran out. It was really good."
What is mead?
Mead is a gluten-free alcohol made from honey – similar to how wine is made from grapes and beer is made from grains, according to Zymarium's website. The alcohol ranges from 6-14% abv and can be fermented with fruit, spiced, barrel-aged or hopped, just to name a few. 
"We take a modern approach to mead making, applying all the latest science of both wine- and beer-making to ensure our meads unlock the true potential of the honey while focusing on continually exploring new flavor profiles, taking full advantage of the fact that all honey tastes different," Zymarium said.
Mead, the oldest form of an alcoholic beverage, was reportedly enjoyed by the Babylonians, Indians, Africans, Central Americans, Asians, Eastern Europeans, British Islanders and Vikings, according to Zymarium. The earliest remnants of mead were found in pottery sheds in what is now northern China in at least 7000 BC.  
"Wherever your ancestors are from, they likely drank mead, and mead played an important role in many civilizations' mythologies. Enjoy this piece of living history," their website said.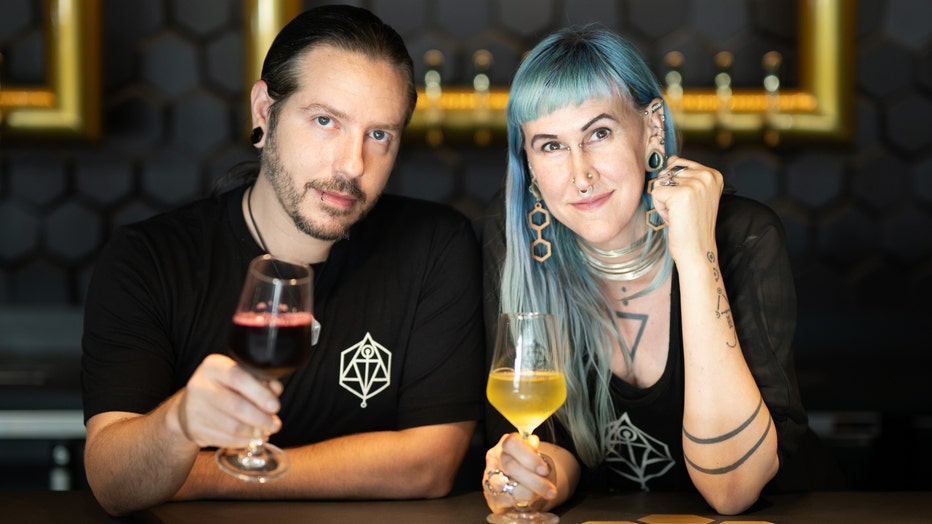 Zymarium co-owners Joe and Ginger Leigh (Photo: Zymarium)
What's on tap at Zymarium?
Here's a look at just some of the meads you can try at Zymarium, according to their menu:
Miel de Miel (brut champagne style mead made with honey from Clermont): 9.0% abv – Naturally sparking mead made from Florida Orange Blossom Honey, bottled during fermentation so the honey could create the bubbles
Florida Lychee (tropical mead made with honey from Clermont): 6.5% abv – Florida Lychees combined with Florida Orange Blossom Honey, sweet, floral and sparkling!
Coconut Grove (coconut mead made with honey from Cape Canaveral): 11% abv – Florida Black Mangrove Blossom Honey mead aged on raw coconut flakes
Cassia (cinnamon mead made with honey from Lakeland): 10% abv – Brazilian Pepper Blossom Honey mead aged on sweet Indonesian cinnamon
Endless Blueberry (heavily fruited mead made wit honey from New Smyrna Beach): 14% abv – This waterless dessert mead was made using only Southern Highbush Blueberries and rare Holly Blossom Honey, aged on oak
Guests can purchase mead in either a 5 oz or 10 oz glass, or choose four to build a flight. There are also bottled meads available for sale or on-site consumption. 
Check out the full menu below:
Check out photos from Zymarium Meadery's grand opening celebration on Sunday below: 
What to know before heading to Zymarium
Address: 1121 N. Mills Ave.
Hours: Thursday-Friday - 5 p.m. to midnight, Saturday - noon to midnight, Sunday - noon to 10 p.m.
Parking: Exclusive off-site parking is available at 1021 Lake Highland Drive
Website: Zymarium Meadery
What to know: Zymarium doesn't serve food, but you can bring in your own. Only service animals allowed inside, no pets.