Woman, infant die following crash on State Road 60 in Osceola County
LAKE MARY, Fla. - Troopers with the Florida Highway Patrol said an adult woman and an infant died in a two-vehicle crash that happened late Thursday morning in Osceola County.
The FHP responded to the deadly crash on State Road 60 near Peavine Rd. around 11 a.m. According to an incident report, a Nissan Altima was traveling eastbound when it collided head-on with a Mazda C30 SUV that was traveling westbound after the driver of the Nissan attempted to pass a pickup truck. 
The Nissan traveled off of the roadway and overturned. The driver of the Nissan, a 22-year-old woman, and a four-month-old passenger who was seated in a rear-facing child seat behind her were pronounced deceased at the scene.  Two other occupants, an adult woman of unknown age who was in the front seat and a one-year-old child behind her in a child seat were flown to Orlando area hospitals in critical condition.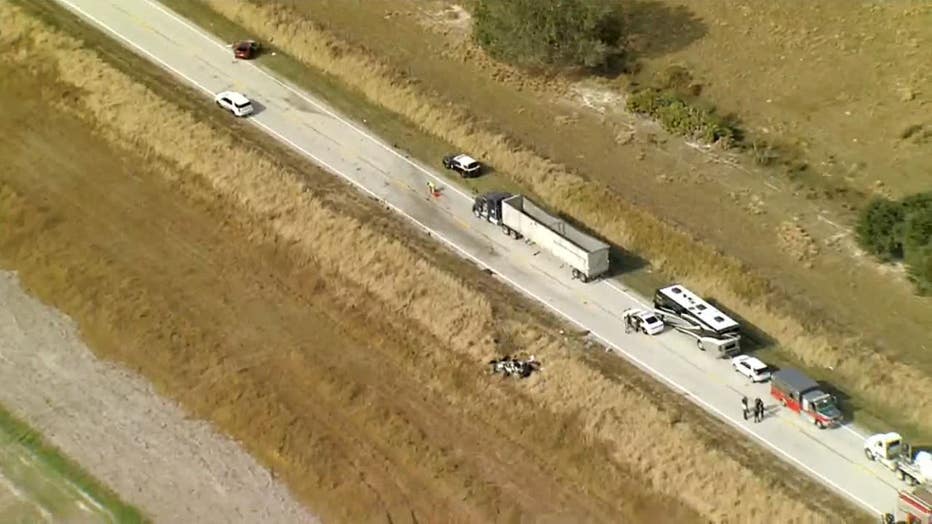 The occupants of the Mazda, an adult man of unknown age who was behind the wheel and a woman of unknown age who was a passenger, were flown to Holmes Regional Medical Center.  The driver was transported in critical condition, but the passenger was stable.
Two other vehicles struck some debris in the roadway as a result of this crash but no injuries were reported. The crash remains under investigation.