Viral: Photo shows dog carrying bag of food in aftermath of Hurricane Harvey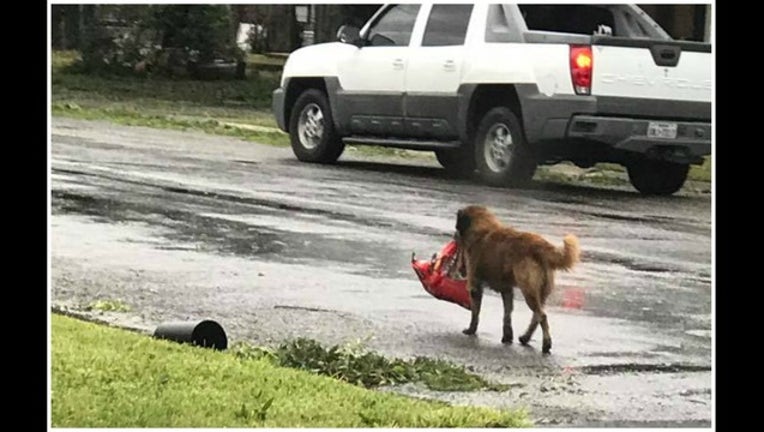 article
SINTON, Texas (KTVU) - Some are saying the photo has become a symbol of strength in Texas amid the destruction and devastating flooding left by Hurricane Harvey.
The photo shows a dog walking down a rain slicked road carrying a bag of food in his mouth.
Tiele Dockens snapped the image Saturday morning in Sinton, Texas, north of Corpus Christi.
She posted it on Facebook, where it has been shared more than 35,000 times.
Dockens told KTVU she noticed the dog from afar and could tell he was carrying something in his mouth.
"... when I got closer I could see it was a five pound bag of dog food. He was prancing down the street all happy and on a mission," Dockens said.
It turns out the German shepherd mix named Otis got loose on Friday night when the storm hit.
Sinton resident Salvador Segovia was caring for the dog, which belongs to his 5-year-old grandson.
When he noticed the dog was gone, Segovia searched the neighborhood.
He eventually located him, but not before Otis's photo got out and the dog became an internet celebrity. 
Dockens said it appears the resourceful animal got the food from a nearby lumber and building supply store, which sells dog food.

"I guess he knew where they stash it and got himself some," Dockens said.
Many people reacting to her Facebook post made reference to how smart the dog is and praised him for his survival skills and for being prepared in the midst of disaster.
One Facebook user, Henrik Henriksen commented, "This dog is officially my greatest hero of all time!"
For some, Otis's story has brought a bit of levity and inspiration during a time when many residents in the area are reel from the devastating effects of Harvey.   
"We are still cleaning up in our area and we are out in the community trying to help as many people as we can," said Dockens.