Villages woman says a home caregiver saved her life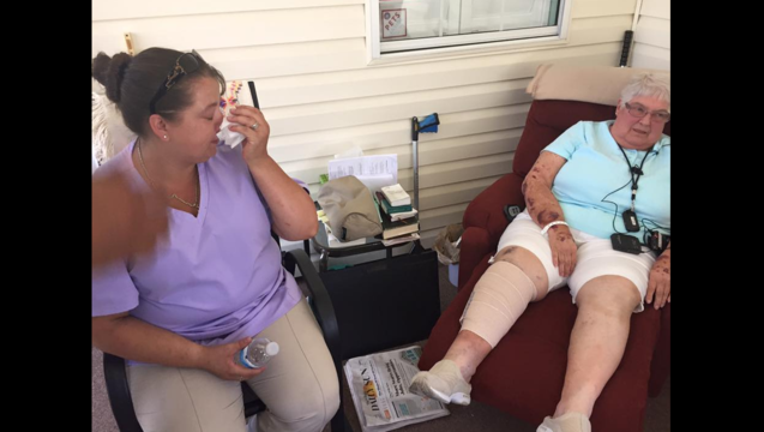 article
THE VILLAGES, Fla. - Mary Brennan,72, of The Villages, told Fox 35 she was lucky she's around to tell you her story.
 
Mary Brennan told Fox 35's David Williams "I know for a fact that if I hadn't opened the garage door, I more than likely would've died there on the floor."
 
She was in the garage on Tuesday, cleaning out the freezer, when she tripped, hit her head and fell and gashed her leg.
 
Brennan explained "I immediately knew I was in trouble because it just laid open. It was all the way to the bone."
 
She pushed her medic-alert necklace, but she couldn't hear them. So, she just screamed.
 
"I heard Ms. Mary yelling "Help me! I'm bleeding out," April Prevatt, a Visiting Angels caregiver, explained.
 
Prevatt was nearby with someone else when she heard Mary screaming from her garage. Prevatt said she knew she had to help.
 
Prevatt helped Mary stop the bleeding, and was there as EMTs took her to the hospital. They reunited Thursday.
 
"I'm just glad that she's here another day," Prevatt told Fox 35.
 
"She never lost her cool," Brennan explained. "She made me feel like I was safe."
 
You could say April was a guardian angel, of sorts. In the right place, at the right time
 
 
"It's unbelievable," Brennan  said sincerely as she looked into Prevatt's eyes. "Thank you from the bottom of my heart."
 
Thursday afternoon, the Director of Visiting Angels gave April Prevatt a gift card as a thank you for helping Mary.
Mary Brennan told Fox 35 as soon as she's able to get back on her feet, she's taking April and her neighbors to lunch to say thank you.