Knot what you see every day: Remains of 1884 shipwreck discovered on Massachusetts beach
NANTUCKET, Mass. - Here's something you don't see every day - the remains of a historic shipwreck were discovered by a woman walking her dog on a Nantucket, Massachusetts, beach last week.
Video recorded by Nantucket resident Jesse Ahern showed a large section of the shipwreck on Miacomet Beach.
According to a report from the Nantucket Current, the remains of the discovered shipwreck belonged to the three-masted schooner Warren Sawyer, which was lost on the night of December 22, 1884.
It wrecked in the area after being blown off course during its journey from New Orleans to Boston.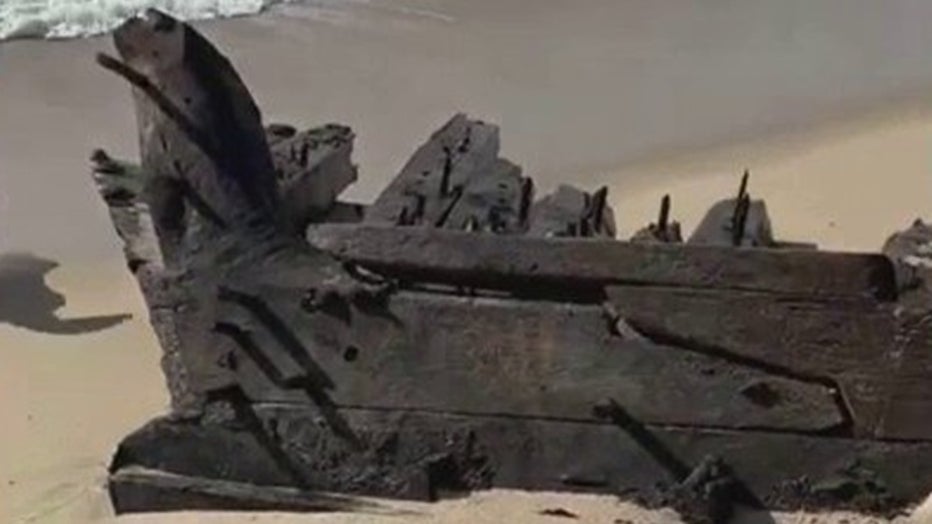 The remains of an 1884 shipwreck were discovered on a Nantucket, Massachusetts, beach last week.
Ahern told Storyful that when she first noticed the wreck, she immediately thought it may have belonged to the 19th-century ship after smaller parts were discovered weeks earlier.
"That schooner wrecked on the beach in Miacomet December 1884 and was recently discovered this past December," Ahern said. "So we walked up to what we thought was that, and I noticed it didn't look like the images I saw from the first wreck."
She was correct. The remains were quickly identified as a larger piece of the Warren Sawyer.